Research article

Open Access
Intricate environment-modulated genetic networks control isoflavone accumulation in soybean seeds
BMC Plant Biology
2010
10:105
Received: 28 August 2009
Accepted: 11 June 2010
Published: 11 June 2010
Abstract
Background
Soybean (Glycine max [L] Merr.) seed isoflavones have long been considered a desirable trait to target in selection programs for their contribution to human health and plant defense systems. However, attempts to modify seed isoflavone contents have not always produced the expected results because their genetic basis is polygenic and complex. Undoubtedly, the extreme variability that seed isoflavones display over environments has obscured our understanding of the genetics involved.
Results
In this study, a mapping population of RILs with three replicates was analyzed in four different environments (two locations over two years). We found a total of thirty-five main-effect genomic regions and many epistatic interactions controlling genistein, daidzein, glycitein and total isoflavone accumulation in seeds. The use of distinct environments permitted detection of a great number of environment-modulated and minor-effect QTL. Our findings suggest that isoflavone seed concentration is controlled by a complex network of multiple minor-effect loci interconnected by a dense epistatic map of interactions. The magnitude and significance of the effects of many of the nodes and connections in the network varied depending on the environmental conditions. In an attempt to unravel the genetic architecture underlying the traits studied, we searched on a genome-wide scale for genomic regions homologous to the most important identified isoflavone biosynthetic genes. We identified putative candidate genes for several of the main-effect and epistatic QTL and for QTL reported by other groups.
Conclusions
To better understand the underlying genetics of isoflavone accumulation, we performed a large scale analysis to identify genomic regions associated with isoflavone concentrations. We not only identified a number of such regions, but also found that they can interact with one another and with the environment to form a complex adaptable network controlling seed isoflavone levels. We also found putative candidate genes in several regions and overall we advanced the knowledge of the genetics underlying isoflavone synthesis.
Keywords
Genistein
Isoflavone
Daidzein
Phenylalanine Ammonia Lyase
Epistatic Interaction
Background
Considerable evidence has implicated isoflavones in the fitness of both humans and plants. A search of the literature reveals thousands of articles and subsequent reviews describing effects on human health associated with isoflavone consumption and possible molecular mechanisms of action (for recent reviews see [1–3]). Within the plant itself, isoflavones play a critical role in defense against fungal pathogens [4, 5], and they also are required for the establishment and perdurability of nodules in rhizhobium-plant symbiotic associations [6, 7]. Consequently, there is an increasing interest in altering the isoflavone content of soybean commercial varieties, which requires an understanding of the genetics governing their synthesis and accumulation. However, unmasking the genetics underlying isoflavone accumulation in seeds is challenging because: i) isoflavones display a broad range of variability over environments due to the many factors that affect their synthesis and accumulation [8, 9]; ii) many QTL with small individual effects contribute in an additive manner [10–14]; iii) epistatic interactions are responsible for a great proportion of the observed phenotypic variance [14]; and iv) soybean features a complex genome which has undergone several whole genome duplication events [15]. As a result, tissue-differential expression or loss-of-expression or function of some of the resulting paralogs may have occurred.
Soybean seed isoflavone levels are subjected to a great oscillation because many biotic and abiotic factors influence their synthesis and accumulation [3, 16–20]. For example, in a four-location field trial a cultivar was found to fluctuate from 460 to 1950 μg g-1 in its isoflavone levels in seeds. Even within the same environment and year, an almost 3-fold variation was reported for a single cultivar [8]. Nevertheless, in spite of the environmental interactions, the control of isoflavone content in seeds is largely genetic [14, 21–23], and numerous minor-effect QTL have been found to determine soybean isoflavone amounts. Unfortunately, many of them were identified solely based upon a particular environment, location and/or year. QTL that are stable over multiple environments are more useful in breeding programs because they might contribute to a consistent phenotype under changing conditions.
A set of enzymes within the phenylpropanoid pathway are responsible for the biosynthesis of the three known soybean isoflavones: genistein, daidzein, and glycitein (Figure
1
). Phenylalanine ammonia lyase (PAL), cinnamic acid 4-hydroxilase (C4H), and 4coumarate:CoA ligase (4CL) are the first enzymes in the pathway. They convert the amino acid phenylalanine into p-Coumaroyl-CoA. In the next step, the critical enzyme chalcone synthase (CHS) acts either alone or together with chalcone reductase (CHR) to form isoliquiritigenin and naringenin chalcone, respectively. Both are substrates of chalcone isomerase (CHI), which converts them into liquiritigenin and naringenin. These two compounds are the precursors of the soybean isoflavones daidzein and genistein, formed after the action of the key enzyme isoflavone synthase (IFS). The enzyme flavanone 3-hydroxylase (F3H) competes with IFS in the utilization of naringenin, in a branch of the pathway leading to the formation of flavonols, condensed tannins and anthocyanins. Daidzein can also act as a substrate, and after a series of reactions catalyzed by the enzymes isoflavone hydroxylase (I2'H) and isoflavone reductase (IFR), among others, leads to the synthesis of glyceollins. The biochemical steps leading to the third soybean isoflavone, glycitein, are not entirely known, although isoliquiritigenin is likely a precursor [
24
].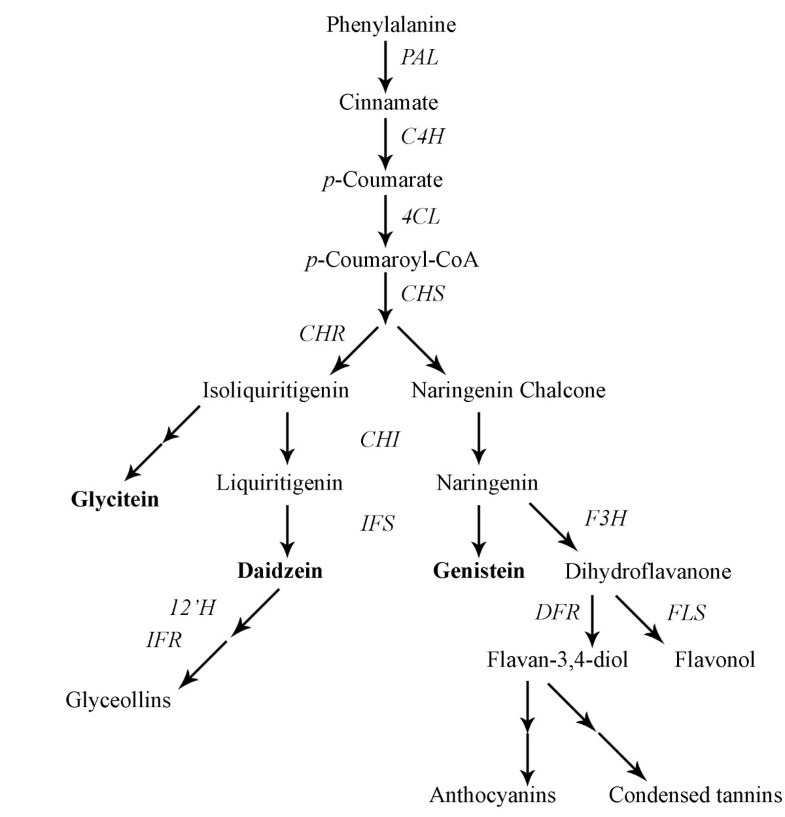 Cellular systems are intrinsically complex and their components often interact with one another in such an elaborate way that they may never be entirely understood. At the gene level, those interactions are known as epistasis. Under the quantitative genetics point of view, an epistatic interaction is revealed when a particular combination of alleles at distinct loci produces a different phenotype than when they are found apart. Thus, it is the particular combination of alleles that results in a change in the phenotype, i.e. the same allele can produce different phenotypes in a different genetic background. Epistatic effects have often been disregarded in mapping studies and left as a background distortion [25]. However, since additional knowledge has been garnered over the last several years, epistasis has passed from being considered the exception to the norm for many traits, and inter-gene interactions have been proven to account for a great proportion of the variability of complex traits, including isoflavones [14, 26, 27]. This 'extra' source of variation has been suggested to play an important role in biological processes such as heterosis, fitness and adaptation to different environments, and subsequently to evolution and speciation in natural populations [28–33]. Despite its importance, detecting epistasis genome-wide is not straightforward in experimental populations, and is certainly more difficult than for main-effect QTL. Statistical power to detect pairwise epistatic interactions is lower than for main QTL because tests of significance must be conducted for two intervals rather than just one, and consequently a higher critical threshold per test must be applied to overcome the problem of multiple tests [33]. This can be translated into small-effect interactions that would remain undetected unless a larger number of individuals are considered.
Interestingly, epistasis has been found to correlate with genomic complexity and the number of chromosomes [34, 35]. The genome of soybean is known to be quite complex [15], owing to two presumed recent whole genome duplications (recently reviewed in [36]). As a result, a single-copy gene in Arabidopsis can typically be expected to be present as two or four homologous genes in soybean [37]. Gene duplication is frequently associated with either tissue-specific differential expression (a process termed subfunctionalization), the acquisition of a new mode of action (neofunctionalization), or loss of expression or function of one or more copies (pseudogene formation) [38]. Naturally, phenylpropanoid genes are not oblivious to this complexity and attempts to genetically modify the pathway have sometimes led to unexpected results. For example, over-expression of key enzymes such PAL, CHS, or IFS, either independently or combined, have failed to enhance isoflavone accumulation in seeds [39, 40].
Over fifty loci have been reported in the few QTL mapping studies conducted on isoflavones [10–14]. However, a great majority has not been confirmed by using different parental lines, locations, or years. Attempts to validate the QTL have failed in part due to the nature of isoflavone QTL, with predominant minor main-effect, for which uncovering the experimental design needs to be optimized with, for instance, larger number of individuals and replications, enough and evenly distributed markers, and an adequate mapping methodology. We previously used the Essex × PI437654 cross to study the genetic control of seed isoflavone content [14]. Herein, we first added data from one additional year and two locations, with three replications per location, to perform a comprehensive mapping analysis by a mixed linear model approach aimed at discovering not only the most stable main and epistatic QTL over environments, but also the QTL environment-modulated. Mixed linear models have been proposed as an efficient approach to assess environmental effects [41]. Second, we conducted an exhaustive search for candidate genes with homology to important genes for isoflavone synthesis. Genes were placed onto the genetic map together with the QTL identified in an attempt to validate QTLs by finding candidate genes, and thus, to begin to decipher the genetic network underling soybean isoflavone seed content.
Discussion
Genetic control of isoflavone seed content
The phenotype of complex traits is the result of diverse genetic and environmental factors, many of which have been found to interact with one another. Isoflavone content in soybean seeds is highly variable among lines, locations, and within cultivars. The origin of such variability was found in genetic (G), environmental (E), and G×E interaction factors. This grade of phenotypic unpredictability inherent to the environment has long hampered the use of molecular breeding technologies, such as marker-assisted selection (MAS), to develop appropriate isoflavone lines. Besides, the need for pyramiding of numerous genes, most with very small effects and the inconsistency in estimation of those effects may make MAS quite difficult. Different MAS approaches have been successfully attempted targeting traits governed by many minor-effect QTL [42]. However, these approaches rely on finding a close marker-trait association relatively independent from the environment. Despite the environmental interference, heritability in the broad-sense was found high for all traits, which in a population of RILs indicates that the observed phenotypic variability is largely under the genetic control of additive loci, either by itself or by AA epistasis. Supporting the broad range of variation observed for isoflavones, several loci also have an E and a QTL×E interaction effect (A×E or AA×E) by themselves (Figure 4 and Additional files 2, 3 and 4).
Our multi-environment approach allowed detection of thirty-five main-effects QTL. Nearly 92% of them individually account for less than 5% of the phenotypic variability, suggesting that isoflavone seed concentrations are governed by numerous minor-effect QTLs. Successfully detecting QTL and interactions of such small effects could have been accomplished through including data points of various environments and replications as independent entities under the same mapping algorithm. Certainly, the presence of false positives cannot be ruled out but, likely, the many individual observations (2640) resulted in increased power and precision by reducing the experimental error [41]. Many of these main-effect QTL were also interacting, implying that they might have different absolute effects in different genetic backgrounds and environments. However, most of the interactions occurred between loci that bear no additive effects. Our results indicate that epistatic network of interactions for isoflavones is largely changed when plants are grown in different environments and may be one of the main causes of their phenotypic variability over locations and years. Corroborating this observation, approximately one-third of the epistatic interactions detected in this analysis also showed interaction with the environment (QTL×E). The same proportion of QTL×E interactions was found for different traits in a study in maize [43]. Recently, it has been shown that an epistatic interaction can have a positive or negative effect upon plant fitness depending on the environment by regulating the salicylic acid stress signaling pathway [44]. We hypothesize that the whole network of main-effect and epistatic QTL changes to confront and adapt to external biotic or abiotic stimuli. This is in agreement with the role of isoflavones in defense mechanisms against damaging agents such as pathogens, UV radiation and cold stress [5, 16, 17, 45–47]. However, the specific reason why isoflavones are directed towards accumulation in seeds remains elusive.
Some observations suggest that we might currently perceive only the tip of the iceberg and that the genetic network controlling isoflavone synthesis is likely to be even more intricate than previously thought. First, the threshold applied to QTL detection must be very strict to deal with the multi-test issue and keep the rate of false positives low. For such complex traits likely imply that many minor-effect QTL would remain undiscovered, especially in sample mapping populations. This issue is even more critical for epistatic QTL because two intervals must be tested. For instance, taking into account both main and epistatic QTL, our model was only able to explain 37.9% of the variance (additive:25.8 + epistatic:12.1), 49.1% (25.4+23.7), 16.7% (10.2+6.5), and 40% (27.5+12.5) for genistein, daidzein, glycitein and total isoflavones, respectively. The high percentage of remaining unassigned variance is likely due to minor-effect loci and epistasis that did not reach the threshold level of detection, further suggesting that numerous minor-effect loci are involved in isoflavone synthesis. Underestimating the number of QTL causes overestimation of the genetic effects of the ones identified because of what is known as the Beavis effect [48, 49]. Therefore, special care must be taken when considering the reliability of the parameter estimates. Second, only polymorphic loci will segregate in the progeny and consequently be detected. Important but monomorphic loci may remain undiscovered. This is especially crucial for epistatic QTL as both interacting loci must be polymorphic, as otherwise they will not create phenotypic variance. Third, a population of RILs may underestimate the total epistasis if dominant interactions exist [50]. Effectively, due to the structure of the mapping population, it is not possible to map QTL bearing dominant (D) main or epistatic effects (DD, AD or DA). However, due to the smaller number of genotypic classes, a RIL population increases the statistical power to detect the remaining AA component, which is the more useful for MAS because it is heritable [51]. Moreover, the self-pollinating nature of soybean, with usually less than 1% cross-pollination [52], does not suggest those effects to be important in natural populations. Fourth, third- or higher-order epistatic interactions are not reflected on the mapping analysis but could exist and be an important component for complex traits such as isoflavones [53, 54]. As a last observation, despite the marker-dense linkage map and the threshold values considered for QTL detection, the presence of spurious QTL cannot be completely discarded due to the limited number of individuals sampled. Nevertheless, large sample size in experimental populations is not only economically unfeasible but also does not guarantee detecting all possible minor-effect QTL [55].
Complex networks of interacting genes govern isoflavone content in soybean seeds
The soybean genome is believed to have undergone at least two independent duplications from a diploid ancestor to render the actual polyploidy [15, 37]. This degree of duplication is also reflected in the phenylpropanoid genes and increases the difficulty in performing gene-function association analysis because polyploidization may bring about gain-of-function, loss-of-function or neo-functionalization of certain copies [38]. It is also common to find tissue-specificity for some gene copies. For example, CHS has nine paralogues distributed along seven chromosomes, out of which CHS5 and CHS6 were not found in seeds at detectable levels [56]. With regards to CHS6, it has been suggested that it is present as a single copy in Gm09 [57, 58]. However, our BLAST searches revealed a second matching locus in Gm01 (Glyma01g22880.1), which features only a few SNPs when compared to the NCBI entry for CHS6 (Additional files 6, 7, 8 and 9).
A separate discussion of the CHS genes present on Gm08 is merited. According to BAC sequencing, as many as 12 CHS-related genes are thought to be present on Gm08, organized in two clustered regions [58]. One such region is composed of two perfect inverted repeated regions each containing CHS1, CHS3, CHS4 genes. This region is commonly referred to as the I locus, and although the specific silencing RNA is unclear, appears to act through siRNA-mediated gene silencing to inhibit seed coat pigmentation by specific degradation of seed coat specific CHS7 and CHS8 transcripts [58–60]. The CHS6, CHS7 and CHS8 genes are not apparently present in clusters on Gm08 but rather in single copy regions on other chromosomes [58]. In addition, at least four additional CHS genes (CHS5, CHS3, CHS1, and CHS9) are thought to be present in another CHS cluster on Gm08, for a total of 12 CHS genes on Gm08. The current Glyma 1.01 assembly of Gm08 contains only 7 CHS-corresponding regions (6 CHS gene models, and an additional matching region which does not have an annotated gene model, Additional file 5) as determined by BLAST searches using CHS sequence as queries http://www.phytozome.net/soybean. It seems likely that a miss-assembly has occurred in this region and the number of CHS genes present on Gm08 remains to be resolved. It is not currently clear to what extent other similar regions with gene repeats may have impacted on the assembly of the whole genome shotgun sequence. Furthermore, as many as ten regions were found sharing homology to the IFR gene. Although several of them may be pseudogenes, genes inactivated by the accumulation of deleterious mutations, it may be quite difficult to ascertain in which tissues, if any, these genes are expressed if they share a high percentage of homology. In addition, we currently have only a single sequenced genome (Williams 82) for reference. It is highly likely that other cultivars will have differing numbers and dispositions of phenylpropanoid genes. In particular, large scale rearrangements and deletions have been noted for the CHS gene clusters present on Gm08 [61].
The network of genes and interactions appears to have several interconnected neuralgic centers. The CHS gene cluster in Gm08 emerges as key node controlling the synthesis and accumulation of all individual isoflavones. The cluster rests within the IC of two important QTL for daidzein and total isoflavone content. In addition, it has connections with two other influential QTL and candidate genes: in Gm05, and Gm19(PAL). Importantly, all three isoflavones have at least one epistatic line converging in the CHS cluster. One of those pair wise interactions connected the cluster with the focal locus at the end of Gm05, and explained both genistein and daidzein, which is a rare phenomenon and further validated the interaction. This locus itself accounted for genistein, daidzein, glycitein, and total isoflavones (qGEN5, qDAI5, qGLY5 and qTOT5), and it is by far the most principal of all QTL reported herein in terms of explained percentage of variance and additive value. However, for this QTL of largest effect, no known biosynthetic gene was found to be located within this region. Perhaps a heretofore unknown isoflavone biosynthetic gene is within this region. Alternately, a trans-acting factor affecting the expression or activity of isoflavone biosynthetic genes may be present (transcription factor, ubiquitin-related protein, etc). Consistent with this hypothesis, the epistatic interactions that this locus has with another central locus (Gm08/CHS cluster) reinforces the hypothesis of an action through trans-regulatory control. Whether this region contains such a factor remains for future fine-mapping work. Strengthening its central role, the CHS cluster is also epistaticaly connected with two other regions: a genistein interaction with the locus Gm19/(PAL), and a glycitein interaction (Gm11) with a locus in the proximity of a QLT implicated in glycitein production [10, 11]. A third strategic node in Gm07 accounts for genistein, daidzein and the sum of all isoflavones, and it is also connected with two other important areas in the genome. First, a daidzein epistatic interaction with the region in Gm01/(CHS6) of qDAI1 and a QTL reported for glycitein [11]. The second is an interaction for genistein with Gm13/(IFS2, CHI3), which itself also explains genistein seed concentrations in an additive manner. Three loci located in Gm02/(F3H1, F3H2)-Gm05-Gm15/(I2'H) formed another key three-node subnet for isoflavone synthesis. If a single genomic region harbors QTL for genistein, daidzein, glycitein and total isoflavones, it is certainly a good candidate to be considered for marker assisted selection. The underlying gene could be an enzyme acting early in the pathway or a trans-acting factor, which impacts expression or activity of one or more of these genes. One such region is found at the beginning of Gm02 corresponding to two F3 H genes (F3H1 and F3H2). This focal locus also featured two epistatic interactions accounting for daidzein and total isoflavones, respectively, with another locus in Gm05 for daidzein accumulation [10]. In addition, this Gm02 locus was also linked by means of an epistatic interaction for total isoflavones to a QTL in Gm15 for genistein, glycitein, and total seed isoflavone content, which is also connected with Gm10(CHI-1B). Finally, two other important additive nodes, in Gm04 (qGEN4, qDAI4, qTOT4) and Gm16 (qDAI16, qTOT16), were connected by a daidzein epistatic union.
Downstream and substrate-competing enzymes are less tractable to an intuitive interpretation, and likely require metabolite quantification to more precisely assess flux before considering their role as candidate genes. It is also difficult to establish a relationship with enzymes which govern reactions occurring far removed, or in another biosynthetic branch, from the QTL. This may be the case of for example the QTL region in Gm02 explaining the accumulation of all isoflavones (qGEN2, qDAI2, qGLY2, and qTOT2) and overlapping a copy of F3H. Other examples are: IFR2 for qDAI4, qTOT4, and qGEN4 in Gm04; DFR2 for gly-D2_2 in Gm17; IOMT for gly-G in Gm18; and 12'H for qGEN15, qGLY15, and qTOT15 in Gm15. Product inhibition and other metabolic controls are likely involved and maintain the proportion of the different isoflavones within acceptable biochemical ranges.
Having placed the phenylpropanoid genes on the genetic map also offered us the possibility to formulate hypotheses on the genetic basis underlying epistasis. Surprisingly, a great number of the epistatic QTL have isoflavone synthesizing genes located in their IC (Figure 4), suggesting that a great number of the interacting loci could have a tractable genetic basis. Epistasis might be a critical factor for fitness-related traits in some plant species [62, 63]. This is in perfect agreement with the role that isoflavones have in the fitness of soybean plants. However, epistatic QTL are subjected to dramatic adjustments, even more than their additive counterparts, when different environments are considered [12, 14]. Despite these difficulties, researchers have successfully assigned genes to epistatic QTL that also had additive effects [44, 64–66]. Finding the genes underlying epistatic QTL with no main-effect is more challenging but in some cases they have been revealed [67, 68]. Trying to assess the complete network of isoflavone epistasis appears to be a colossal task because the number, environmentally-influenced, and small-effects of the interactions. Moreover, only genes on the phenylpropanoid pathway were placed on the linkage map, and although epistasis is more likely to occur between genes on the same or related pathways [69], undoubtedly interactions with other enzymes or transcription factors exist. Under these premises, one should be very cautious when intending to assign candidate genes to epistatic QTL. However, considering the genetic network as a whole might help not only in validating the individual components but also in deciphering genes underlying epistasis. For instance, if an epistatic locus also bears a main-effect, it may warrant further study. Moreover, if both epistatic and main-effect QTL account for the same trait it seems more likely not to be a spurious QTL. This extreme, frequently observed in our analysis, further validated many of the epistatic interactions, as opposed to being artifacts due to a limited sample size. For example, in Gm17 two independent main-effect QTL accounted for glycitein concentrations. Both had candidate genes in their IC, and both were found to interact with each other by an epistatic interaction, which accounted for glycitein accumulation itself.
Conclusions
A large scale analysis was accomplished to identify genomic regions associated with isoflavone accumulation. We identified a number of such regions, which form a complex network controlling seed isoflavone levels Overall, our results suggest that isoflavone accumulation in soybean seeds is controlled by a complex environment-adaptable network of interacting nodes. The study clarifies, from a genetic point of view, why isoflavone concentration in soybean seeds is such a complex and variable trait. We could also place robust candidate genes for several main-effect loci in an attempt to find the gene lying beneath the QTL. Nevertheless, it remains for future research to determine the nature of the proposed allelic differences between candidate genes in the lines we examined, and the manner in which these differences correlate with impacts on isoflavone content of seeds. Validation of the entire network of interactions, however, is likely to remain a monumental task due to the numerous small-effect QTL involved and their environmental unpredictability. For breeding programs targeting seed isoflavones, the many QTL involved, their small percentage of the variance accounted for by each, at least in this population, and the complexity of the interactions do not forecast applying MAS with success.
Declarations
Acknowledgements
Authors deeply thank Dr Jian Yang for kindly conducting Monte Carlo simulations to estimate the statistical power of the analysis. We also thank the Missouri Agricultural Experimental Station for conducting the field assays. This project was supported by National Science Foundation (MCB0519634), US Department of Agriculture (NRI2005-05190) to O.Y., as well as USDA-CSREES award no. 2006-34555-17010 for the National Center for Soybean Biotechnology and NSF-MRI Major Research Instrumentation grant no. 0526687.
Mention of a trademark, vendor, or proprietary product does not constitute a guarantee or warranty of the product by the USDA and does not imply its approval to the exclusion of other products or vendors that may also be suitable.
Authors' Affiliations
(1)
Division of Plant Sciences and National Center for Soybean Biotechnology, University of Missouri, Columbia, USA
(2)
USDA-ARS, 108 Waters Hall, University of Missouri, Columbia, USA
(3)
Division of Plant Biosciences, Kyungpook National University, Daegu, Republic of Korea
(4)
Donald Danforth Plant Science Center, Saint Louis, USA
(5)
Department of Statistics, University of Missouri, Columbia, USA
(6)
USDA-ARS Plant Science Research Unit and University of Minnesota, St Paul, USA
Copyright
© Gutierrez-Gonzalez et al; licensee BioMed Central Ltd. 2010
This article is published under license to BioMed Central Ltd. This is an Open Access article distributed under the terms of the Creative Commons Attribution License (<url>http://creativecommons.org/licenses/by/2.0</url>), which permits unrestricted use, distribution, and reproduction in any medium, provided the original work is properly cited.