Research article

Open Access
Characterization of SQUAMOSA-like genes in Gerbera hybrida, including one involved in reproductive transition
BMC Plant Biology
2010
10:128
Received: 27 October 2009
Accepted: 25 June 2010
Published: 25 June 2010
Abstract
Background
The flowering process in plants proceeds through the induction of an inflorescence meristem triggered by several pathways. Many of the genes associated with both the flowering process and floral architecture encode transcription factors of the MADS domain family. Gerbera, a member of the sunflower family, Asteraceae, bears compressed inflorescence heads (capitula) with three different flower types characterized by differences in both sexuality and floral symmetry. To understand how such a complex inflorescence structure is achieved at the molecular level, we have characterized the array of Gerbera MADS box genes. The high number of SQUAMOSA-like genes in Gerbera compared to other model species raised the question as to whether they may relate to Gerbera's complex inflorescence structure and whether or not a homeotic A function is present.
Results
In this paper we describe six Gerbera genes related to the SQUAMOSA/APETALA1/FRUITFULL genes of snapdragon and Arabidopsis. Based on phylogenetic analysis of the entire gene lineage, our data indicates that GSQUA1 and GSQUA3 are members of the SQUA/AP1 clade, while GSQUA2, GSQUA4, GSQUA5 and GSQUA6 are co-orthologs of the Arabidopsis FUL gene. GSQUA1/GSQUA3 and GSQUA4/GSQUA5/GSQUA6, respectively, represent several gene duplication events unknown in the model systems that may be specific to either Gerbera or Asteraceae. GSQUA genes showed specific expression profiles. GSQUA1, GSQUA2, and GSQUA5 were inflorescence abundant, while GSQUA3, GSQUA4, and GSQUA6 expression was also detected in vegetative organs. Overexpression of GSQUA2 in Gerbera led to accelerated flowering, dwarfism and vegetative abnormalities, all new and specific phenomena observed in transgenic Gerbera plants with modified MADS box gene expression.
Conclusions
Based on expression patterns, none of the Gerbera SQUA-like genes are likely to control flower organ identity in the sense of the floral A function. However, our data shows that the FUL-like gene GSQUA2 plays a vital role in meristem transition. The roles of other GSQUA-genes in Gerbera floral development are intriguing, but require still further study.
Keywords
Overexpression Line
Inflorescence Meristem
Floral Meristem Identity
Floral Whorl
Inflorescence Size
Background
Arabidopsis thaliana has been the principal model plant for molecular developmental studies of flowers for two decades. Several traits of Arabidopsis contribute to its attractiveness as a model system. However, not all phenomena in angiosperm flower development are present in Arabidopsis, and some processes are in fact specific to Arabidopsis or its close relatives (reviewed in [1]). Thus, extrapolating floral developmental paradigms from Arabidopsis to other flowering plants is not always straightforward [1–3]. To obtain a broader understanding of floral development, studies on species representing a broad taxonomic distribution are necessary. Our research interest has focused on floral development in Gerbera hybrida, a model species of the sunflower family (Asteraceae). Gerbera inflorescences consist of hundreds of flowers, which can be divided into three different types based on their size, sex, and position in the inflorescence. We have previously shown that many basic principles of floral development apply to Gerbera [4], but that in addition, Gerbera has special features of its own [5, 6]. For example, the B and C functions of the ABC model of flower development [7] are applicable to Gerbera, but the A function has remained elusive.
Based on the ABC model, A function genes are involved in determining sepal and petal identity by repressing C function in whorls one and two [7]. Arabidopsis has two A class genes APETALA1 and APETALA2 (AP1, AP2) [8–12]. AP1 is a MADS box gene, as are the majority of the ABC function genes [12], while AP2 is a member of the AP2/ERF ethylene response family. Both AP1 and AP2 act as A function genes, but they also have several other functions (reviewed in [1]). AP1 has been shown to fulfil a dual function in specifying Arabidopsis sepal and petal identity as well as affecting floral meristem development [9, 13]. AP1 acts closely together and partially redundantly with other inflorescence architecture genes, CAULIFLOWER (CAL) and FRUITFULL (FUL) [14]. Despite attempts to establish similar functions for related genes in other plant species, success has been limited. For example, the Antirrhinum SQUAMOSA (SQUA) gene plays a role in inflorescence meristem development but does not affect floral organ identity [15]. A similar function has been shown for the related gene Antirrhinum DEFH28, which is not involved in determination of sepal and petal identity [16]. Several plant species appear to have genes closely related to AP1, but apparently none have similar functions in specifying sepal and petal identity [17–22]. The pea (Pisum sativum) gene PEAM4 seems to be the closest to AP1 in function and has been suggested to be a functional homologue of AP1 [23] based on similar expression pattern and floral phenotype. However, several authors [1, 24–26] have been inclined to suggest that the entire concept of an A function might be specific to Arabidopsis and perhaps other Brassicaceae.
In addition to previously characterized Gerbera MADS box genes [4–6], we have recently identified several Gerbera genes similar to AP1, FUL [9, 11] and SQUA [15]. AP1 and SQUA are often described as A function genes, but only AP1 has characteristics of a homeotic selector gene. AP1 and SQUA do, however, play strong roles in defining floral meristem identity, together with the genes LEAFY in Arabidopsis and FLORICAULA in snapdragon [27, 28].
Here, we analyze the expression and phylogenetic position of six Gerbera genes, G erbera SQUA MOSA-LIKE1-6 (GSQUA1-6), which are closely related to AP1, SQUA, and FUL. Our data indicate that none of the GSQUA genes are, by themselves, likely to play a role in defining floral organ identity in the sense of the A function of the floral ABC model [7]. However, GSQUA2 does function as a strong positive regulator of meristem transition in Gerbera. Overexpression of GSQUA2 in transgenic Gerbera results in an early flowering dwarf phenotype, which displays abnormal vegetative architecture.
Results
Isolation and phylogenetic analysis of the Gerbera hybrida GSQUAgenes
GSQUA1 was isolated earlier by low stringency screening of an inflorescence cDNA library using a spruce MADS box gene probe, and was so named based of its sequence similarity to SQUA of Antirrhinum [4, 15]. PCR amplification using a degenerate MADS-box specific primer yielded three additional partial sequences of Gerbera SQUA-like genes: GQUA2, GSQUA3, and GSQUA4. Two more SQUA-like genes, GSQUA5 and GSQUA6, were identified from a Gerbera EST collection [29]. Full length cDNA sequences were recovered using 5' and 3' RACE for all GSQUA genes except for GSQUA4.
In Arabidopsis, the A function/meristem-identity gene
AP1
and the fruit function/meristem-identity gene
FUL
share a high degree of sequence similarity despite their partially different functions [
9
,
11
,
14
]. The C termini of plant MADS domain proteins are variable, but within closely related groups, conserved protein motifs can be recognized. Both AP1- and FUL-like proteins are characterized by such motifs, the euAP1-motif for the former, and the paleoAP1- or FUL-motif for the latter [
2
,
30
]. Alignment of the predicted amino acid sequence of GSQUA2 with similar sequences from other plant species showed that GSQUA2 contains a protein motif similar but not identical to the paleoAP1/FUL-motif. The same motif was also recognizable in GSQUA4, GSQUA5 and GSQUA6. In contrast, GSQUA3 possessed a euAP1-motif (CFPS) that is divergent from the consensus motif (CaaX) [
2
,
30
], while still containing several conserved amino acids (Figure
1
). In the previously isolated GSQUA1 protein [
4
] a euAP1-motif was not evident, but phylogenetic analysis (Additional files
1
and
2
) nevertheless suggested a close relationship between GSQUA1 and GSQUA3. The deduced Gerbera GSQUA amino acid sequence alignments and the corresponding protein motifs are shown in Figure
1
.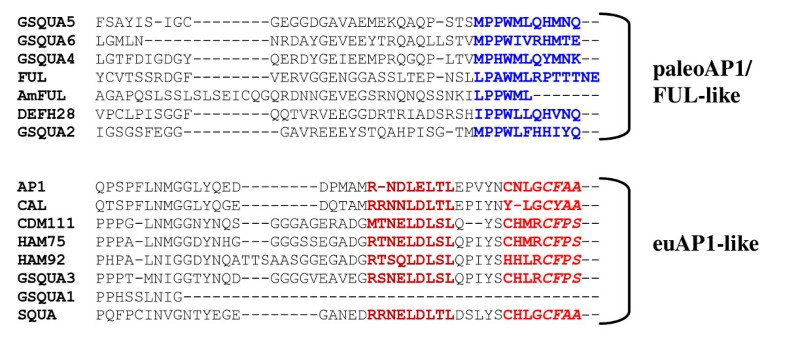 Phylogenetic analysis suggested that GSQUA1 and GSQUA3 are close paralogs, together co-orthologous to AP1 (and SQUA). Similarly, GSQUA4, GSQUA5 and GSQUA6 are co-orthologs of FUL, and GSQUA2 is phylogenetically close to the snapdragon gene DEFH28. Although interrationships among the AP1/SQUA, DEFH28, and FUL clades are not well supported in the phylogenetic analysis, the conserved C terminal motifs suggest that GSQUA2/DEFH28/AmFUL are FUL-like. The full maximum likelihood tree, based on our sequences added to the alignment of [2], is shown in Additional file 2. An alignment of GSQUA DNA sequences is shown in Additional file 1.
RNA gel blots and in situ hybridization of GSQUAgenes
Figure
2
summarizes the expression patterns of
GSQUA2-6
at RNA gel blot level. Based on previous studies,
GSQUA1
expression was in the young inflorescence, scape and bracts [
4
]. In addition to
GSQUA1
, the expression of
GSQUA2
, and
GSQUA5
was restricted to floral tissues and no expression was detected in vegetative organs. Interestingly,
GSQUA3
,
GSQUA4
and
GSQUA6
also showed expression in leaves, in addition to expression in floral and inflorescence-derived organs. None of the studied
GSQUA
genes were expressed in Gerbera roots. At the level of single (ray) flowers at relatively late developmental stages,
GSQUA2
and
GSQUA3
transcripts were most abundant in whorls one and two, while
GSQUA4
,
GSQUA5
, and
GSQUA6
were expressed in all floral whorls (Figure
2
). Different developmental stages of Gerbera ray flower petals (see [
31
]) were screened by RNA gel blot hybridization to ascertain whether expression levels of
GSQUA
genes varied over time. The expression levels of
GSQUA3
and
GSQUA5
did not vary during ray flower petal development, whereas the expression of
GSQUA4
was barely detected during ray flower petal development, and both
GSQUA2
and
GSQUA6
showed differential expression.
GSQUA2
expression was stronger during early stages (1,2,3) and faded noticeably toward later developmental stages (4,5,6,7,8,9,10,11).
GSQUA6
expression displayed a pattern opposite to that of
GSQUA2
; its expression grew stronger toward later developmental stages (8,9,10,11) (Additional file
3
).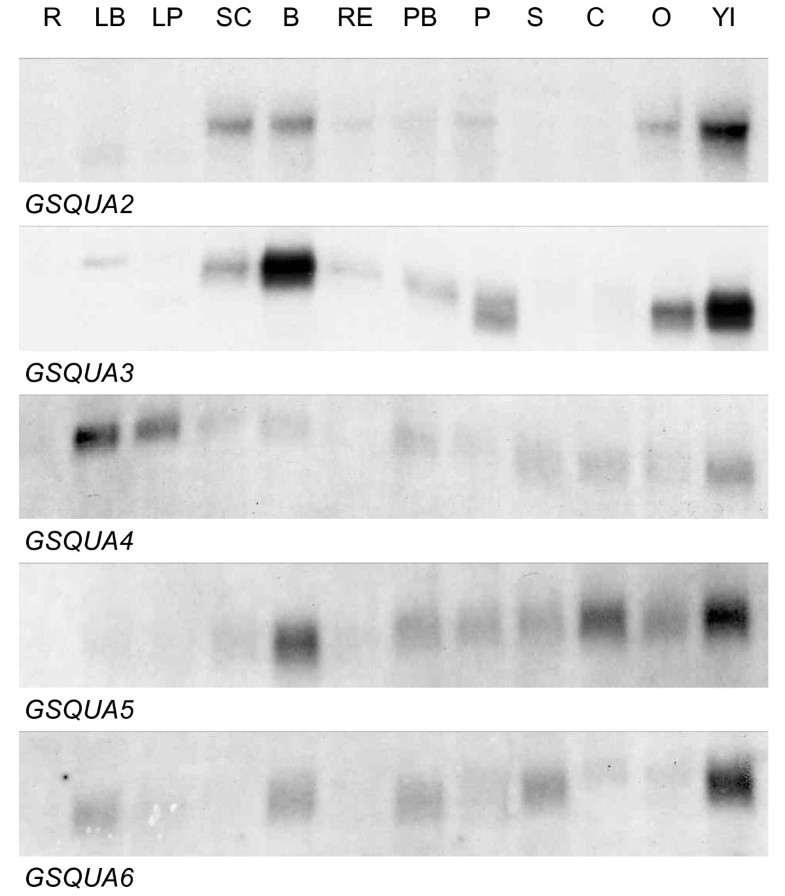 To localize
GSQUA
expression during the early stages of inflorescence development, a more detailed RNA
in situ
hybridization analysis of young, developing Gerbera inflorescences (diameter 6-17 mm) was performed (Figure
3
). In general,
GSQUA
genes studied here showed a wide range of expression patterns. In fact, the vasculature of the capitulum receptacle was the only common location where all of the
GSQUA
genes were expressed. In contrast to other
GSQUA
genes,
GSQUA1
was entirely restricted to the vasculature of the capitulum receptacle and petals [
4
].While
GSQUA2
and
GSQUA5
were found to be expressed in all parts of the inflorescence,
GSQUA3
and
GSQUA6
displayed a slightly narrower expression pattern at the inflorescence level.
GSQUA4
was expressed only in the reproductive organs in addition to the vasculature (Figure
3a, b
, ). Figure
3b
shows examples of developing individual ray flowers, while the summary in Figure
3a
is based on larger number of
in situ
hybridizations.
GSQUA2
expression was also seen in the receptacle between the emerging individual flowers (inflorescence size 6 mm, visible also in inflorescence size 14 mm) and petal expression was localized to the adaxial surfaces (Figure
3b
). The location of emerging flowers in the developing inflorescence was marked by strong
GSQUA2
expression even before clear anatomical differentiation was visible at the center of the capitulum (inflorescence diameter 6 mm) (Figure
3c
).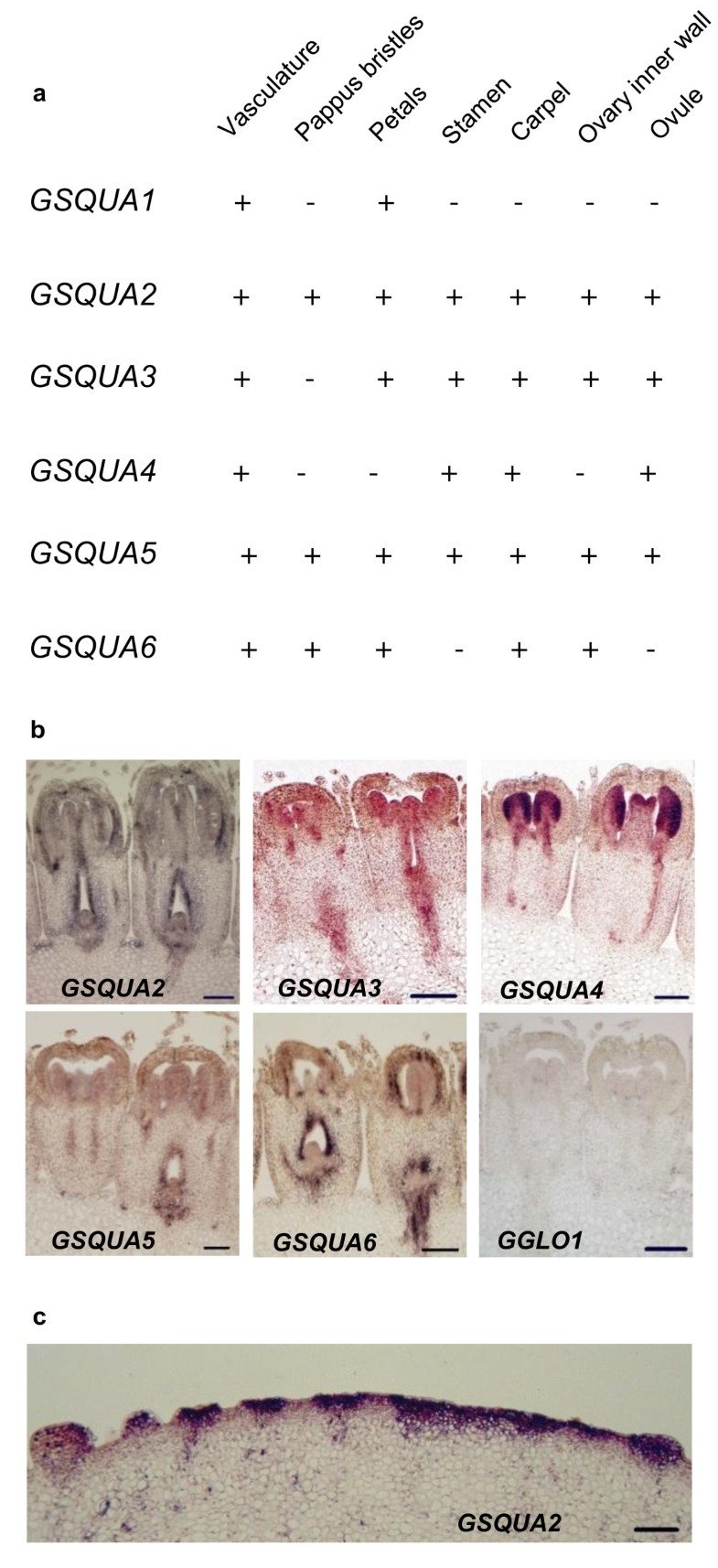 Phenotypic changes in GSQUA2overexpression lines
For functional analysis, we were only able to obtain clear and consistent phenotypes by overexpressing
GSQUA2
. Transformation of Gerbera with
GSQUA2
under the 35S promoter yielded five lines strongly overexpressing
GSQUA2
and one line with weaker overexpression, which correlated with milder phenotypic changes (Additional file
4
). Compared to the non-transformed Gerbera cultivar 'Terra Regina', all strong overexpression lines showed altered vegetative growth very early in development. The posture of the plants was upright, with leaves curving adaxially. The normal growth habit that leads to a tight rosette-like arrangement of leaves in Gerbera [
32
] was loosened, with the segments/vegetative axis of the stem strongly elongated. Inflorescences started to form after only two months in the greenhouse whereas the wild type cultivar 'Terra Regina' typically reaches the flowering stage after 6 months (Figure
4
). Root formation of the overexpression plants was poor. The plants were susceptible to molds in greenhouse conditions and they typically died after forming only a few inflorescences. Transformants grown in more controlled and contamination-free growth chamber conditions survived for longer periods of time. The general appearance of overexpression lines of
GSQUA2
was unstable due to their aberrant architecture, and they required support to remain upright. One milder phenotype was also observed (TR3). This line was not as dramatically dwarfed, but was clearly smaller and more delicate in structure, both vegetatively and inflorescence-wise, as compared to non-transgenic plants. RNA gel blot analysis showed strong expression for
GSQUA2
in the inflorescence, but overexpression in leaves was weaker compared to overexpression lines showing the dwarfed phenotype (Additional file
4
).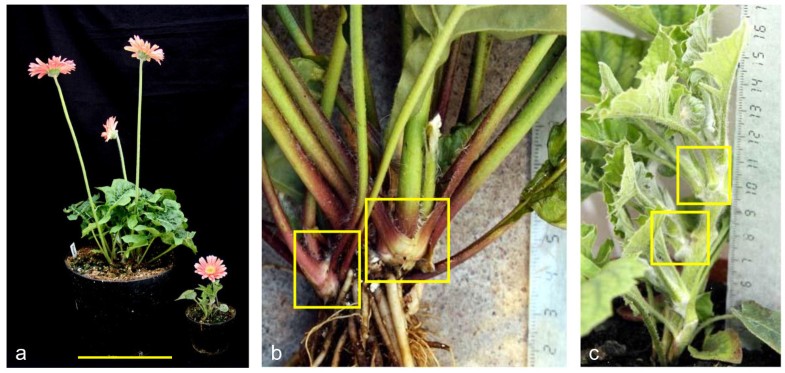 The number of flowers in the inflorescence of
GSQUA2
overexpression lines was reduced compared to wild type. Non-transformed Gerbera 'Terra Regina' inflorescences, grown side by side with the transformants in the greenhouse, contained on average about 900 individual flowers. The
GSQUA2
overexpression lines produced on average only 420 flowers in their inflorescences (Table
1
).
Table 1
The number of individual flowers in wild type Gerbera 'Terra Regina' inflorescence vs. GSQUA2 overexpression lines
| Inflorescence | Number of flowers/inflorescence | Average |
| --- | --- | --- |
| wt 'Terra Regina' | 882, 830, 965, 1001, 859 | 907,4 |
| CaMV 35S :: GSQUA2 | 534, 457, 535, 371, 202 | 419,8* |
Inspection of GSQUA2 overexpression lines with stereomicroscopy or scanning electron microscopy showed no homeotic changes in floral organs of any flower type (data not shown). However, petals of all flower types were shorter compared to the wild type petals, which is congruent with dwarfism and the overall smaller size of the inflorescence. Additionally, inflorescence color differed from wild type in being paler. Despite three transgenic lines producing antisense RNA for GSQUA2, no silencing of the endogenous GSQUA2 was observed.
Conclusions
Gerbera has an array of SQUA-like genes, which can be classified either as euAP1-like, or as FUL-like [2, 30]. However, none of these genes appear to act as an A function gene in the sense of the classical ABC model [7]. Based on these results, Gerbera can be added to the growing list of plant species that lack the A function comparable to Arabidopsis. GSQUA2 is intimately involved in the regulation of meristem transition in Gerbera as overexpression of GSQUA2 led to accelerated flowering. The role of GSQUA1, GSQUA3, GSQUA4, GSQUA5, and GSQUA6 in the floral development of Gerbera requires further study. The complex inflorescence structure and the high number of Gerbera GSQUA-like genes lead to a temptation to associate these two phenomena, but verifying this hypothesis requires more research.
Declarations
Acknowledgements
We would like to thank Dr. Richard Immink of Wageningen Plant Research International, the Netherlands for generously sharing material, advice and inspiring discussions, Dr. Amy Litt for transmitting her original AP1/FUL-like data matrix, M.Sc. Katriina Mouhu for helpful discussions on gibberellin, Ph.D. Ursula J. Malm for the PCR of full length GSQUA2, Eija Takala for excellent technical assistance and gardener Sanna Peltola for taking good care of the transgenic Gerbera lines used in this study. The plant breeding company Terra Nigra B.V., the Netherlands, is thanked for providing plant material and the Academy of Finland for funding (grant no 207410 and the Programme for Centres of Excellence in Research).
Authors' Affiliations
(1)
Gerbera Laboratory, Department of Agricultural Sciences, Finland
(2)
Biomedicum Helsinki, Finland
(3)
Department of Biological Sciences, University at Buffalo (SUNY), Buffalo, USA
Copyright
© Ruokolainen et al; licensee BioMed Central Ltd. 2010
This article is published under license to BioMed Central Ltd. This is an Open Access article distributed under the terms of the Creative Commons Attribution License (http://creativecommons.org/licenses/by/2.0), which permits unrestricted use, distribution, and reproduction in any medium, provided the original work is properly cited.