Research article

Open Access
Differential expression of cysteine desulfurases in soybean
BMC Plant Biology
2011
11:166
Received: 23 July 2011
Accepted: 18 November 2011
Published: 18 November 2011
Abstract
Background
Iron-sulfur [Fe-S] clusters are prosthetic groups required to sustain fundamental life processes including electron transfer, metabolic reactions, sensing, signaling, gene regulation and stabilization of protein structures. In plants, the biogenesis of Fe-S protein is compartmentalized and adapted to specific needs of the cell. Many environmental factors affect plant development and limit productivity and geographical distribution. The impact of these limiting factors is particularly relevant for major crops, such as soybean, which has worldwide economic importance.
Results
Here we analyze the transcriptional profile of the soybean cysteine desulfurases NFS1, NFS2 and ISD11 genes, involved in the biogenesis of [Fe-S] clusters, by quantitative RT-PCR. NFS1, ISD11 and NFS2 encoding two mitochondrial and one plastid located proteins, respectively, are duplicated and showed distinct transcript levels considering tissue and stress response. NFS1 and ISD11 are highly expressed in roots, whereas NFS2 showed no differential expression in tissues. Cold-treated plants showed a decrease in NFS2 and ISD11 transcript levels in roots, and an increased expression of NFS1 and ISD11 genes in leaves. Plants treated with salicylic acid exhibited increased NFS1 transcript levels in roots but lower levels in leaves. In silico analysis of promoter regions indicated the presence of different cis-elements in cysteine desulfurase genes, in good agreement with differential expression of each locus. Our data also showed that increasing of transcript levels of mitochondrial genes, NFS1/ISD11, are associated with higher activities of aldehyde oxidase and xanthine dehydrogenase, two cytosolic Fe-S proteins.
Conclusions
Our results suggest a relationship between gene expression pattern, biochemical effects, and transcription factor binding sites in promoter regions of cysteine desulfurase genes. Moreover, data show proportionality between NFS1 and ISD11 genes expression.
Keywords
Salicylic Acid
Cold Treatment
Salicylic Acid Treatment
Aldehyde Oxidase
Sulfur Assimilation
Background
[Fe-S] clusters may be the most ancient and versatile inorganic cofactors in biological systems. They can be found in all living organisms, participating in electron transfer, catalysis and regulatory processes. Besides, [Fe-S] clusters are involved in sensing environmental stimuli and regulation of protein expression [1–3]. In plants, the biogenesis of Fe-S proteins is compartmentalized and mostly adapted to the requirements of the green tissue, which carries out both photosynthesis and respiration, processes that require significant amounts of Fe-S proteins. Mitochondria and plastid have their own machineries for [Fe-S] cluster assembly, which differ in biochemical and genetic properties. Among the Fe-S proteins known in plant mitochondria are complexes I, II and III of the respiratory chain and aconitase of the citric acid cycle, and in plastids are cytochrome b6f complex, photosystem I and ferredoxin-thioredoxin reductase [4–7].
Three different systems for [Fe-S] clusters biosynthesis have been identified in bacteria, all of them share cysteine desulfurases and [Fe-S] cluster scaffold proteins. Those systems are referred to as NIF (nitrogen fixation system), ISC (iron-sulfur cluster assembly system) and SUF (sulfur mobilization system) [8–10]. There are several mitochondrial proteins homologous to the bacterial ISC system, including a group I NifS-like proteins, supporting the evolutionary relationship between α Proteobacteria and mitochondria [5]. In yeast, it has been shown that mitochondria are the primary site of [Fe-S] cluster formation; however, these organelles not only produce their own Fe-S proteins, but are also required for the maturation of cytosolic Fe-S proteins [11]. In the chloroplast, five different [Fe-S] cluster types are found in various proteins, and this organelle possesses its own machinery for [Fe-S] biosynthesis which is most similar to those found in cyanobacteria containing the SUF system and the cysteine desulfurase which is similar to the bacterial SufS, a group II NifS-like protein [12, 13].
Cysteine desulfurase is a pyridoxal 5'-phosphate (PLP)-dependent enzyme that catalyzes the conversion of L-cysteine to L-alanine and sulfane sulfur. This occurs through the formation of a protein-bound cysteine persulfide intermediate on a conserved cysteine residue [14, 15]. Considering that sulfide and free iron are toxic to the cell, intracellular concentrations are thought to be extremely low. Besides being involved in sulfur mobilization, cysteine desulfurase is proposed to be involved in cellular iron homeostasis [16–18]. ISD11 is an essential mitochondria matrix protein, a component of the ISC-assembly machinery, and is conserved in eukaryotes, but not found in prokaryotes. This protein forms a stable complex with NFS1, increases NFS1 activity, and is essential for the enzymatic activity of several Fe-S proteins [19, 20]. Sulfur-containing defense compounds (SDCs) are involved in stress response and their synthesis involve several genes for sulfur assimilation [21].
It is hypothesized that soybean (Glycine max) has gone through at least two polyploidy and diploidization events, being considered a paleopolyploid [22], still presenting many gene duplications [23]. Various stresses can adversely affect plant growth and crop production, such as low temperature which modifies membrane lipid composition, thus affecting mitochondria respiratory function [24] and presumably photosynthesis. Expression of various plant genes is regulated by abiotic environmental stresses such as cold. Many cis-acting elements involved in stress response and stress-inducible genes contain cis-acting elements in their promoter regions have been described.
Here, we identified the soybean cysteine desulfurase genes by sequence comparison. Furthermore, we investigate the responsiveness of these genes under biotic and abiotic stresses, as well as transcript distribution in different tissues. Association between the high transcript level of mitochondrial genes, NFS1 and ISD11, and an increased expression of two cytosolic Fe-S proteins is showing here. Our data also demonstrate the relationship between the presence of specific cis-elements and regulation of transcript levels under various conditions.
Discussion
Soybean is a paleopolypoid plant, whose polyploidisation may have occurred in the common ancestor of the soybean and Medicago truncatula. In addition, it was suggested that a relatively recent polyploidy event occurred in the soybean lineage [22, 30]. All analyzed genes are present in duplicate on different chromosomes showing a high degree of conservation and share important characteristics [25]. Due to the polyploidy events, mutations and gene rearrangements occurred, resulting in diversification of gene expression [31]. Here, we present the characterization of the promoters of soybean NFS1and NFS2 genes, and identified tissue- and stress-specific response in expression of cysteine desulfurase and ISD11 genes both involved in [Fe-S] cluster biosynthesis.
Three different systems responsible for [Fe-S] cluster biosynthesis have been described [3], and involved genes appear to be conserved in bacteria, fungi, animals and plants [6, 32]. In our phylogenetic analysis (Figure 1), it was possible to identify three distinct groups, composed of proteins from ISC, NIF and SUF systems. G. max protein sequences were located in plant clades near to M. truncatula. Comparing our phylogenetic approach and the described polyploidy events [30], it was possible to hypothesize that analyzed cysteine desulfurase genes were duplicated after the divergence of soybean and M. truncatula. Thus, soybean has two copies of each cysteine desulfurase gene, while M. truncatula has only one copy (Figure 1). Both species contain duplicated ISD11 genes (data not shown). Therefore, this polyploidy event may have occurred prior to divergence of both lines.
The present results suggest that NFS1 and NFS2 soybean genes, which encode proteins involved in sulfur assimilation and [Fe-S] cluster biosynthesis [16], are involved in response to cold stress and SA. Sulfur is an essential macronutrient which is assimilated to cysteine [33, 34], which will take part in the assembly of SDCs. When exposed to biotic and/or abiotic stress, synthesis of SDCs is induced via different signals, demonstrating their potential involvement in stress defense. There is an increased demand for cysteine as a precursor due to SDCs synthesis; therefore, the expression of genes for sulfur assimilation is induced [21]. Analyzing cold-treated plants, it is possible to observe that, in leaves, NFS1 and NFS2 genes increased transcript levels (Figure 3), perhaps due to SDCs stress response or due to its possible role in SDCs synthesis. When treated with SA, a simulator of biotic stress, NFS1 genes changed their expression pattern (Figure 4). In both experiments we observed a particular expression pattern, i.e. organs with primary contact to the stressor showed an increase in cysteine desulfurase transcript levels, while those less exposed showed a lower expression (Figures 3 and 4). This opposite profile may be due to a compensatory mechanism present in early stress response, and it may change if plants are exposed to longer stress periods.
When the plant cell are exposed to biotic or abiotic stress factors, modifications of the lipid composition of its membranes occur [35]. Soybean mitochondria show modifications in lipid content in response to low temperature [36], and this can alter respiratory properties and gene expression [24, 37]. As many proteins involved in respiration, such as complexes I, II and III, are Fe-S proteins [4], a modification in the respiratory profile may change the requirement for proteins of the [Fe-S] cluster biosynthesis pathway, i.e. altering the expression of cysteine desulfurase genes. Stress dependent changes in gene expression occur in the cytoplasm as well as in chloroplasts. Whereas mitochondria developed an export system for [Fe-S] clusters that is essential for maturation of many nuclear and cytosolic proteins, [Fe-S] cluster biosynthesis in mitochondria has a direct impact on protein activity, such as for aldehyde oxidase and xanthine dehydrogenase [16, 38, 39] as shown in Figure 6. The chloroplast is extremely sensitive to abiotic stress factors, such as elevated temperature and light, both increasing reactive oxygen species. Glutathione is involved in protection against oxidative damage triggered by biotic and abiotic stress in the cytosol and other cellular compartments. Synthesis of this peptide depends on sulfur assimilation and cysteine synthesis [21, 33, 34], as this amino acid is the substrate of cysteine desulfurase [14, 40], a change in cysteine content may lead to a modification in its catalytic properties.
SA and its methylated form are involved in development, and are also fundamental for hypersensitive response and for systemic acquired resistance under biotic stress [41, 42]. SA can induce the formation of reactive oxygen species, and these can react with various molecules in the cell, including lipids. As the organelle is often exposed to strong oxidative stress, some antioxidant enzymes should be simultaneously upregulated. An alternative oxidase has been proposed to represent a functional marker for mitochondrial dysfunction during biotic stress, and its content is increased in SA-treated soybean [35, 43]. The treatment with SA causes mitochondrial dysfunction via oxidative stress causing changes in the cysteine desulfurase expression. This enzyme transfers electrons from reduced ubiquinone to molecular oxygen, bypassing complexes III and IV [24], and complex III contains [Fe-S] cluster [4]. In addition, SA-treated soybean altered the fatty acid composition of its mitochondria. As these organelles modified their membranes upon SA treatment, and cellular respiration involves Fe-S proteins, the expression of cysteine desulfurase may be altered under biotic stress.
The present quantitative RT-PCR results revealed a relationship between NFS1 and ISD11 transcript contents in roots and leaves as both genes showed a similar expression pattern (Figure 2). Moreover, to analyze whether an increase in NFS1 expression triggers an increase in ISD11 transcript levels, we studied ISD11 expression levels under cold stress. In roots, total ISD11 mRNA decreased during the treatment and recovered to the initial level after 24 h, while NFS1 transcript levels did not change. In leaves, both genes were upregulated (Figure 3). The similarity in expression pattern between these genes may be explained by their function. NFS1 is a cysteine desulfurase involved in [Fe-S] biosynthesis in mitochondria [6], whereas Isd11 was recently identified in yeast as a protein responsible for forming a stable complex with Nfs1 [19, 20]. Besides interacting with the cysteine desulfurase, ISD11 showed in humans an important role in mitochondrial and cytosolic iron homeostasis [44] mediated by NFS1 [18]. Here, we demonstrated that interaction between mitochondrial genes NFS1/ISD11 increased expression and maturation of cytosolic enzymes XDH and AO. These results corroborate with data described for yeast, which associates the mitochondrial machinery for [Fe-S] cluster biosynthesis as being responsible for maturation of cytosolic Fe-S proteins. Also, results in Figure 6, show, for the first time, a direct relation among increase expression of both cytosolic Fe-S protein (XDH and AO) and mitochondrial cysteine desulfurase as a result of cold stress conditions. Moreover, our results are in agreement with the experiments involved co-expression of NFS1 and ISD11 of A. thaliana, which show a higher stability of NFS1 when co-expressed with ISD11 may suggesting that the interaction of NFS1/ISD11 promote the correct conformational structure of NFS1 (de Oliveira, LA and Frazzon, APG personal communication).
The soybean genome contains highly similar genes integrated in wider regulatory networks involved in differential regulation, including the presence of cis-acting regulatory elements in promoter regions [31]. Therefore, we analyzed DNA sequences to predict putative transcription factor binding sites located in the -1500 bp promoter regions. Duplicated genes have highly homologous promoter regions (Figure 5). When cis-elements were compared, all genes share high degree of common binding sites (Figure 5), suggesting that cysteine desulfurase genes share regulatory networks. In spite of this similarity, it has been shown that different environmental factors may trigger gene expression (Figures 2, 3 and 4). Since a complex molecular network is involved in regulation of gene expression and transcription factors are important components that lead to activation or repression of transcription [45], the differences observed may be due to the requirements of the corresponding factors in a particular tissue or organelle. The analysis of transcription factor binding sites provided an insight into transcript level data. Cis-elements related to quantitative RT-PCR experiments are shown in Table 2. A Py-rich element was found in NFS1_Chr11 and NFS2_Chr15 genes that showed high transcription levels in leaves and in both leaves and roots, respectively. An ARE element was found in NFS1_Chr01, which displayed higher expression in roots than in leaves, whereas promoters with an as-2-box element showed higher expression in leaves. The TCA-element, related to SA response, was found in NFS1 genes that changed transcription pattern under this stress. Besides, all genes had cis-elements related to defense and stress (TC-rich) and to drought response (MBS), and several genes are induced by both drought and cold stress, indicating a crosstalk between signaling pathways [46].
Conclusions
In this study, we carried out an analysis of cysteine desulfurase genes from soybean, which are involved in [Fe-S] cluster biosynthesis. This study suggests that
NFS1
and
NFS2
genes are involved in stress response, and that their differential expression may be due to the presence of different
cis
-elements (Figure
7
). Furthermore,
ISD11
displayed an expression pattern similar to
NFS1
genes, supporting a positive correlation in their activity. Our results provide the first insight into differential expression of duplicated genes involved in [Fe-S] cluster pathway, but further research is needed to determine whether other genes involved in [Fe-S] cluster biogenesis follow this pattern.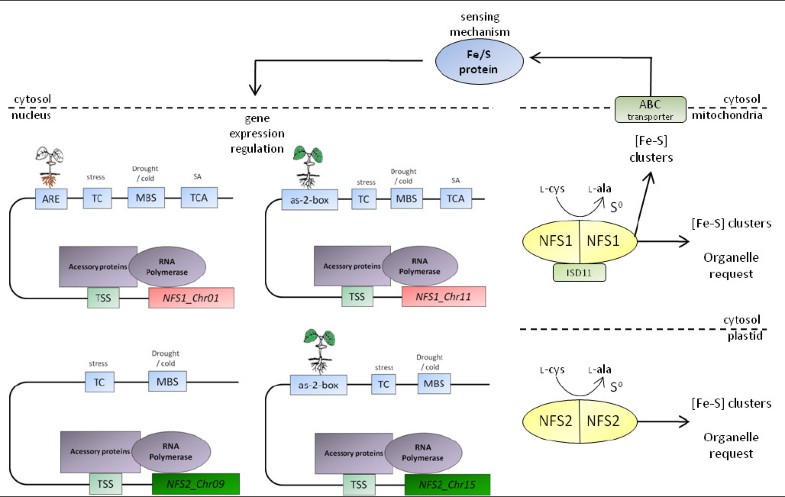 Declarations
Acknowledgements
We are very grateful to Prof. Giancarlo Pasquali and Prof. Márcia P. Margis from UFRGS for laboratorial and technical support. We also thank Prof. Jörg Meurer (Ludwig-Maximilians-University, Munich, Germany) for his editing of the manuscript. This work was supported by Conselho Nacional de Desenvolvimento Científico e Tecnológico (CNPq- #302471/2009-0, #470388-2009-9 and #473769/2007-7) of Brazil, and the Coordenação de Aperfeiçoamento de Pessoal de Nivel Superior (PDEE/CAPES) of Brazil.
Authors' Affiliations
(1)
Biotechnology Center, Federal University of Rio Grande do Sul - UFRGS, Porto Alegre, Brazil
(2)
Department of Microbiology, Federal University of Rio Grande do Sul - UFRGS, Porto Alegre, Brazil
(3)
Department of Food Science, Federal University of Rio Grande do Sul - UFRGS, Porto Alegre, Brazil
Copyright
© Heis et al; licensee BioMed Central Ltd. 2011
This article is published under license to BioMed Central Ltd. This is an Open Access article distributed under the terms of the Creative Commons Attribution License (http://creativecommons.org/licenses/by/2.0), which permits unrestricted use, distribution, and reproduction in any medium, provided the original work is properly cited.