Research article

Open Access
Fruit development of the diploid kiwifruit, Actinidia chinensis 'Hort16A'
BMC Plant Biology
2011
11:182
Received: 22 August 2011
Accepted: 28 December 2011
Published: 28 December 2011
Abstract
Background
With the advent of high throughput genomic tools, it is now possible to undertake detailed molecular studies of individual species outside traditional model organisms. Combined with a good understanding of physiological processes, these tools allow researchers to explore natural diversity, giving a better understanding of biological mechanisms. Here a detailed study of fruit development from anthesis through to fruit senescence is presented for a non-model organism, kiwifruit, Actinidia chinensis ('Hort16A').
Results
Consistent with previous studies, it was found that many aspects of fruit morphology, growth and development are similar to those of the model fruit tomato, except for a striking difference in fruit ripening progression. The early stages of fruit ripening occur as the fruit is still growing, and many ripening events are not associated with autocatalytic ethylene production (historically associated with respiratory climacteric). Autocatalytic ethylene is produced late in the ripening process as the fruit begins to senesce.
Conclusion
By aligning A. chinensis fruit development to a phenological scale, this study provides a reference framework for subsequent physiological and genomic studies, and will allow cross comparison across fruit species, leading to a greater understanding of the diversity of fruits found across the plant kingdom.
Keywords
Ethylene ProductionFruit DevelopmentFruit GrowthAuxin Response FactorFlesh Colour
Background
The development of flower organs into fleshy fruits provides both efficient protection and dispersion of seeds. Fleshy fruits develop from swollen ovaries or other flower parts [1], with the structure laid down before or soon after flowering pollination and fertilisation [2]. Following fertilisation there is a period of rapid growth, facilitated initially by cell division that determines fruit shape, sink strength and size. Cell division may be completed 7-10 days after anthesis in tomato or extend up to 50 days after anthesis in orange [1]. Subsequent fruit growth is due to the expansion of cells modulated by seed development and its effect on fruit sink strength [3]. Towards the end of fruit growth, embryos mature and the fruit ripens, often exhibiting rapid changes in hormone concentrations, respiration, cell wall integrity, colour, aroma and flavour compounds [4]. These desirable characteristics have led to a long history of selection, commercial development and understanding of fruit crops like apple, grape, tomato, citrus and stone fruit. Many of these crops bear fruit with little resemblance to their wild relatives because of this long period of domestication. In contrast, all cultivated kiwifruit, including commercially important cultivars 'Hayward' (Actinidia deliciosa (A. Chev.) C.F. Liang et A.R. Ferguson), and 'Hort16A' (Actinidia chinensis Planch. var. chinensis 'Hort16A') are only one or two generations removed from their wild relatives [5].
Actinidia species (family Actinidiaceae) share a number of common characters; they are all dioecious, with the ovary of the female flower formed by the fusion of many carpels with a whorl of free, radiating styles. The fruit is a berry containing many seeds in a juicy flesh [6]. Early research focused on cultivars within the hexaploid, green-fleshed, A. deliciosa kiwifruit [7–11]. However, because of its high ploidy number, molecular studies on this fruit are challenging and researchers are selecting the diploid genotypes of A. chinensis to understand the molecular processes of this genus. There is now a comprehensive genetic map of the 29 chromosomes of A. chinensis [12], a considerable number of ESTs [13], and it is readily transformable [14]. Finally, A. chinensis is currently the focus of an on-going genome sequencing programme (R Hellens, pers. comm.). Studies of fruit development in A. Chinensis 'Hort16A' have focused on some aspects of fruit growth and colour development [15–19], while seasonal changes in fruit carbohydrate concentrations have been described for other A. chinensis genotypes [20]. One of the unusual features of Actinidia species is in their ripening behaviour, although classified as a climacteric fruit [11] the majority of ripening occurs before autocatalytic ethylene is produced [21].
The researchers of many plant species have benefitted from standardised descriptors of development, as this allows research studies to be compared under different environments or management systems to assess the effect of mutagenesis or specific transgenes. The most commonly used method is the Biologische Bundesantalt, Bundessortenamt und Chemische Industrie (BBCH) scale, which describes phenological changes in plant growth using a numeric scale with two decimal digits, the first to represent the principal stages (from 0 to 9) and second to represent secondary growth stages (from 0 to 9) [22]. BBCH scales for full plant growth are now available for many plants including Arabidopsis thaliana (converted to a 0-9.9 scale) [23], cereals [22], vegetable crops [24], pome and stone fruits [25], grapevine [26], and citrus [27]. While the BBCH scale has been used to describe the development of A. deliciosa 'Hayward' [28], that study was not focused on fruit development and there was little detail of the physiological processes at each developmental step.
Here we present a detailed study of fruit development from anthesis through to fruit senescence for A. chinensis 'Hort16A' [29]. Aspects of development studied include fruit growth and ripening (softening, flesh colour change and soluble solids accumulation), carbohydrate and acid accumulation, ethylene metabolism and gene expression. From this study, we propose a systematic model based on the BBCH system for describing the physiological development of the fruit that can be used as anchor points for subsequent kiwifruit development research.
Discussion
Here we have described in detail the physiological changes that occur during on-vine development of
Actinidia chinensis
'Hort16A' fruit, from anthesis to senescence, in relationship to the BBCH scale (summarised in Figure
9
). The BBCH scale is a whole-plant scale, designed by crop physiologists to compare growth and development from seed to senescence across plant species, with fruit being only one component of the scale. This results in some studies providing only a coarse description of fruit growth stages, which are hard to apply to a given experiment. With the detailed descriptions of fruit growth given here (Table
1
), a framework is provided for fruit development studies in other cultivars, and other
Actinidia
species. This scale differs from the scale proposed in a whole-plant study for a second kiwifruit species,
A. deliciosa
'Hayward' by [
28
]. Firstly, the principal stage 80 is assigned to fully black seed (previously assigned to stage 85 [
28
]), and secondly, stage 90 is assigned to fruit that are beginning to produce autocatalytic ethylene, which was not measured in [
28
]. The invariant principal stages detailed here are likely to be conserved across
Actinidia
, and secondary stages between 70 and 80 based on final fruit size can easily be translated. The secondary stages between 80 and 90 are likely to be more species- and cultivar-specific, especially with the range of flesh colour in ripe fruit observed across different
Actinidia
species and cultivars [
13
,
18
]. The descriptor for stage 90 appears to be conserved, as previous studies in other
Actinidia
species have reported a ripening progression in the absence of autocatalytic ethylene [
11
,
21
,
37
].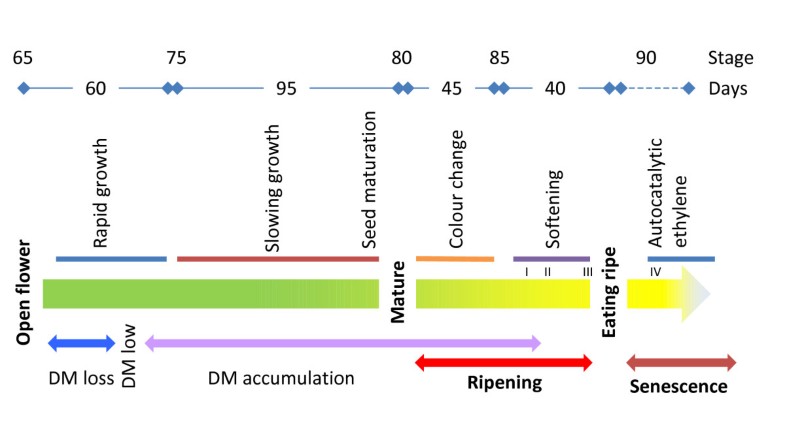 Like many perennial fruit, such as apple [38], grape [26], and citrus [1], 'Hort16A' kiwifruit have a long fruit development period. Fruit growth spans much of the annual growing season, beginning at anthesis in spring, followed by rapid summer fruit growth, ripening in autumn and finally senescence and abscission of fruit from the vine in winter [7, 39]. In contrast, fruit growth and development in tomato occurs over only 1.5 to 2 months, compressing the events of fruit development [3, 40, 41]. Despite the difference in time to develop, tomato and 'Hort16A' fruit have many similarities; they are true fruit (berries) that are ovary-derived, they have similar tissue zones, (outer pericarp, locular inner pericarp and core tissue) and during maturity and ripening the fruit flesh changes colour and the flesh softens. In this study, 'Hort16A' fruit growth followed a sigmoidal pattern, in agreement with previous studies [15]. The closely related A. deliciosa fruit growth has also been described as having a double [7] or triple [11] sigmoidal growth pattern. In these studies, the additional inflections are likely to be environmentally derived rather than genetically programmed, as shown by the slower period of growth in 'Hort16A' during drought in Season 3. Biphasic growth is also typical of tomato fruit from a range of different genotypes [40]. In this study, we have also documented that fruit growth continues during the early stages of fruit ripening, and fruit appear to shrink once they reach eating ripeness and begin to senesce. In both tomato and A. deliciosa, the first stage of growth is dominated by a period of cell division, seed formation and early embryo development [3, 7], which is likely to be true for 'Hort16A' in the initial period of development (stages 70-75). This period was characterised by rapid changes in the size and development of first the outer and then the inner pericarp tissue, development of seed, as well as expression of an EXP7 and an ARF gene. Another feature of this period of rapid growth and development was the greater influx of water compared with carbon into fruit [15] and accumulation of quinic acid [42]. The fundamental change from the initial rapid period of growth to a longer period of slowing growth is defined as stage 75. In both tomato and 'Hayward' kiwifruit, this change in growth rate indicates the change from predominantly cell division to a period of cell expansion [3, 7].
Compared with many other fruit, the ripening response in A. chinensis is unusual. The pattern of ethylene production of 'Hort16A' fruit is similar to that of 'Hayward' fruit. 'Hayward' has been classified as a climacteric fruit [43], despite the fruit ripening in the absence of a marked increase in ethylene production [11]. In 'Hayward', fruit typically do not produce autocatalytic ethylene until below a firmness of 10 N [21], unless damaged in some way, either physically, physiologically or by disease [44, 45]. 'Hort16A' also ripens in the absence of autocatalytic ethylene production. This contrasts with tomato, where ethylene production increases rapidly at the beginning of fruit ripening. Autocatalytic ethylene is only produced by 'Hort16A' fruit, after stage 89, and therefore it may therefore be more appropriate to link ethylene production with fruit senescence rather than ripening. Because of this, we have included stage 90 for senescence in the proposed BBCH scale for 'Hort16A' (Figure 9). It is important to note, however, that this senescence phase appears to be linked to a tomato ripening response as the RIPENING INHIBITOR gene [46] is similar to the Arabidopsis SEP4 gene. The closest kiwifruit homologue of this gene AcSEP4 [35] is upregulated at the point of climacteric ethylene production. This also corresponds to other ripening-associated gene expression; for example, up-regulation of a β-AMYLASE gene [32] was observed during this phase (Figure 8).
While kiwifruit ripening is independent of autocatalytic ethylene production, it appears that endogenous ethylene may play a role in softening. Studies with the inhibitor of ethylene action 1-Methylcyclopropene (1-MCP) have shown that rapid softening (stage 88) can be slowed by blocking ethylene action [47, 48]. In addition, kiwifruit are particularly sensitive to exogenously applied ethylene and respond by softening rapidly [49]. This suggests that basal amounts of ethylene may contribute to the ripening process, while not actually inducing an autocatalytic response. It also suggests that autocatalytic ethylene production has a lower sensitivity to ethylene than fruit softening, which is consistent with the sensitivity/dependency model proposed for apple fruit ripening by.
Conclusions
This study has detailed the developmental changes that occur during fruit development in 'Hort16A' fruit. By aligning this to a BBCH scale, we provide a framework for further physiological and molecular studies to be compared, independently of the number of days after anthesis, or environmental effects in any given year.
List of Abbreviations
BBCH:

Biologische Bundesantalt, Bundessortenamt und Chemische Industrie
DAA:

Days After Anthesis
EST:

Expressed Sequence Tag
IP:

Inner Pericarp
OP:

Outer Pericarp
qPCR:

quantitative Polymerase Chain Reaction.
Declarations
Acknowledgements
We would like to thank Nagin Lallu for help and advice on ethylene treatments, Tim Holmes for the kiwifruit photography, Ian Hallett, Linda Boyd and Anne Le Guevel for the microscopy image of the A. chinensis flower, the technical and orchard staff at the Kerikeri Research Centre for assistance with sampling and plant management, and Dave Billing for help with ethylene monitoring. This work was funded by the New Zealand Foundation for Research Science and Technology (Contract No. C06X0706). We would like to thank Toshi Foster and Simona Nardozza for critically reading the paper.
Authors' Affiliations
(1)
The New Zealand Institute for Plant & Food Research Limited (PFR), Kerikeri, New Zealand
(2)
PFR Ruakura, Private Bag 3123, Hamilton, New Zealand
(3)
PFR Mount Albert Private Bag 92169, Auckland, New Zealand
(4)
The University of Auckland, School of Biological Sciences, Auckland, New
Copyright
© Richardson et al; licensee BioMed Central Ltd. 2011
This article is published under license to BioMed Central Ltd. This is an Open Access article distributed under the terms of the Creative Commons Attribution License (http://creativecommons.org/licenses/by/2.0), which permits unrestricted use, distribution, and reproduction in any medium, provided the original work is properly cited.