Research article

Open Access
miRNA regulation in the early development of barley seed
BMC Plant Biology
2012
12:120
Received: 27 February 2012
Accepted: 17 July 2012
Published: 28 July 2012
Abstract
Background
During the early stages of seed development many genes are under dynamic regulation to ensure the proper differentiation and establishment of the tissue that will constitute the mature grain. To investigate how miRNA regulation contributes to this process in barley, a combination of small RNA and mRNA degradome analyses were used to identify miRNAs and their targets.
Results
Our analysis identified 84 known miRNAs and 7 new miRNAs together with 96 putative miRNA target genes regulated through a slicing mechanism in grain tissues during the first 15 days post anthesis. We also identified many potential miRNAs including several belonging to known miRNA families. Our data gave us evidence for an increase in miRNA-mediated regulation during the transition between pre-storage and storage phases. Potential miRNA targets were found in various signalling pathways including components of four phytohormone pathways (ABA, GA, auxin, ethylene) and the defence response to powdery mildew infection. Among the putative miRNA targets we identified were two essential genes controlling the GA response, a GA3oxidase1 and a homolog of the receptor GID1, and a homolog of the ACC oxidase which catalyses the last step of ethylene biosynthesis. We found that two MLA genes are potentially miRNA regulated, establishing a direct link between miRNAs and the R gene response.
Conclusion
Our dataset provides a useful source of information on miRNA regulation during the early development of cereal grains and our analysis suggests that miRNAs contribute to the control of development of the cereal grain, notably through the regulation of phytohormone response pathways.
Keywords
microRNA
Barley
Grain development
Plant hormones
Disease resistance
Small RNA sequencing
mRNA degradome
PARE
Background
MicroRNAs (miRNAs) are a class of non-coding small RNAs (smRNAs) that act to reduce expression of target genes by interacting with their target mRNAs in a sequence-specific manner. Since their discovery it has become clear that miRNAs are an important component in the regulation of many genes in most eukaryotic cells. In plants, most currently validated miRNA targets code for transcription factor families with crucial developmental functions, including the control of root and shoot architecture, vegetative to reproductive phase transitions and leaf and flower morphogenesis [1, 2].
miRNAs are processed from a primary miRNA transcript which folds to form an imperfect stem-loop. The pri-miRNA hairpin is recognised and processed to a smRNA duplex consisting of the miRNA and complementary miRNA* by a protein complex containing a DCL1-type RNase. The mature miRNA, which is typically 20–21 nt in length, is then incorporated into the RNA Induced Silencing Complex (RISC) to regulate one or more target genes in trans through a base pairing mechanism. Most plant miRNAs appear to trigger both mRNA cleavage (between the nucleotides matching the 10th and 11th position of the miRNA) and translational repression of their target genes [3]. Although these two mechanisms are additive, they can be dissociated when slicing activity is disabled by a mis-pairing in the central region between the miRNA and its target [4–7]. In plants, the high level of complementarity between the miRNAs and their targets suggests slicing is the predominant mode of action of miRNAs [7]. Alternatively, miRNAs can regulate their target indirectly through the production of trans-acting short interfering RNAs (tasiRNAs) [8, 9]. tasiRNAs are synthesised from a non-coding mRNA that is processed to phased 21 nt smRNAs by a miRNA triggered process. Like miRNAs, tasiRNAs can regulate multiple target genes through a slicing mechanism.
The number of annotated miRNAs in miRBase has exponentially increased in the last decade [10]. The earliest group of miRNAs were identified in silico using algorithms to predict stem-loop precursors and targets present in the genome and/or EST databases [11–15]. Subsequent developments in high throughput sequencing made it possible to identify miRNAs based on sequencing of smRNA libraries in a wide range of species. Schreiber et al.[16] identified 100 miRNAs, including 44 new miRNAs, from barley leaves using short-read sequence data. A major challenge of sequencing based approaches is to identify the miRNAs amongst a smRNA population mostly composed of short-interfering RNAs (siRNAs) [17]. Distinguishing these two major smRNA classes relies principally on identifying their origin. An siRNA locus produces several overlapping siRNAs, whereas the pri-miRNA encoded by a MIR gene usually produces one miRNA from an imperfect RNA hairpin [18]. Additional criteria can also help classify a smRNA, such as its length and mode of action. Most miRNAs and tasiRNAs are 21 nt in length and post-transcriptionally regulate their target genes in trans, whereas the vast majority of the 24 nt smRNAs correspond to cis-acting siRNAs (casiRNAs) that regulate the transcription of their own locus of origin through a DNA methylation based mechanism.
miRNA targets are often validated using a modified 5'RACE technique to detect the products of miRNA-mediated cleavage [19]. For most currently annotated miRNA targets, cleavage has not been verified and therefore the function of the corresponding miRNA in vivo has not been established. Recently, techniques which combine 5'RACE and high throughput sequencing (Parallel Analysis of RNA Ends (PARE) and equivalent methods [20–22]), have been used to simultaneously validate all sliced miRNA targets in a given RNA extract. Such an approach has been successfully carried out in Arabidopsis, rice, soybean, grapevine, citrus and medicago [23–28]. However, identifying a miRNA regulation is dependent on examining the appropriate tissue and developmental stage. As miRNAs are predominantly post-transcriptional regulators [29, 30], the impact of their regulation depends on the overlap of their spatio-temporal expression with that of their target genes [1, 2]. miRNAs from the same family can potentially have different functions depending on their expression profile, as suggested for members of the miR169 and miR171 families that differentially accumulate in response to abiotic stress in rice [31, 32].
Despite the growing knowledge of miRNA functions in plants, only the functions of highly conserved miRNAs have been investigated in crop species. Perhaps the best characterized miRNAs in cereals are miR156 and miR172 which regulate SPL (Squamosa Promoter-binding protein-Like) and AP2-like genes, respectively. miR156 controls shoot branching in rice and maize [33–35] and miR172 regulates floral organ identity in rice, maize and barley [36–41]. In maize, miR172 accumulation is affected by miR156 and both miRNAs are involved in the regulation of the juvenile to adult phase transition [33]. In contrast to the highly conserved miRNAs, the majority of the newly discovered miRNAs are weakly expressed and only found in closely related species, suggesting that they have recently evolved and could contribute to determining species-specific traits.
Barley is the fourth most cultivated crop worldwide; its grains are used for both human consumption and livestock feed. From anthesis, it takes approximately 40 days to form a mature grain composed of 3 principal tissues: the embryo, the endosperm (starchy endosperm and aleurone layers), and the outside layer (seed coat and pericarp). The development of the grain can be divided in three principal stages based on morphological changes, metabolite accumulation and transcriptome analysis: pre-storage, storage (or maturation) and desiccation [42–45]. The pre-storage phase, which corresponds to the first 5 Days Post Anthesis (DPA), is characterized by extensive mitotic activity in both embryo and endosperm. The transition to the storage phase, roughly between 5 and 10 DPA, can be considered as an intermediate stage characterized by dramatic transcriptional changes in order to mobilize energy resources and initiate the differentiation of the tissues that will constitute the mature grain. Throughout the maturation phase, which lasts up to ~25 DPA, aleurone and embryonic tissues acquire desiccation tolerance whereas the endosperm cells undergo endoreduplication and accumulate storage metabolites (mainly starch and proteins) [46].
In this study we investigated the miRNA-mediated gene regulation that takes place during the growth of the barley grain. Since the early stages of development play a key role in determining grain quality characteristics, we focused on the pre-storage and early storage phases (0–15 DPA). From analysis of smRNA and degradome libraries, 96 genes regulated by miRNA-mediated cleavage were identified including transcription factors, kinases, oxidoreductases, hydrolases, transferases, receptors and transporters. Our data suggest that miRNAs contribute widely to the control of development of the cereal grain, notably through the regulation of phytohormone response pathways.
Results and discussion
The early development of the seed is marked by large-scale transcriptional changes, especially during the transitional phase. In order to correlate those changes with variation in miRNA abundance, we made smRNA and mRNA-degradome libraries from the whole caryopsis at three consecutive developmental stages: (A) from 1 to 5 DPA (early pre-storage), (B) from 6 to 10 DPA (late pre-storage or transition phase), and (C) from 11 to 15 DPA (early storage). An overview of our analysis is presented Figure
1
. We first used the smRNA libraries to detect known miRNAs and to identify new miRNAs based on the presence of their precursor in cDNA databases. We then used the degradome libraries to identify potential endonuclease cleavage sites in EST sequences and selected those that could result from slicing by a sequenced smRNA. The smRNAs associated with a cleavage site in the degradome data are designated as potential miRNAs (pot-miRNAs).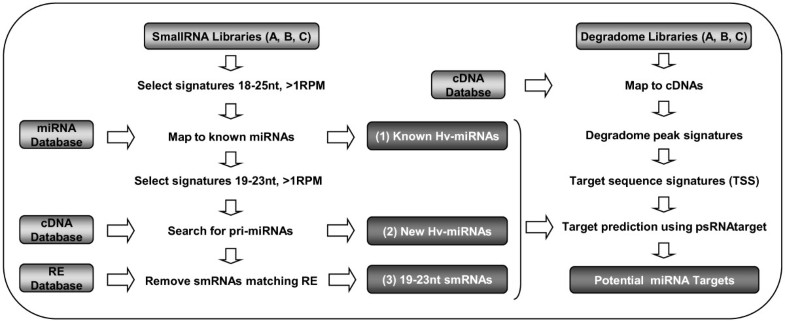 Conclusion
The data we have generated provides a comprehensive source of information about the timing of miRNA regulation during grain development. Regulation by miRNAs peaks during the transition phase (5–10 DPA) which correlates with the timing of a major change in transcript profiles. The 96 potential miRNA target genes we identified are predicted to be involved in various functions including photosynthesis, carbohydrate translocation, phytohormone signalling, cell differentiation and defence response. Our data suggest an upstream function of the miRNAs in coordinating tissue specification and energy mobilization to ensure proper growth and development of the grain.
As increasing amounts of genome sequence data become available our data can be re-examined to identify more miRNA precursors and refine the predictions of which genes are under miRNA regulation. The analysis of the biological roles of miRNAs in cereals currently depends on transgenic approaches; however the identification of miRNA resistant target mRNAs that give rise to altered phenotypes in rice and barley [34, 35, 38] suggests that the use of high-throughput methods to identify sequence changes leading to miRNA-resistant targets will allow assessment of the roles of other miRNAs.
Methods
Biological material
Barley (Hordeum vulgare) plants were grown in naturally lit phytotron glasshouses with air temperature set at 17°C/9°C day/night cycle. The plants were grown from October to December when the time of anthesis was determined for each head based on the dissection of the middle spikelet. Immature grains were harvested from the middle six rows of the head at 1 to 15 Days Post Anthesis (DPA). Total RNA was extracted from 100 mg of seeds from each DPA (which correspond to ~50 seeds at 1 DPA and 2 seed at 15 DPA) using the following method. Whole caryopsis was ground in a mortar using liquid nitrogen. 1.2 mL of NTES buffer [NaCL 100 mM, Tris-pH8.0, 10 mM, EDTA 1 mM, 1%(w/v) SDS] and 1.6 mL of phenol:chloroform:isoamyl alcohol [25:24:1] were added in the mortar and grinding continued until tissue was thawed. The extract was centrifuged 5 min at 12,000 rpm. The supernatant was precipitated by adding 1/10 vol of 3 M NaOAc and 2.5 vol of 100% ethanol and incubating at −20°C overnight. The extract was centrifuged 20 min at 4°C and 12,000 rpm. The pellet was washed in 75% ethanol, centrifuged 5 min at maximum speed, dried for 1 min at room temperature and resuspended into 50 μl of RNAse-free water. Samples were DNase treated using RQ1 DNase from Promega for 20 min at 37°C followed by a phenol:chloroform extraction and a second ethanol precipitation. Total RNA extracts were resuspended into 50 μL of RNAse-free water and the quality was determined using a Nanodrop spectrophotometer and agarose gel electrophoresis. An equal quantity of each RNA extract was pooled to constitute the following three samples: A (RNA extracts 1, 2, 3, 4, 5 DPA), B (RNA extracts 6, 7, 8, 9, 10 DPA), and C (RNA extracts 11, 12, 13, 14, 15 DPA).
Construction and analysis of smRNA libraries
To determine the smRNA populations present in samples A, B and C, 60 μg of total RNAs were used to prepare libraries for Illumina sequencing (http://www.geneworks.com.au). A custom script was used to trim reads of 3' adapter sequences and then to pool identical reads to create a non-redundant sequences (=signatures) list. Sequences that were over 50% homopolymer or dinucleotide repeat were filtered out. Read counts for each sequence were normalised to reads per million of total sequenced (RPM). The diversity of the signatures present in the three libraries had a high number of singletons, over 80% (Table 1). To facilitate the analysis and build a level of confidence from the sequences cloned in the libraries, signatures were only considered that were 18 to 25 nucleotides in length and with a minimum expression of 1 RPM, representing 137,614 smRNAs. For identification of previously known miRNAs, signatures were checked for an exact match (in sequence and length) to a known miRNA present in miRBase [10] or recently in barley leaves [16]. To identify new miRNAs, the signatures of 19 to 23 nucleotides in length were kept and aligned to the HarvEST unigene set (release-21, http://www.harvest-web.org/) using SOAP [79]. Signatures with no more than 20 matching unigenes and with no match to a smear of overlapping smRNA sequences were kept. For near identical sequences aligning to the same location (for example, differing in length by a base or being offset by a base) only the sequence with the highest read count was retained. The miRNA precursors were searched by extracting the unigene sequence surrounding the aligned smRNAs and testing their potential to form a hairpin secondary structure using Vienna RNALFold (http://www.tbi.univie.ac.at/~ivo/RNA/). The smRNA signature was required to have no more than 4 mismatches against the complementary sequence in the hairpin structure and no more than 2 bulges. Considering that MIR genes may originate from the evolution of an inverted repeat element that initially can produce endogenous 24 nt-siRNAs [80, 81], we kept the precursors sharing less than 70% homology within the pre-miRNA region to repeat elements in the Plant Repeat Databases [82]. smRNA which could be found in a stem of a potential miRNA precursor-like hairpin structure in the folded sequences were marked as new miRNAs. For the downstream analysis of miRNA target genes, the remaining 19–23 nt signatures with no more than 90% homology to a repeat element were kept (Plant Repeat Databases [82], Figure 1).
Construction and analysis of degradome libraries
The mRNA degradome libraries were made as described by German et al.[83] using total RNA extract from the 3 samples A, B and C. In brief, for each sample, 200 μg of total RNA was used to purify messenger RNA using an mRNA purification kit (Stratagene #400806). A 5'-adaptor (5′-GUUCAGAGUUCUACAGUCCGAC-3′) was linked to the mRNA 5'CAP-less fragments and purified again using the mRNA purification kit. After reverse transcription using the RT-primer (5'-CGAGCACAGAATTAATACGACTTTTTTTTTTTTTTTTTTV-3'), the cDNAs were amplified through 7 PCR cycles using the primers P1 (5'-GTTCAGAGTTCTACAGTCCGAC-3') and P2 (5'-CGAGCACAGAATTAATACGACT-3'). Amplicons were digested by MmeI (New England Biolabs, #R0637S) and dephosphorylated by Shrimp Alkaline Phosphatase treatment (Roche #11758250001). Samples were run on a 12% polyacrylamide gel and the MmeI cleaved fragments corresponding to the 42 bp gel band were purified. Purified Products were ligated to a double stranded DNA adaptor (5'-P-TCGTATGCCGTCTTCTGCTTG-3' + 3'-NNAGCATACGGCAGAAGACGAAC-5') and purified on a second 12% polyacrylamide gel by extracting the 63 bp gel band. The DNA fragments were amplified by 21 PCR cycles using the primers P3 (5'-AATGATACGGCGACCACCGACAGGTT-CAGAGTTCTACAGTCCGA-3') and P4 (5'-CAAGCAGAAGACGGCATACGA-3'), and purified again on 12 % polyacrylamide gel by excising the 86 bp band. The purified amplicons, which constitute the degradome libraries, were sequenced using the Illumina platform.
As for the small RNA analysis, reads were trimmed, reduced to a non-redundant set, filtered for repetitive sequence and their read counts were normalised in read per million (RPM). For subsequent analysis, sequences of 21 nt in length were trimmed back to 20 nt, then only sequences of 20 nt in length and having at least 1 RPM were retained. Kanga (http://code.google.com/p/biokanga/) was used to align the 20 nt signatures to the HarvEST unigene sequences (release-21, http://www.harvest-web.org/). No mismatches were allowed in the alignment. For each matching EST the number of aligned degradome sequences at each position along the EST was investigated to identify signature peaks (Figure 5). Positions for which the number of aligned sequences exceeded the mean plus two standard deviations for a sample along an EST were retained. From each of these retained signature peaks, a 32 nt sequence was extracted from the EST, centred around the 5' end of the aligned signature, to constitute the Target Signature Sequence (TSS). To identify the smRNAs that could potentially bind to a TSS we used psRNAtarget (http://plantgrn.noble.org/psRNATarget). We ran the known miRNAs, new miRNAs and 19–23 nt smRNAs against the TSS with a maximum expectation of 5 and an hspsize (which is the length of the region used to score the complementarity between the miRNA and its target) equal to the length of the smRNA (to ensure that the entire sequence of the smRNA is considered by the scoring algorithm). We indicated the offset between the predicted cleavage site of the smRNA (position 10-11nt of the smRNA) and the detected cleavage site (center of the TSS, Figure 5), using the formula: offset = detected cleavage position on the EST - predicted cleavage position on the EST. For each TSS, we kept all smRNAs in a −3/+3 offset window. Since the smRNAs with a common 3' end binding position on the EST share the same predicted cleavage site we considered them as one group and categorized the targets according to the offset distribution of these smRNA groups (Table 4). We categorized the targets as follows: category-I; the ESTs targeted by a unique smRNA group with a perfect offset (considered as unique when the smRNA group represented more than 97% of the total number of smRNAs predicted to bind to the TSS), category-II; the ESTs targeted by a majority of smRNAs with a perfect offset and category-III; the remaining ESTs targeted by a minority of smRNAs with a perfect offset.
Quantitative RT-PCR
RT-PCR reactions were performed as previously described [40]. In brief, first-strand cDNA was synthesized using oligo(dT) primers and Super-Script III reverse transcriptase (Invitrogen). PCR reactions were performed on an AB 7900 HT Fast Real-Time PCR System (Applied Biosystems). 1.0 μL of 1:10 diluted template cDNA was used in a 10 μL reaction. The amplification program was: 1 cycle of 15" at 95°C, 35 cycles 15" at 95°C, 30" at 60°C, 30" at 72°C, and then followed by a thermal denaturing step. All primers pairs of the tested genes showed a similar amplification efficiency to the one used for the ACTIN gene which was used as reference. Relative transcript levels of biosynthesis were calculated with the ΔΔCt method (Applied Biosystems). Forward and Reverse primers: HvDCL1a F (AGAAGCCTTGACTGCTGCAT) and R (ATCAATTTCGCCCTCCTCTT); HvDCL1b F (GCCCCAAAAGTGCTATCTGA) and R (GCCCCGACATCTCCTTTAGT); HvDCL1c F (CGGCAGAAACAATTGATGAG) and R (CAAAGCTTCCTGTTGCACTG); GA3ox1 F (GCACTACCGCCACTTCTCTG) and R (CTCTCGGTGAGGTTGTGCTC); OsMLA10-like F (ATAAGATACGTCGTCTGTCCATG) and R (TCCAACACCCGCAGAGCATG).
Northern blot analysis
Total RNA (40 μg) was separated on a denaturing 15% polyacryamide gel containing 7 M urea at 120 V for 2 hr. RNA was electrophoretically transferred to Zeta-probe GT membranes (BioRad) at 40 V for 90 min and fixed by UV crosslinking. Membranes were incubated in hybridization buffer [Na2PO4-pH7.2 125 mM, NaCl 250 mM, 7%(w/v) SDS, 50%(v/v) formamide] for 4 h at 42°C and then incubated in the presence of 32P-end-labeled oligonucleotide probes at 42°C overnight. Membranes were washed in [2X SSC, 0.2% SDS] at 42°C and radioactivity was detected using a Phosphorimager. Oligonucleotide probes: miR164-AS (5'-TGCACGTGCCCTGCTTCTCCA-3'), miR168-AS (5'-GTCCCGATCTGCACCAAGCGA-3'), miR390-AS (5'-GGCGCTATCCCTCCTGAGCTT-3'), miR-MLA10-AS (5'-GGTCCATGATATGATGC[45]TTGA-3'), miR-GA3ox1-AS (5'-TCCACTGAGCTACAGGCGC-3').
RLM-5' RACE
RNA ligase-mediated 5′ rapid amplification of cDNA ends (RLM 5′-RACE) was performed using the GeneRacer kit (Invitrogen). The manufacturer's protocol for 5'end analysis was followed with the exception of the 5' de-capping step. In brief, total RNA was isolated from whole caryopsis tissues at 6–10 DPA and ligated to a 5'end RNA adaptor before being reverse transcribed using an oligo(dT) primer. The PCR reactions were performed using the following gene specific reverse primers: U21_3667-R (GGGGACTGCATGTACGGATC), U21_18637-R (GAGACGGTGCCGGTGGAAGCCT) and U21_9757-R (AGACATGCTCGGCACCACCTCACCA).
The small RNA and degradome sequence datasets have been deposited in the NCBI GEO database, accession GSE38755.
Abbreviations
miRNA:

microRNA
GA:

Gibberellic acid
ABA:

Abscisic acid
PARE:

Parallel analysis of RNA ends
RACE:

Rapid amplification of RNA ends
DCL:

Dicer-like.
Declarations
Acknowledgements
The authors would like to thank Professor Pam Green, Dr Dong-Hoon Jeong and Dr Sunhee Park (University of Delaware) for assistance in preparing the PARE libraries. We thank Sue Allen, Anna Wielopolska and Kerry Ramm for excellent technical assistance. JC was funded by an OCE Postdoctoral Fellowship (CSIRO). Sequencing was partly funded by a Bio-Analytical Services grant from BioPlatforms Australia.
Authors' Affiliations
(1)
CSIRO Plant Industry, Canberra, Australia
Copyright
© Curaba et al.; licensee BioMed Central Ltd. 2012
This article is published under license to BioMed Central Ltd. This is an Open Access article distributed under the terms of the Creative Commons Attribution License (http://creativecommons.org/licenses/by/2.0), which permits unrestricted use, distribution, and reproduction in any medium, provided the original work is properly cited.