Research article

Open Access
Transcriptome analysis of bitter acid biosynthesis and precursor pathways in hop (Humulus lupulus)
BMC Plant Biology
2013
13:12
Received: 1 October 2012
Accepted: 12 December 2012
Published: 24 January 2013
Abstract
Background
Bitter acids (e.g. humulone) are prenylated polyketides synthesized in lupulin glands of the hop plant (Humulus lupulus) which are important contributors to the bitter flavour and stability of beer. Bitter acids are formed from acyl-CoA precursors derived from branched-chain amino acid (BCAA) degradation and C5 prenyl diphosphates from the methyl-D-erythritol 4-phosphate (MEP) pathway. We used RNA sequencing (RNA-seq) to obtain the transcriptomes of isolated lupulin glands, cones with glands removed and leaves from high α-acid hop cultivars, and analyzed these datasets for genes involved in bitter acid biosynthesis including the supply of major precursors. We also measured the levels of BCAAs, acyl-CoA intermediates, and bitter acids in glands, cones and leaves.
Results
Transcripts encoding all the enzymes of BCAA metabolism were significantly more abundant in lupulin glands, indicating that BCAA biosynthesis and subsequent degradation occurs in these specialized cells. Branched-chain acyl-CoAs and bitter acids were present at higher levels in glands compared with leaves and cones. RNA-seq analysis showed the gland-specific expression of the MEP pathway, enzymes of sucrose degradation and several transcription factors that may regulate bitter acid biosynthesis in glands. Two branched-chain aminotransferase (BCAT) enzymes, HlBCAT1 and HlBCAT2, were abundant, with gene expression quantification by RNA-seq and qRT-PCR indicating that HlBCAT1 was specific to glands while HlBCAT2 was present in glands, cones and leaves. Recombinant HlBCAT1 and HlBCAT2 catalyzed forward (biosynthetic) and reverse (catabolic) reactions with similar kinetic parameters. HlBCAT1 is targeted to mitochondria where it likely plays a role in BCAA catabolism. HlBCAT2 is a plastidial enzyme likely involved in BCAA biosynthesis. Phylogenetic analysis of the hop BCATs and those from other plants showed that they group into distinct biosynthetic (plastidial) and catabolic (mitochondrial) clades.
Conclusions
Our analysis of the hop transcriptome significantly expands the genomic resources available for this agriculturally-important crop. This study provides evidence for the lupulin gland-specific biosynthesis of BCAAs and prenyl diphosphates to provide precursors for the production of bitter acids. The biosynthetic pathway leading to BCAAs in lupulin glands involves the plastidial enzyme, HlBCAT2. The mitochondrial enzyme HlBCAT1 degrades BCAAs as the first step in the catabolic pathway leading to branched chain-acyl-CoAs.
Keywords
Glandular Trichome
Bitter Acid
Xanthohumol
Prenyl Diphosphate
BCAA Metabolism
Background
The female inflorescences ('cones') of
Humulus lupulus
L. (hop, Cannabaceae) contain prenylated acylphloroglucinols and prenylchalcones (e.g. xanthohumol) that are important for the brewing industry and have potential medicinal uses [
1
–
3
]. The acylphloroglucinols, referred to as bitter acids because they contribute the characteristic bitter flavour of beer, include the α-acid humulone and its acyl-side chain variants cohumulone and adhumulone (Figure
1
a). Antimicrobial β-acids (e.g. lupulone, colupulone and adlupulone), which differ from α-acids by the presence of an additional dimethylallyl prenyl group, are also abundant. Hop cultivars vary widely in their content and composition of bitter acids with some "super-alpha" cultivars containing greater than 20% humulone by dry weight in cones [
4
].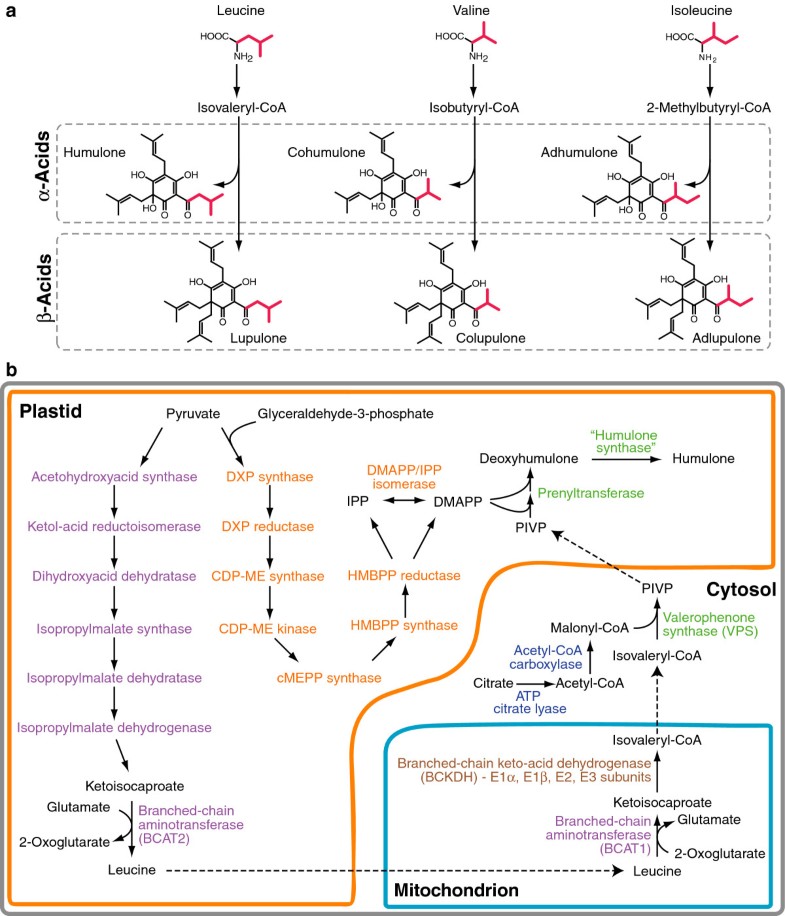 The bitter acids and other prenylated polyketides occur mainly in lupulin glands, which are glandular trichomes present on hop cones and leaves [5]. Glandular trichomes typically have little or no photosynthetic activity and often contain only a few highly active biosynthetic pathways, which has made transcriptome analysis of isolated trichome secretory cells useful for the identification of the genes involved in the production of specialized metabolites [6, 7]. Enzymes involved in the biosynthesis of xanthohumol and terpenoids in hop lupulin glands [5, 8] and cannabinoids in glandular trichomes of the closely related species Cannabis sativa (Cannabaceae) [9, 10] have been identified using a combination of trichome-targeted EST analysis and biochemical assays.
The precursors for bitter acid biosynthesis are branched-chain acyl-CoAs thioesters, which function as primers for polyketide synthesis, malonyl-CoA, which is the polyketide extender and dimethylallyl diphosphate (DMAPP), which serves as a prenyl donor. The acyl-CoAs, isovaleryl-CoA, isobutyryl-CoA and 2-methylbutyryl-CoA, are obtained by the degradation of the branched-chain amino acids (BCAA) leucine, valine and isoleucine, respectively (Figure 1a). The study of BCAA metabolism is of particular interest in hop since it is one of the few plants that produces large amounts of BCAA-derived natural products in specialized secretory structures. Some Solanaceae species utilize BCAAs in the trichome-localized production of acyl sugars [11, 12].
BCAA biosynthesis in plants consists of eight enzymatic steps to produce leucine and valine from pyruvate, or isoleucine from threonine and pyruvate (Figure 1b) (reviewed in Binder et al.[13]). Branched-chain aminotransferase (BCAT) enzymes catalyze both the final step in BCAA biosynthesis and the first step in BCAA degradation. These two phases are physically separated, with biosynthesis occurring in plastids and catabolism in mitochondria. BCATs have been studied in both Arabidopsis and tomato with each containing six and seven isoforms, respectively [14–16]. BCAA derived CoA-esters are generated by the branched-chain ketoacid dehydrogenase complex (BCKDH) which is made up of four subunits [17]. Three of these subunits, ketoacid dehydrogenase E1α and E1β, and dihydrolipoyl acyltransferase (E2), are specific to the BCKDH complex while the dihydrolipoyl dehydrogenase (E3) subunit also functions in other metabolic pathways [18].
Labeling studies have shown that the DMAPP required for the prenylation of bitter acids is provided by the methyl-D-erythritol 4-phosphate (MEP) pathway localized in plastids [19]. MEP-derived isoprenoids are also used in the biosynthesis of mono- and sesquiterpenes, which co-occur with bitter acids in lupulin glands [8]. The MEP pathway is initiated with glyceraldehyde-3-phosphate and pyruvate; the latter is also used in BCAA biosynthesis (Figure 1b). Previous investigations have shown that transcripts for the seven MEP pathway enzymes and DMAPP/IPP isomerase are abundant in lupulin glands but their expression was not compared with leaves or other organs [5, 8].
The final steps in bitter acid biosynthesis are unique to hop. The type III polyketide synthase enzyme valerophenone synthase (VPS) condenses a BCAA-derived acyl-CoA starter molecule with three molecules of malonyl-CoA to form the polyketide core (e.g. phlorisovalerophenone, PIVP) [20] (Figure 1b). One or more aromatic prenyltransferase enzymes perform two C5 prenylations to yield diprenyl intermediates (e.g. deoxyhumulone) [21]. At this point the α- and β-acid pathways diverge with a third prenylation forming the β-acids while an oxygenation reaction, catalyzed by an as yet unknown humulone synthase enzyme, yields the α-acids [22].
Here we used RNA-seq to assemble and compare the transcriptomes of lupulin glands, cones (with glands removed) and leaves. We analyzed the expression of genes involved in precursor biosynthesis, including BCAAs, MEP-derived isoprenoids and malonyl-CoA, and the final steps in bitter acid formation. We focused on the BCAT enzymes which play key roles in the formation of branched-chain acyl-CoAs. Two BCAT-encoding genes were present, HlBCAT1 and HlBCAT2, with transcripts for both more abundant in lupulin glands compared with leaves and cones. HlBCAT1 and HlBCAT2 were experimentally-localized using GFP fusion proteins to the mitochondrion and plastid, respectively. Assays of recombinant HlBCAT1 and HlBCAT2 showed they catalyze biosynthetic and catabolic reactions. These findings provide evidence for lupulin gland-specific BCAA and isoprenoid metabolism to produce precursors for bitter acid biosynthesis.
Conclusions
This study provides an in-depth analysis of the transcriptional activity of primary and specialized metabolism leading to hop bitter acids. RNA-seq analysis showed that both the MEP and BCAA pathways were highly expressed in lupulin glands together with genes required for remobilization of carbon from sucrose. Branched-chain acyl-CoAs and bitter acids are present in higher levels in isolated lupulin glands compared with cones (with glands removed) and leaves. A plastidial BCAT enzyme involved in BCAA biosynthesis and a mitochondrial BCAT catalyzing BCAA degradation both show lupulin gland-specific expression. Together these findings indicate that the glandular trichomes are the site of biosynthesis for the precursors for bitter acid biosynthesis. The deep transcriptome sequencing reported here significantly expands the genomic resources available for hop. This new information, and our analysis of BCAA metabolism, will be useful for the further elucidation of enzymes and regulatory proteins involved in bitter acid production and for breeding hop cultivars with increased or modified bitter acid content.
Abbreviations
BCAA:

Branched-chain amino acid
BCAT:

Branched-chain aminotransferase
BCKDH:

Branched-chain ketoacid dehydrogenase complex
CHAPS:

3-[(3-cholamidopropyl)dimethylammonio]-1-propanesulfonate
CoA:

Coenzyme A
DMAPP:

Dimethylallyl diphosphate
EDTA:

Ethylenediaminetetraacetic acid
GFP:

Green fluorescent protein
IPTG:

Isopropyl β-D-1-thiogalactopyranoside
MEP:

Methyl-D-erythritol 4-phosphate
qRT-PCR:

Quantitative reverse transcription polymerase chain reaction
PLP:

Pyridoxal-5-phosphate
PMSF:

Phenylmethylsulfonyl fluoride
RPKM:

Reads per kb exon model per million mapped reads
sp:

Signal peptide
VPS:

Valerophenone synthase.
Declarations
Acknowledgements
We thank P. Matthews, N. Pitra and J. Nagel for hop sample collection, D. Klassen and D.L. Fancy for Illumina sequencing, D. Cram and C. Matsalla for bioinformatics assistance, and G. Liu for technical support with confocal laser microscopy. This work was funded by Hopsteiner Inc, the National Research Council of Canada, and Genome Prairie/Province of Saskatchewan via the PhytoMetaSyn project.
Authors' Affiliations
(1)
National Research Council of Canada, Saskatoon, Canada
(2)
Department of Biology, University of Saskatchewan, Saskatoon, Canada
Copyright
© Clark et al.; licensee BioMed Central Ltd. 2013
This article is published under license to BioMed Central Ltd. This is an Open Access article distributed under the terms of the Creative Commons Attribution License (http://creativecommons.org/licenses/by/2.0), which permits unrestricted use, distribution, and reproduction in any medium, provided the original work is properly cited.