Research article

Open Access
The effect of 'Candidatus Liberibacter asiaticus' infection on the proteomic profiles and nutritional status of pre-symptomatic and symptomatic grapefruit (Citrus paradisi) plants
BMC Plant Biology
2013
13:59
Received: 22 August 2012
Accepted: 8 March 2013
Published: 11 April 2013
Abstract
Background
Huanglongbing (HLB) is a highly destructive citrus disease which threatens citrus production worldwide and 'Candidatus Liberibacter asiaticus' (Las), a non-culturable phloem-limited bacterium, is an associated causal agent of the disease. To better understand the physiological and molecular processes involved in host responses to Las, 2-DE and mass spectrometry analyses, as well as ICP spectroscopy analysis were employed to elucidate the global protein expression profiles and nutrient concentrations in leaves of Las-infected grapefruit plants at pre-symptomatic or symptomatic stages for HLB.
Results
This study identified 123 protein spots out of 191 spots that showed significant changes in the leaves of grapefruit plants in response to Las infection and all identified spots matched to 69 unique proteins/peptides. A down-regulation of 56 proteins including those associated with photosynthesis, protein synthesis, and metabolism was correlated with significant reductions in the concentrations of Ca, Mg, Fe, Zn, Mn, and Cu in leaves of grapefruit plants in response to Las infection, particularly in symptomatic plants. Oxygen-evolving enhancer (OEE) proteins, a PSI 9 kDa protein, and a Btf3-like protein were among a small group of proteins that were down-regulated in both pre-symptomatic and symptomatic plants in response to Las infection. Furthermore, a Las-mediated up-regulation of 13 grapefruit proteins was detected, which included Cu/Zn superoxide dismutase, chitinases, lectin-related proteins, miraculin-like proteins, peroxiredoxins and a CAP 160 protein. Interestingly, a Las-mediated up-regulation of granule-bound starch synthase was correlated with an increase in the K concentrations of pre-symptomatic and symptomatic plants.
Conclusions
This study constitutes the first attempt to characterize the interrelationships between protein expression and nutritional status of Las-infected pre-symptomatic or symptomatic grapefruit plants and sheds light on the physiological and molecular mechanisms associated with HLB disease development.
Keywords
Grapefruit
Huanglongbing
Proteomics
Nutrients
Host response
Background
Citrus Huanglongbing (HLB) or citrus greening disease is considered to be one of the most devastating diseases threatening citrus production worldwide, and all cultivated citrus species are susceptible or highly susceptible to the disease [1, 2]. Orchard trees usually die in about 3–8 years after becoming symptomatic and yield losses of up to 65% have been reported [3]. Typically observed symptoms include asymmetric blotchy mottling and chlorosis of matured leaves, twig-dieback, small and misshapen fruits unsuitable for sale as fresh fruit or for juice; starch accumulation and phloem damage [1, 2, 4].
HLB was first reported in Asian countries in the 1870s [5]. Although Koch's postulates are yet to be determined, the etiology of the disease has been associated with 'Candidatus Liberibacter spp.', a member of gram-negative, fastidious, phloem-limited α-proteobacteria. Taxonomically, there are three HLB-associated species namely, 'Candidatus Liberibacter asiaticus' (Las), 'Ca. L. africanus' and 'Ca. L. americanus' [1, 2], which is based on their presumptive origins from the Asian, African and American continents, respectively, as well as distinctive 16S rDNA sequences. Among these three Liberibacter species, Las-associated HLB is the most prevalent and has been associated with increasing economic losses to citrus production worldwide [1, 2]. Las is transmitted by and disseminated naturally by the Asian citrus psyllid (Diaphorina citri). In addition, there is a significantly extended latency period between times of infection and symptom development, which greatly complicates control strategies [2], making it crucial to develop fast, reliable and efficient methods for early detection of infected plants.
An important aspect of disease-associated plant-microbe interactions are the host responses induced at pre-symptomatic and symptomatic stages of disease development [6]. Identification of the host responses especially at the infection or pre-symptomatic stage can be critical towards understanding the initial processes involved in disease development and could be exploited in the formulation of efficient disease management practices [7–9]. High-throughput "omics" analyses provide fast, economical, efficient and holistic methods of understanding the molecular responses of biological systems to biotic and abiotic stress [10–12]. At least three separate but complementary transcriptomics studies using microarray technology have been performed to elucidate the effect of Las infection on the total mRNA expression levels in tissues of sweet orange (Citrus sinensis) plants [4, 13, 14]. However, differential gene expression at the transcriptional (mRNA) level do not necessarily correlate with differential gene expression at the translational (protein) level as posttranscriptional translational and/or posttranslational modifications; alternative splicing of mRNA transcripts; and mRNA stability and interference factors play important roles in regulating gene expression [15–18]. Proteins are the final products of gene expression and their expression levels directly correlate with cellular function. Thus, in order to fully understand the molecular mechanisms involved in the response of citrus plants to Las-infection, it is imperative to inquire beyond the transcriptional level and into the proteomic level of gene expression.
Furthermore, disease symptoms frequently reflect the altered nutritional status of plants and nutrient-disease interactions are well documented in plant systems [19]. A malfunctioning or blocked vascular system such as that implicated in HLB-disease development [4, 13] can induce a systemic or localized nutrient sufficiency or deficiency. Physiological symptoms of HLB is suggested to resemble that of Zn-deficiency [20] and the productive life of diseased plants, including HLB-affected plants, has been shown to be extendable by fertilizer application [19, 21]. Nutrient homeostasis forms part of a delicately balanced interdependent system with plant gene regulation; however, there is limited information on the relationships between the nutritional status and protein expression profiles of citrus plants during HLB development.
In this study we used a proteomic approach based on two-dimensional electrophoresis (2-DE) and mass spectrometry to characterize the comparative changes in the total leaf proteomes of Las-infected grapefruit plants that are pre-symptomatic or symptomatic for HLB. Inductively-coupled plasma (ICP) spectroscopy was also employed to resolve the nutrient concentrations in leaves of the same set of Las-infected leaf samples. Our results highlight molecular and physiological processes associated with HLB disease development.
Conclusion
HLB is currently one of the most destructive diseases of citrus and Las has been associated with the disease in many citrus growing regions of the world. Management of HLB remains elusive largely because the physiological and molecular processes involved in HLB-disease development are unresolved. The major findings from our study is summarized in Figure
6
and highlights the potential interrelationships between the protein expression profiles and nutrient status of pre-symptomatic and symptomatic leaves of Las-infected grapefruit plants. We identified 69 proteins that were differentially expressed (13 up-regulated and 56 down-regulated) in response to Las infection. Additionally, we showed a general decrease in nutrient concentrations due to Las-infection particularly those of Fe, Zn, and Cu but an increase in K levels. We propose that the physiological and molecular processes associated with the response of grapefruit plants to Las infection involves: 1) a general decrease in nutrient concentration resulting in the reduced production of proteins associated with photosynthesis, energy production, regulation and protein synthesis/transport; 2) an increase in K concentration to support the activity of an increased production of starch anabolism-related proteins; and 3) an increase in the production of peroxiredoxins, Cu/Zn SOD and pathogen response-related proteins, such as chitinase, miraculin- and lectin-like proteins, which although insufficient to mitigate bacterial spread could, in combination with testing for granule-bound starch synthase and K content, be useful in the development of host-based diagnostic techniques for early detection of HLB-affected citrus plants.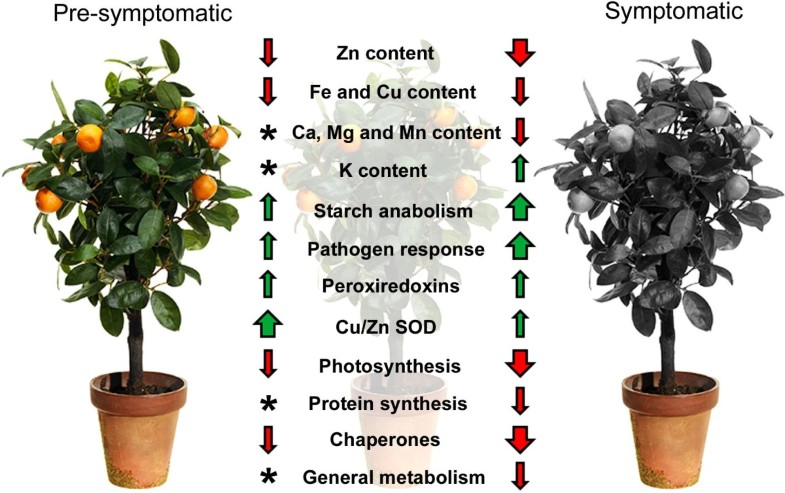 Methods
Growth conditions and treatments
Plant growth was performed under controlled conditions in an insect-proof greenhouse at the U.S. Horticulture Research laboratory, U.S. Department of Agriculture, Fort Pierce, Florida. Two-year old grapefruit (Citrus paradisi cv. 'Duncan') plants from the same progeny were either uninoculated or inoculated by side-grafting with 3–4 cm long bud sticks from PCR-confirmed HLB-affected (showing blotchy mottle and yellow shoots) lemon plants. Each HLB-affected side-graft was protected by covering with plastic tape for 3 weeks [72]. The absence or presence of HLB-associated Las in plants, pre- or post-inoculation, respectively, was confirmed by quantitative real-time PCR using forward primers 5-TCGAGCGTATGCAATACG-3 and reverse primers 5-CGCAATAGGGCATCTTTTTCCATC-3 [73].
Plants were arranged randomly on the greenhouse bench and kept under natural light conditions at a temperature of 23–30°C. Plants were irrigated as needed and fertilized every three weeks using a water-soluble fertilizer mix, 20 N-10P-20 K (Peters Professional, The Scotts Company, Marysville, OH). Micronutrients (Micro Key Palm and Ornamental Formulation, Brandt Consolidated, Springfield, IL) and additional iron (Sequestrene 138 Fe, Becker Underwood, Ames, IA) were applied. Plants were pruned immediately after graft-inoculation to promote new leaf growth and HLB disease development.
Three months post-inoculation, 10–15 fully expanded leaves were collected from three individual plants each from the uninoculated or inoculated group. At this stage the infected plants were pre-symptomatic (no blotchy mottle, yellow shoots or symptoms of nutrient deficiency) but were PCR-positive for Las. Leaf samples from uninoculated or inoculated plants were grouped, respectively, as uninfected control for pre-symptomatic (UP) plants or infected pre-symptomatic (IP) plants. Six months post-inoculation, another set of 10–15 fully expanded leaves was collected from three individual plants each from the uninoculated or inoculated group. At this stage all of the inoculated plants were symptomatic for HLB and PCR-positive for Las. Leaf samples from uninoculated or inoculated plants were grouped, respectively, as uninfected control for symptomatic (US) plants or infected symptomatic (IS) plants. As the plants used for pre-symptomatic stage analysis were different from those used for symptomatic stage analysis, two different groups of control plants, UP and US plants, were used for IP and IS plants, respectively. Harvested leaves were immediately frozen in liquid nitrogen and stored at −80°C until further analysis.
Protein extraction and quantification
The method used for total leaf protein analysis was modified after Nwugo and Huerta [26]. Leaves from individual plants were pooled and ground to a fine powder in liquid nitrogen using a freezer mill (6850 Freezer/Mill, Wolf Laboratories Ltd., UK). Approximately 0.4 g of leaf powder was transferred to sterile 5 mL polyallomer centrifuge tubes (Beckman Instruments Inc., USA) and suspended in 4.5 mL of chilled solution A [90% (v/v) acetone, 9.9993% (v/v) trichloroacetic acid (TCA), 0.0007% (v/v) Beta-mercaptoethanol]. The mixture was incubated overnight at −80°C followed by centrifugation at 4°C for 20 min at 36,000 g (Optima L-70 K Ultracentrifuge, Beckman Coulter Inc., USA). The supernatant was decanted, and the pellet was washed at least three times until the supernatant was clear (not greenish) by resuspension in 4.5 mL of chilled solution B [98.53% (v/v) acetone, 1 mM polymethylsulphonylfluoride (PMSF), 2 mM EDTA, 0.0007% (v/v) Beta-mercaptoethanol], incubation for 1 h at −80°C followed by centrifugation at 4°C for 20 min at 36,000 g. The whitish pellet or crude protein extract was then transferred into sterile eppendorf tubes and vacuum-dried (Vacufuge™, Eppendorf, Germany). The dry pellet, which could be stored indefinitely at −80°C, was suspended in 0.5 mL of rehydration/isoelectric focusing (IEF) buffer [8 M Urea, 50 mM DTT, 4% (w/v) CHAPS, 0.2% (v/v) 3/10 ampholytes, 0.002% (w/v) bromophenol blue] and incubated at room temperature (RT) for 30 min to solubilize proteins. Insoluble material was removed by centrifugation at RT at 14,000 g for 15 min and 5μL of the supernatant was prepared using the Compat-Able™ Protein Assay Preparation Reagent Set (Pierce, Rockford, IL, USA) for total protein quantification via bicinchoninic acid (BCA) assay (Pierce, Rockford, IL, USA). Total protein extraction and quantification process was repeated three times generating three analytical replicates per plant.
2-DE separation and image analysis
For first dimension electrophoresis or IEF, 11-cm long pH 4–7 ReadyStrip IPG strips (Bio-Rad, Hercules, CA, USA) were passively rehydrated overnight at RT with 0.2 mL of IEF buffer containing 1 mg/mL of total solubilized proteins. Rehydrated strips were placed in a PROTEAN IEF cell (Bio-Rad) and IEF was performed at a current limit of 50 μA/per IpG strip at 10°C, in the following steps: active rehydration at 250 V for 9 h; 250 V (linear) for 15 min; 8 kV (linear) for 3 h; and 10 kV (rapid) until a total 60 kVh for a combined total of approximately 70 kVh. Each focused IPG strip was equilibrated by soaking, with mild stirring, in 4 ml of equilibration base buffer 1 (EBB1) [8 M urea, 2% (w/v) sodium dodecyl sulphate (SDS), 50 mM Tris–HCl (pH 8.8), 20% (v/v) glycerol, 1% (w/v) DTT] for 10 min, followed by soaking in 4 ml of EBB2 [same content as EBB1 except DTT was replaced with 2.5% (w/v) iodoacetamide (IAA)]. Second dimension electrophoresis was performed in 8-16% gradient SDS-polyacrylamide Tris–HCl gels (Criterion precast gels, Bio-Rad) in a twelve-gel cell system (Criterion Dodeca Cell, Bio-Rad). Protein spots were visualized by staining with Biosafe Coomassie. Stained gels were scanned (ScanMaker 9800XL, Microtek, USA) under identical conditions and stored in 0.02% NaN3 at 4°C.
Gel images were analyzed using the PDQuest software package (version 8.0, Bio-Rad, USA). A total of 36 gels were analyzed representing three analytical replicates per plant and three replicate plants per treatment. The gels were sorted into four into four groups namely: uninfected control for pre-symptomatic (UP) plants, infected pre-symptomatic (IP) plants, uninfected control for symptomatic (US) plants, or infected symptomatic (IS) plants. Gel spots were detected and matched so that a given spot had the same number across all gels. A master gel image containing matched spots across all gels was auto-generated. Extensive analysis using the "Landmark" tool was used to resolve missed matches and spot volumes were normalized according to the total gel image density as suggested by the PDQuest software package. An average spot volume was determined for each spot per group and pair-wise quantitative as well as statistical analysis sets were generated by comparing the average volume of a given spot across all treatments. Only spots that had ≥10-fold increase over background and present in at least six of the nine gels per treatment as well as showed 1.5 fold change (P < 0.05) compared to at least one other treatment group were considered to be differentially produced and further analyzed.
Trypsin digestion and mass spectrometry
Protein spots were manually excised (OneTouch Plus Spotpicker, The Gel company, USA), reduced with DTT, alkylated with IAA, and digested with mass spectrometry grade trypsin in the presence of ProteaseMAX™ Surfactant according to the manufacturer's protocol (Promega, USA). Acetonitrile extraction was used to enhance peptide recovery. Tryptic-digests were generally analyzed by MALDI-TOF- or LC-MS/MS.
For MALDI-TOF-MS or MS/MS analysis (QSTAR XL Hybrid Quadrupole TOF LC/MS/MS System, Applied Biosystems, USA), the target plate was spotted with 2 μL of a 1:1 (v/v) mixture of tryptic-digest and matrix solution [10 mg/mL α-cyano-4-hydroxycinnamic acid (CHCA) in 50% ACN/ 0.1% TFA]. Mass spectra were acquired in positive TOF MS mode over the mass range of 800 – 4000 Da using 300 one-second cycles with MCA on. A mixture of Des-Arg1-Bradykinin (904.47), Angiotensin I (1296.68), Neurotensin (1672.92) and ACTH (2093.09, 2465.20, 3657.92) monoisotopic [M + H]+ mass standards (Anaspec, USA) were used for external calibration. Monoisotopic peaks with S/N >5 were selected as the peptide mass fingerprint (PMF) per spot. Parent ion spectra (MS/MS) was acquired over a mass range of 50 – 4000 Da using 300 one-second cycles with MCA on.
For LC-MS/MS analysis (Ultimate 3000 RLSCnano System linked to Velos LTQ Orbitrap, Thermo Fisher), peptides were solubilized in 0.1% TFA and loaded on to a self-made fused silica trap-column of 100 μm × 2 cm packed with Magic C18 AQ (5 um bead size, 200 Å pore size Michrom Bioresources, Inc.) and washed with 0.2% formic acid at a flow-rate of 10 μL/min for 5 min. The retained peptides were separated on a fused silica column of 75 μm × 50 cm self-packed with Magic C18 AQ (3 um bead size, 200 Å pore size, Michrom Bioresources, Inc.) using a linear gradient from 4 to 45% B (A: 0.1% formic acid, B: 0.08% formic acid, 80% ACN) in 30 min at a flow-rate of 300 nL/min. For each cycle, one full MS was scanned in the Orbitrap with resolution of 60000 from 300–2000 m/z followed by CID fragmentation of 20 most intense peaks. Data dependent acquisition was set for repeat count of 2 and exclusion of 60 sec.
Protein identification via database queries
Prior to database queries, the Peak Erazor software (v 2.01: Lighthouse data, Odense, Denmark) was used to process peptide mass fingerprints (PMFs) generated from MALDI-TOF-MS analysis as previously described (Nwugo and Huerta, 2011). The MASCOT search engine (Matrix Science, London, UK) was used to find matches of the PMF and MS/MS fragmentation spectra against a custom database containing entries for citrus (Citrus sinensis and Citrus clementina) available at http://www.citrusgenomedb.org/ and entries for grape (Vitis vinifera) available in the NCBI nonreduntant database. The PAC nos. for citrus or Accession nos. for grape entries that matched to our protein/peptide queries at the moment of Mascot search was recorded. Fixed and variable modifications (Cys carbamidomethylation and Met oxidation, respectively) and one missed cleavage were considered. PMF database search was conducted using a maximum mass tolerance of ±100 ppm, while MS/MS ions search were conducted with a mass tolerance of ± 0.6 Da on the parent and 0.3-0.8 Da on fragments; in all cases the peptide charge was +1. Decoy search was done automatically by Mascot on randomized database of equal composition and size. For PMF analysis, the peptide mixtures that produced the highest statistically significant (P < 0.05) match scores and accounted for the majority of the peaks present in the mass spectra, were assumed to be positively identified proteins.
LC-MS/MS spectra were also searched via MASCOT against a custom citrus database using the following parameters: precursor mass tolerance 10 ppm, fragment mass tolerance: 0.6 Dalton, fixed modification of carbamidomethylaion on cysteine and variable modification of methionine oxidation. The peptide identification results were filtered using a False-Detection-Rate (FDR) of 1% and only the top match was reported. To gain functional information on identified proteins from MALDI-TOF and LC-MS/MS analysis, homology searches using BLASTP (http:http://0-www.ncbi.nlm.nih.gov.brum.beds.ac.uk/BLAST) was employed.
Nutrient status analysis
The macro- and micro-nutrient status of uninfected controls and Las-infected plants was assessed by assaying the concentrations of Ca, K, Mg, Fe, Cu, Mn, and Zn via Inductively-Coupled Plasma Optical Emission Spectroscopy (ICP-OES) in leaf tissues as previously described [74]. Briefly, the same ground leaf tissues used for proteomic analysis was oven-dried and 0.5 g was ashed at 510°C for 9 hrs, allowed to cool, and digested in 10 mL of 1 N HNO3 for 1 h. The filtered supernatant was brought to volume (25 mL) and the intensities of atomic emissions at 396.847 nm for Ca, 766.491 nm for K, 279.553 nm for Mg, 238.204 nm for Fe, 327.395 nm for Cu, 257.610 nm for Mn, and 213.857 nm for Zn was measured on an ICP-OES System (Varian Vista Pro CCD Simultaneous ICP-OES attached to Varian SPS 5 Sampler Preparation System, Agilent, USA). Samples were diluted 1:100 in 1 N HNO3 prior to Ca, K, and Mg analysis. All containers used for ICP Spectroscopy analysis were acid-washed by soaking overnight in 1 N HNO3 before use.
Statistical analysis
The nutrient concentration data were subjected to analysis of variance (ANOVA) using SigmaPlot software Version 11 (Systat Software, Inc., Point Richmond, California, USA) and means were separated using the Fischer's Least Significant Difference (FLSD) test at 95% confidence interval (P < 0.05). Pair-wise comparisons to determine significant differences in spot volumes between treatments were performed on standardized log10 values of protein spot volumes using the Student's t-test analysis at 95% confidence interval (P < 0.05) as provided by the PDQuest software.
Declarations
Acknowledgments
This work was funded by the USDA, Agricultural Research Service. We are grateful to Parminder Sahota, Donnie Williams and Tom Pflaum for assistance with sample preparation and ICP spectroscopy. We also thank Dr. Will Jewel of the CMSF at UC Davis for access to their local Mascot Server. Trade names or commercial products in this publication are mentioned solely for the purpose of providing specific information and does not imply recommendation or endorsement by the United States Department of Agriculture.
Authors' Affiliations
(1)
San Joaquin valley Agricultural Sciences Center, USDA-ARS Parlier, California, USA
(2)
USDA-ARS-USHRL, Fort Pierce, Florida, USA
Copyright
© Nwugo et al.; licensee BioMed Central Ltd. 2013
This article is published under license to BioMed Central Ltd. This is an Open Access article distributed under the terms of the Creative Commons Attribution License (http://creativecommons.org/licenses/by/2.0), which permits unrestricted use, distribution, and reproduction in any medium, provided the original work is properly cited.