Research article

Open Access
Comparative genomic analysis of the R2R3 MYB secondary cell wall regulators of Arabidopsis, poplar, rice, maize, and switchgrass
BMC Plant Biology
2014
14:135
Received: 30 January 2014
Accepted: 9 May 2014
Published: 18 May 2014
Abstract
Background
R2R3 MYB proteins constitute one of the largest plant transcription factor clades and regulate diverse plant-specific processes. Several R2R3 MYB proteins act as regulators of secondary cell wall (SCW) biosynthesis in Arabidopsis thaliana (At), a dicotyledenous plant. Relatively few studies have examined SCW R2R3 MYB function in grasses, which may have diverged from dicots in terms of SCW regulatory mechanisms, as they have in cell wall composition and patterning. Understanding cell wall regulation is especially important for improving lignocellulosic bioenergy crops, such as switchgrass.
Results
Here, we describe the results of applying phylogenic, OrthoMCL, and sequence identity analyses to classify the R2R3 MYB family proteins from the annotated proteomes of Arabidposis, poplar, rice, maize and the initial genome (v0.0) and translated transcriptome of switchgrass (Panicum virgatum). We find that the R2R3 MYB proteins of the five species fall into 48 subgroups, including three dicot-specific, six grass-specific, and two panicoid grass-expanded subgroups. We observe four classes of phylogenetic relationships within the subgroups of known SCW-regulating MYB proteins between Arabidopsis and rice, ranging from likely one-to-one orthology (for AtMYB26, AtMYB103, AtMYB69) to no homologs identifiable (for AtMYB75). Microarray data for putative switchgrass SCW MYBs indicate that many maintain similar expression patterns with the Arabidopsis SCW regulators. However, some of the switchgrass-expanded candidate SCW MYBs exhibit differences in gene expression patterns among paralogs, consistent with subfunctionalization. Furthermore, some switchgrass representatives of grass-expanded clades have gene expression patterns consistent with regulating SCW development.
Conclusions
Our analysis suggests that no single comparative genomics tool is able to provide a complete picture of the R2R3 MYB protein family without leaving ambiguities, and establishing likely false-negative and -positive relationships, but that used together a relatively clear view emerges. Generally, we find that most R2R3 MYBs that regulate SCW in Arabidopsis are likely conserved in the grasses. This comparative analysis of the R2R3 MYB family will facilitate transfer of understanding of regulatory mechanisms among species and enable control of SCW biosynthesis in switchgrass toward improving its biomass quality.
Keywords
Comparative genomics
Secondary cell wall
R2R3 MYB
Transcription factor
Homolog
Ortholog
Biofuel
Background
MYB proteins form one of the largest transcription factor families in plants. They regulate diverse processes including development, secondary metabolism, and stress responses [1, 2]. MYB proteins are typified by a conserved DNA binding domain consisting of up to four imperfect repeats (R) of 50 to 54 amino acids. Characterized by regularly spaced tryptophan residues, each repeat contains two α–helices that form a helix-turn-helix structure, and a third helix that binds the DNA major groove [2–4]. MYB proteins are classified based on the sequence and number of adjacent repeats, with R1, R2R3, 3R and 4R proteins having one, two, three, and four repeats, respectively [2, 5–7]. MYB proteins with one or more divergent or partial R repeat are classified as MYB-like or MYB-related [8]. Two repeat domains, either covalently or non-covalently associated, appear to be necessary and sufficient for high-affinity DNA binding [9].
In plants, the MYB R2R3 proteins are by far the most abundant of the MYB classes. R2R3 MYBs likely evolved from progenitor 3R MYB proteins by losing the R1 repeat [10]. The family subsequently underwent a dramatic expansion after the origin of land plants but before the divergence of dicots and grasses [10–12]. The whole-genome complements of R2R3 MYB proteins has been investigated in several plant species, including Arabidopsis, rice (Oryza sativa), poplar (Populus trichocarpa), grapevine (Vitis vinifera), and maize (Zea mays), often with the goals of identifying orthologous groups and species-diverged clades [13–17]. The Arabidopsis genome encodes 126 R2R3 MYB proteins, most of which have been divided into 25 subgroups based on conserved motifs in the C-terminal protein regions [2, 13]. More recently, thirteen additional subgroups, for a total of 37 groups (G), were proposed based on comparative analysis of the R2R3 MYBs of Arabidopsis and maize [17].
The function of R2R3 MYBs in regulating secondary cell wall (SCW) biosynthesis has garnered particular recent attention due to the importance of plant cell walls as a source of biomass for sustainable biofuel production [
18
,
19
]. Secondary walls form around many cell types after cessation of plant cell growth. Genetic studies have clearly demonstrated that thickened and chemically cross-linked SCWs function in structural support, water transport, and stress resistance [
20
]. SCWs are composed almost entirely of cellulose microfibrils encased by a network of (glucurano) arabinoxylan and phenylpropanoid-derived lignin. Studies mostly undertaken in Arabidopsis, a eudicot, have shown that numerous R2R3 MYBs are part of the complex regulatory network controlling formation of SCWs [
21
–
25
]. Figure
1
diagrams current understanding of the relationships among the 17 Arabidopsis R2R3 MYBs that have been identified so far to possibly function in SCW regulation. The network has multiple levels, though many higher-level regulators also directly regulate expression of genes encoding cell wall biosynthesis enzymes [
22
] (Figure
1
). Table
1
summarizes the roles of individual Arabidopsis MYBs in SCW regulation and the initial forays into validating this regulatory network in grasses and poplar.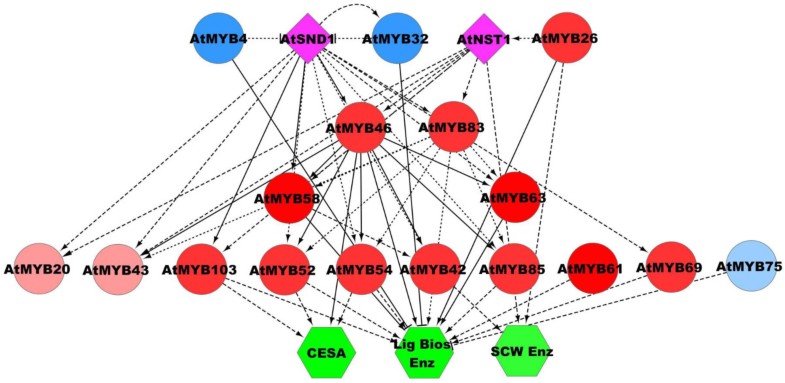 Table 1
Secondary cell wall (SCW)-associated R2R3 MYBs in dicots and grasses, organized based on phylogenetic tree topology
| Subgroup | Name | Function | Regulation and Phenotype | Reference |
| --- | --- | --- | --- | --- |
| G29 | AtMYB26 | Activator | Overexpression results in ectopic induction of SCW thickening and lignification. | [27] |
| G30 | AtMYB103 | Activator | Loss of function mutant reduces syringyl lignin; Overexpression increases SCW thickening in fibers; Regulates pollen development. | |
| G21 | AtMYB69 | Activator | Dominant repression reduces SCW thickening in both interfascicular fibers and xylary fibers in stems. | [31] |
| G31 | AtMYB46 | Activator | Dominant repression reduces SCW thickening of fibers and vessels; Overexpression mutant leads to ectopic deposition of secondary walls. | |
| G31 | AtMYB83 | Activator | Functionally redundant with AtMYB46; Overexpression induces ectopic SCW deposition. | |
| G31 | ZmMYB46 | Activator | Overexpression in Arabidopsis induces ectopic deposition of lignin and xylan and an increases accumulation of cellulose in the walls of epidermis. | [37] |
| G31 | OsMYB46 | Activator | Overexpression in Arabidopsis induces ectopic deposition of lignin and xylan and an increases accumulation of cellulose in the walls of epidermis. | [37] |
| G31 | PtrMYB20 | Activator | Overexpression activates the biosynthetic pathway genes of cellulose, xylan and lignin. | [38] |
| G31 | PtrMYB3 | Activator | Overexpression activates the biosynthetic pathways genes of cellulose, xylan and lignin. | [38] |
| G8 | AtMYB20 | Activator | Activated by SND1 and NST1. | [31] |
| G8 | AtMYB43 | Activator | Activated by SND1 and NST1. | [31] |
| G8 | AtMYB42 | Activator | Activated by SND1 and NST1. | [31] |
| G8 | AtMYB85 | Activator | Overexpression results in ectopic deposition of lignin in epidermal and cortical cells in stems; Dominant repression reduces SCW thickening in both stem interfascicular fibers and xylary fibers. | [31] |
| G21 | AtMYB52 | Activator | Dominant repression reduces SCW thickening in both stem interfascicular fibers and xylary fibers. | [31] |
| G21 | AtMYB54 | Activator | Dominant repression reduced SCW thickening in both stem interfascicular fibers and xylary fibers. | [31] |
| G3.a | AtMYB58 | Activator | Dominant repression reduces SCW thickening and lignin content; Overexpression causes ectopic lignification. | [30] |
| G3.a | AtMYB63 | Activator | Dominant repression reduces SCW thickening and lignin content; Overexpression causes ectopic lignification. | [30] |
| G13.b | AtMYB61 | Activator | Loss of function mutant reduces xylem vessels and lignification; Affects water and carbon allocation. | |
| G4 | AtMYB4 | Repressor | Response to UV-B; Overexpression lines show white lesion in old leaves. | |
| G4 | AtMYB32 | Repressor | Regulates pollen formation. | [42] |
| G4 | ZmMYB31 | Repressor | Overexpression reduces lignin content without changing composition. | [43] |
| G4 | ZmMYB42 | Repressor | Overexpression decreases S to G ratio of lignin. | |
| G4 | PvMYB4 | Repressor | Overexpression represses lignin content. | [45] |
| G6 | AtMYB75 | Repressor | Represses lignin biosynthesis and cell wall thickening in xylary and interfascicular fibers. | [46] |
Biomass from cereals and other grasses is of special interest as they constitute ~55% of the lignocellulosic material that can be sustainably produced in the U.S. [47]. Grass and eudicot SCWs have partially divergent compositions [24, 48, 49]. In addition, grasses and dicots have different patterns of vasculature, with its associated secondary wall, within leaves and stems. Grasses, as monocotoledenous plants, produce leaves with parallel venation; whereas, dicot leaf venation is palmate or pinnate. In grasses with C4 photosynthesis, including maize and switchgrass, there is further cell wall thickening of the bundle sheath cells to support the separate phases of photosynthesis. Within stems, vascular bundles of dicots form in rings from the cambium; whereas, grass stems, which lack a cambium layer, exhibit a scattered (e.g., atactostele) pattern [24, 50, 51]. Outside of the vasculature, the occurrence and patterning of extraxylary sclerenchyma cells, which are typified by thick cell walls, also varies between monocots and dicots [50]. Grasses have, for example, a sclerenchyma layer circumscribing their root cortex that is absent in Arabidopsis and other dicots [50, 52].
We postulate that the differences in composition and patterning of grass SCWs may have resulted in gains or losses of regulatory modules in grasses relative to dicots. The phylogenetic analysis of two dicots and three grasses presented here aims to refine this hypothesis. By comparing the R2R3 MYBs across diverse species, our goal is to identify conserved or expanded protein groups that may regulate grass SCW synthesis. Furthermore, examining the entire R2R3 MYB family will facilitate study of MYB subgroups that regulate other important processes.
Our analysis is anchored on the relatively well-studied R2R3 MYBs of Arabidopsis [2], which is in the eurosid I clade of eudicots (family Brassicaceae). We have also analyzed the angiosperm tree species poplar, which is an important species from an ecological context, is now used by the pulp and paper industry, and is also an major potential source of biomass for lignocellulosic biofuels. Poplar is in the family Salicaceae, which lies within the eurosid II clade, and shared a common ancestor with Arabidopsis approximately 100 million years ago [53]. The poplar genome has been sequenced for several years [54] and an early version was analyzed for R2R3 MYB content [15]. To represent grasses, we have analyzed rice, maize, and switchgrass (Panicum virgatum L.). Rice is in the subfamily Erhardtoideae, whereas, maize and switchgrass are both in the Panicoideae [55]. Rice was the first grass to have its genome sequenced [56] and, among grasses, rice genomics and reverse genetic resources are arguably the best-developed [57]. As a staple for about half of the human population, rice is an extremely important crop; consequently, its straw represents ~23% of global agriculture waste for which one potential use is lignocellulosic biofuels [58]. Previous cataloging of rice R2R3 MYBs [14, 16] had complementary foci to that presented here. Maize is also a very important food, feed, and first generation bioethanol crop with abundant genetic and genomic resources. Based on its recently sequenced genome [59], Du et al. conducted a phylogenetic analysis of its R2R3 MYBs similar to that here and serving, in part, as validation. Lastly, we have examined the R2R3 MYB complement of the large-stature, C4 perennial grass, switchgrass, which is currently used for forage and in erosion control, and is being actively and widely developed as a bioenergy crop [49, 60–62]. The tetraploid (1n = 2×) genome size of lowlands and some upland switchgrass ecotypes is approximately 1.4 Mbp, which includes whole genome duplication approximately 1 million years ago [63]. Switchgrass is an outcrossing species. In part due to the heterozygosity of the genome, a psuedomolecule chromosomal assembly of the switchgrass genome was not available until recently (http://www.phytozome.net/panicumvirgatum) [62].
Comparisons between model species, with their relatively small genomes, and non-models are often made more challenging due to whole genome and localized duplication events. To facilitate such translational science, multiple approaches have been developed for comparing the gene complement and genomic arrangement of whole genomes or particular biologically and economically relevant protein families [64]. Commonly employed methods include phylogentic analysis based on sequence alignments (e.g., [15, 17]), pair-wise quantitation of sequence identity (e.g., [65]), and more complex tools, like OrthoMCL (e.g., [66, 67]). Such approaches vary in their sophistication, underlying assumptions, and the level of time, attention, and bioinformatics-acumen required. Another aim of this work is to analyze the apparent performance of commonly used tools at identifying individual genes for further study and manipulation.
Here, we present an investigation of the R2R3 MYB transcription factor family focusing on the non-model species switchgrass, using various comparative genomic approaches. We identified a total of 48 to 52 R2R3 MYB subgroups, most of which are common among all five species and similar to those previously described. Phylogenetic analysis reveals four patterns of conservation among proteins related to the known SCW R2R3 MYB regulators of Arabidopsis, ranging from one-to-one conservation between Arabidopsis and rice to unconserved between grasses and Arabidopsis, though most Arabidopsis SCW-regulating MYBs do appear to have orthologs in grasses. To clarify which proteins from paralogous groups are more likely to act as functional orthologs, we also applied sequence identity and OrthoMCL analysis to the R2R3 MYB protein sequences. Moreover, switchgrass gene expression data provide evidence that particular paralogs are more likely to function in SCW regulation and that some novel, grass-diverged MYB genes are expressed in tissues undergoing SCW formation, suggesting avenues for improvement of economically important traits.
Conclusions
A key element of translating basic research on model (or reference) species, such as Arabidopsis, to crops for food and fuel, is understanding the relative gene complement of the species in question, many of which, like switchgrass, possess a complex genome [64]. We have sought to address this need for the R2R3 MYB proteins. The three tools, phylogenetic analysis, sequence identity, and OrthoMCL analysis, for indicating orthologous relationships that we employed have various requirements for time and expertise. Multi-species phylogenetic analysis appears to be relatively inclusive in its groupings and is informative regarding the rough evolutionary history, such as the occurrence of gene or genome duplication and speciation. However, the topology of a phylogentic tree (1) can be model-dependent, especially for divergent sequences and (2) does not indicate which members of expanded groups are the most similar to those in other species, for example proteins in Class III that have expanded and functionally diverged in Arabidopsis. In addition, phylogenetic analysis is time consuming and, thus, infrequently used for genome-scale analysis.
In contrast to phylogenetic analysis, OrthoMCL, once implemented, can rapidly analyze multiple genomes. A previous comparative analysis of OrthoMCL and other similar large-scale ortholog identification methods found that OrthoMCL and the similar algorithm, InParanoid, have relatively high specificity and sensitivity on a "gold standard" data set [86]. However, in the analysis presented here, OrthoMCL fails to identity known orthologs across dicots and grasses, as for the MYB46/83 and the MYB4/32 clades, though simple sequence identity supports the evidence of functional conservation across dicots and monocots in those clades. This indicates a problem with false negatives, if we select orthologs only based on OrthoMCL. Conversely, sequence similarity groups the grass co-orthologs in the MYB61/50 clade with the Cd2+-tolerance regulator, AtMYB50, for which the function is unknown. In that case, the OrthoMCL cluster may be more consistent with the functional data than the sequence identity data. (Alternatively, AtMYB50 may also function in SCW regulation.). For both tools, the quantitation of similarity may not be generally applicable across the genome and lead to false grouping or grouping failure. Ideally, a genome-scale syntenic analysis across species could be an additional piece of information to assist in identifying orthologs when a more accurate and complete switchgrass chromosomal assembly becomes available.
The switchgrass gene expression dataset, when available, appears to provide a much more nuanced guide of function among putative orthologs. For example, expression data suggest that among the switchgrass co-orthologs from the MYB46/83 and MYB42/85 clades, AP13ISTG55479 and AP13CTG22878, are predominantly expressed and potentially better targets for reverse genetics compared with their paralogs. The gaps in the expression dataset provide support for applying and consolidating other transcriptomics approaches, such as RNA Seq [88].
Comparative analysis of the R2R3 MYB family reinforces the assertion that though largely conserved, grass and dicot MYB families have undergone expansions and contractions (Table 3). With respect to SCW regulation, our analysis and emerging functional data [45, 76] are largely consistent with general but not complete, conservation of the Arabidopsis regulatory network (Figure 1). Phylogenetic and in some cases, gene expression data, for almost all of the AtMYBs grouped in classes I, II, and III, support conservation. This is despite the ambiguity of the class III proteins, which appear to have undergone expansion and neofunctionalization in the Arabidopsis lineage. This result is consistent with other global analyses of SCW regulation, such as based on maize gene expression data [89]. Among established MYB SCW regulators, the repressor AtMYB75 is clearly not conserved and hence falls in class IV in our analysis. In addition, the MYB20/43 clade gene expression data in switchgrass and the reverse genetic data in Arabidopsis question the inclusion of these proteins among SCW regulators.
Differences between dicot and grass SCW regulation are likely to exist. In support of this, the gene expression data from switchgrass suggest that the expansion of SCW R2R3 MYB proteins, either through whole genome duplication or more specific processes, has led to subfunctionalization in that species. For example, co-orthologs of AtMYB4 and AtMYB32, namely, AP13ISTG73550, AP13ISTG65360, and PvMYB4.d, exhibit not just different expression amounts, but different expression patterns relative to each other (Figure 9). In addition, we identified several grass-expanded R2R3 MYB subgroups and clades (Table 3, Figures 4 and 7) that may possess novel roles in grass-specific biology, including cell wall development. Some of these proteins are highly expressed in stems (Figure 9). Hence, this comparative analysis of the R2R3 MYB family will support the analysis of grass genomic data, providing particular insight into the emerging switchgrass genome. This information can be used to promote biofuel production from switchgrass and other grasses.
Availability of supporting data
The data supporting this analysis are available within the Additional files.
Abbreviations
SCW:

Secondary cell wall
R:

Repeat
G:

Subgroup
At:

Arabidopsis thaliana
Os:

Oryza sativa
Pv:

Panicum virgatum
Ptr:

Poplulus trichocarpa
Zm:

Zea mays
SND:

Secondary wall-associated NAC domain protein
NST:

NAC secondary wall thickening factor
E4:

Elongation 4 stage
RNAi:

RNA interference.
Declarations
Acknowledgements
This work was supported by the Department of Energy Plant Feedstock Genomics Program under grant No. DE-SC0006904 and the National Science Foundation EPSCoR program under Grant No. EPS-0814361. Any opinions, findings, and conclusions or recommendations expressed in this material are those of the author(s) and do not necessarily reflect the views of the Department of Energy or the National Science Foundation. We appreciate the comments and suggestions on this work of Jeremy Schmutz from the Joint Genome Institute (JGI) and Dr. Matthew Peck, of University of Oklahoma. We also thank Drs. Jiyi Zhang and Michael Udvardi for providing access to the switchgrass transcript dataset from the Noble Foundation Switchgrass Functional Genomics Server prior to publication.
Authors' Affiliations
(1)
Department of Microbiology and Plant Biology, University of Oklahoma, Norman, USA
Copyright
© Zhao and Bartley; licensee BioMed Central Ltd. 2014
This article is published under license to BioMed Central Ltd. This is an Open Access article distributed under the terms of the Creative Commons Attribution License (http://creativecommons.org/licenses/by/2.0), which permits unrestricted use, distribution, and reproduction in any medium, provided the original work is properly credited. The Creative Commons Public Domain Dedication waiver (http://creativecommons.org/publicdomain/zero/1.0/) applies to the data made available in this article, unless otherwise stated.