Research article

Open Access
FLOWERING LOCUS C-dependent and -independent regulation of the circadian clock by the autonomous and vernalization pathways
BMC Plant Biology
2006
6:10
Received: 14 December 2005
Accepted: 31 May 2006
Published: 31 May 2006
Abstract
Background
The circadian system drives pervasive biological rhythms in plants. Circadian clocks integrate endogenous timing information with environmental signals, in order to match rhythmic outputs to the local day/night cycle. Multiple signaling pathways affect the circadian system, in ways that are likely to be adaptively significant. Our previous studies of natural genetic variation in Arabidopsis thaliana accessions implicated FLOWERING LOCUS C (FLC) as a circadian-clock regulator. The MADS-box transcription factor FLC is best known as a regulator of flowering time. Its activity is regulated by many regulatory genes in the "autonomous" and vernalization-dependent flowering pathways. We tested whether these same pathways affect the circadian system.
Results
Genes in the autonomous flowering pathway, including FLC, were found to regulate circadian period in Arabidopsis. The mechanisms involved are similar, but not identical, to the control of flowering time. By mutant analyses, we demonstrate a graded effect of FLC expression upon circadian period. Related MADS-box genes had less effect on clock function. We also reveal an unexpected vernalization-dependent alteration of periodicity.
Conclusion
This study has aided in the understanding of FLC's role in the clock, as it reveals that the network affecting circadian timing is partially overlapping with the floral-regulatory network. We also show a link between vernalization and circadian period. This finding may be of ecological relevance for developmental programing in other plant species.
Keywords
Quantitative Trait Locus
Circadian Clock
Circadian Period
Short Vegetative Phase
Continuous Cool White Fluorescent Light
Background
Most eukaryotes and some prokaryotes have evolved a circadian clock to adapt to the 24 h day/night cycle. These clocks drive biological rhythms in many aspects of metabolism, physiology, and behavior, all with a period close to 24 h [1]. Circadian rhythms affect fundamental processes of plant life, such as photosynthesis and cell elongation [2]. Day-length measurement (photoperiodism) also depends on the circadian clock, which thereby controls seasonal rhythms such as the timing of flowering [3, 4]. Described molecular-genetic models from various circadian organisms has each included a gene circuit with negative-feedback elements, involving 24 h rhythms in the levels of positively- and negatively-acting transcriptional regulators [5]. In Arabidopsis, there is emerging evidence that a set of about 20 genes create one, or more, feedback circuits (the 'circadian oscillator') to generate the 24 h period [2, 6], and this rhythmically regulates the level of around 6% of transcripts [7].
Circadian clocks, including those of Arabidopsis, are reset by light and temperature signals in a characteristic fashion that entrains the clock to the local time in its environment [6]. However, circadian period is buffered against long-term changes in temperature, such that the period remains close to 24 h when assayed at various constant temperatures, over a physiologically relevant range. Such 'temperature compensation' is another distinguishing feature of circadian clocks, including those in Arabidopsis [8, 9]. Whereas the mechanisms of photic entrainment are being elucidated [2, 6], those governing temperature entrainment and temperature compensation remain to be determined.
A circadian clock maintains accurate timing because it is buffered against many environmental changes, yet several environmental-signaling pathways must affect the circadian oscillator for entrainment to occur. Limiting the input connections to the circadian clock from the rest of the plant-signaling network provides a potential mechanism to balance the opposing requirements of homeostasis and entrainment. In the gene network that regulates flowering time, for example, the circadian clock is an integral part of the photoperiodic sensor, receiving input from light signaling [3, 4]. Current models indicate that output from the photoperiod pathway converges with several other pathways that control flowering time, but the photoperiod sensor is thought to receive no input from those pathways [3, 4]. Genetic variation among Arabidopsis accessions prompted us to reexamine this notion.
Substantial natural variation has been detected in clock-affecting genes, based upon assays of rhythmic leaf movement under constant light [9–11]. This assay allowed us to map Quantitative Trait Loci (QTL) that affect circadian period in recombinant populations derived from crosses between accessions Cape Verde Islands (Cvi) × Landsberg erecta (Ler) and Columbia (Col) × Ler [10]. In each population, we located a major QTL towards the top of chromosome 5, close to the map location of FLOWERING LOCUS C (FLC). The Ler allele of FLC is weakly functional due to a transposon insertion within an intron of FLC [12, 13]. The populations that we used included Ler as one parent, therefore FLC function segregates in these recombinant populations [14]. The Ler allele of the QTL shortened the circadian period by 0.8 h, as did independent flc mutant alleles, leading us to conclude that the known allelic variation in FLC could account for the QTL [10].
FLC encodes a MADS-box transcription factor that had no known function in the circadian clock, but was well-characterized as a repressor of flowering. FLC expression is enhanced by FRIGIDA (FRI) and its paralogues, which are active in many late-flowering accessions [12, 13]. FLC transcription is suppressed by genes of the autonomous floral-promotion pathways and by prolonged cold temperatures (vernalization, indicative of winter in nature; reviewed in [3, 11, 12]). As flc mutants harbor an altered circadian period, we hypothesized that other genetic and physiological regulators of FLC would have predictable effects on the circadian clock. We therefore tested whether the network of FLC regulators that was defined with respect to flowering time also functions in the control of circadian period. A substantial number of upstream regulators, a related gene, and a downstream target gene do have similar functions, but we also find clear distinctions between FLC-related pathways. The circadian period is also sensitive to vernalization, revealing a previously-unrecognized connection between the gene circuits involved in responses to daily and to seasonal rhythms.
Discussion
We report here that the genes of the autonomous floral-promotion pathway, and FLC itself, modulate the period of a circadian clock in Arabidopsis. The effects on period are modest, but our data measurements are accurate, as detected in plots of relative amplitude error (RAE) versus period length for individual cotyledon traces of a genotype in an experiment (see Additional file 1). Additionally, there is no noticeable increase in arrhythmic mutant plants relative to wild-type (data not shown). Data for all genotypes tested in this study were collected from multiple experiments and in each case the period effects relative to the wild type were consistent. The only exception to this was the fpa mutant, which had first a long period and then a short period, relative to wild-type, in two independent experiments. As expected from this result, statistical analysis of these data was unable to assign a function for FPA in the circadian clock. It should also be mentioned that in each of the multiple FRI;FLC mutant combination studies (Figure 1A, Table 1), fri-flc double mutant period was always reduced compared to FRI-FLC period. Direct comparison with other genotypes between replicate experiments was not reasonable without the statistical analysis we performed using REML.
The mechanisms by which the floral-promotion genes affect circadian period are similar, but not identical, to their control of flowering time. Regulators other than FLC must be involved because, for example, LD and FVE affect the clock significantly in the flc mutant background. We also reveal a vernalization-dependent shortening of the circadian period. Recent studies in chestnut seedlings have shown that during the chilling period, circadian expression of genes homologous to Arabidopsis core-clock genes are suppressed, with cyclic expression of these genes resumes post-chilling [39]. Our studies however identify alterations in the Arabidopsis clock after the cold-exposure period. FLC would be an obvious candidate gene to mediate this response, however, our studies did not fully support this possibility. Circadian analysis of mutants in other vernalization-responsive MADS-box genes, such as MAF2 [34, 40] may shed light on the how the clock is altered by vernalization. It is unclear which components of the circadian-clock mechanism are the targets that mediate these period changes. Rhythmic, transcriptional-translational feedback loops are important in circadian timing and the genes tested here are regulators of gene expression, though FLC is not thought to be rhythmically regulated [41]. It is possible that the expression level of one of the clock genes is FLC-dependent, for example. Given the modest effects we observed upon circadian period, the FLC-dependent change in expression level might be very slight.
From an ecological perspective, the stable effects of vernalization allow plants to distinguish between Spring and Autumn, even though both seasons have an equal day length. Our work suggests that an additional mechanism may contribute to this distinction, namely that the circadian clocks of plants run "faster" in Spring than in Autumn.
Environmental changes can thus have "after-effects" on the circadian clock, in Arabidopsis, as in other organisms. These are typically observed as an alteration in the circadian period immediately after exposure to exotic light-dark or warm-cold cycles [11, 42]. The period-shortening effect of vernalization is expected to be much longer-lasting. The physiological consequences of the period shortening will depend on which rhythms are affected, and how the change in period under constant conditions affects the rhythms under day-night cycles. Short-period mutations can reduce the critical photoperiod in Arabidopsis, leading to earlier flowering under shorter photoperiods [43]. If the shortened circadian periods due to FLC repression affected rhythmic CO expression, this would reinforce the acceleration of flowering in Spring days compared to Autumn days, by induction through the photoperiod pathway, in addition to the removal of autonomous-pathway flowering repression. Such cross-talk between the autonomous pathway and the circadian system emphasizes the networked structure of plant-signaling circuits. These include the circuits adapted to mediate plastic responses to rhythmic, daily, and seasonal environmental signals.
Conclusion
We demonstrated that several genes in the Arabidopsis autonomous-flowering pathway are also involved in regulation of the circadian clock. We identify
FLC
as a dose-dependant regulator of circadian period and identify autonomous-pathway genes regulating the clock in both an
FLC
dependant and independent manner. As
FLC
expression levels are reduced by vernalization, we tested the hypothesis that circadian period was altered in vernalized
FLC
wild-type plants. Though we could not firmly establish
FLC
as the mediator of vernalization's effect on circadian period, we showed conclusively that vernalization alters circadian period in Arabidopsis. Figure
4
is an illustrated schematic of how vernalization and the genes we tested may be regulating circadian period in Arabidopsis.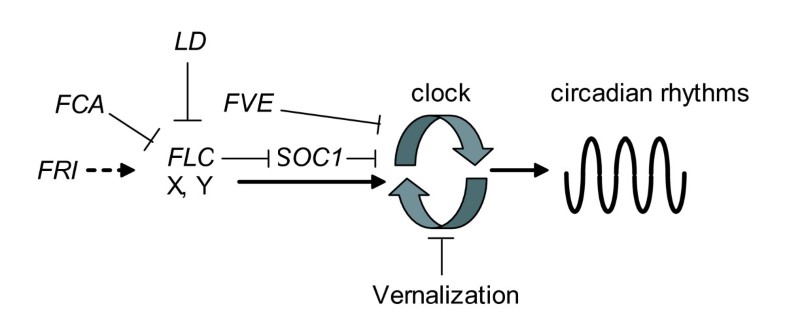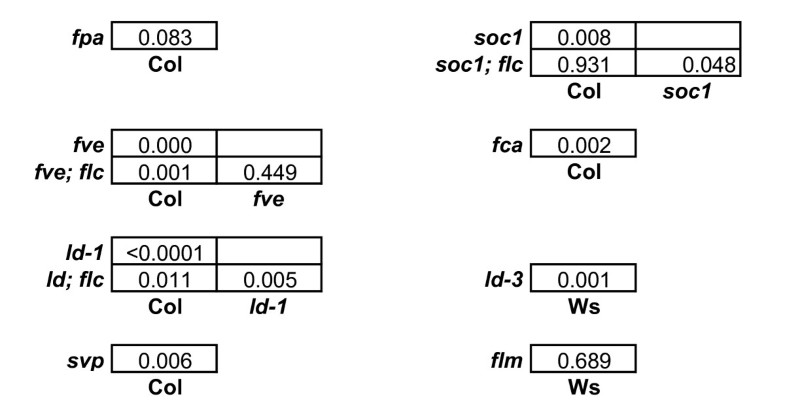 Methods
Plant materials
The following mutant lines in the Columbia-0 background have been described previously:
FRI-Sf2;FLC-Col, FRI-Sf2;flc-3, fri-Col;FLC-Col, fri-Col;flc-3, 35S:FLC [16]; soc1-2, soc1-2;flc-3 (previously agl20, agl20;flc-3) [44];fve-4, fve-4;flc-3 [45];ld-1, ld-1;flc-3, fpa-7 [17]. Mutants in the Ws-2 background have been described: flm [46], ld-3 [24]. We are grateful for seed of fca-9 [47] from Caroline Dean (Norwich), of svp-41 [36] from Peter Huijser (Cologne), and of ld-1 from the Nottingham Arabidopsis Stock Centre.
Growth and imaging conditions
Seedlings were grown and followed by assays of rhythmic leaf movements by video imaging, as described by Dowson-Day and Millar, 1999; Millar et al. 1995 [48, 49]. Briefly, surface-sterilized seeds were plated on 1.5% Murashige-Skoog agar medium plates [50] that included 3% sucrose, and were stratified for 3 days at 4°C. Seedlings were germinated under 30–40 μmolm-2sec-1 continuous cool white fluorescent light for 7 days, at 21–22°C, followed by entrainment to three 12 h-light, 12 h-dark cycles. Growth of the first pair of primary leaves was recorded under 30–40 μmolm-2sec-1 continuous cool white fluorescent light, at 21–22°C for 7 days. Seedlings were arranged randomly with respect to genotype within each experiment, to avoid positional bias in the imaging arrays. For vernalization, stratified seed were germinated for 4 days, as described above (at which point cotyledons were expanding), then incubated at 2°C for 8 weeks under low-intensity white light (0.5–1.0 μmol m-2sec-1). After the vernalization treatment, seedlings were transferred to continuous light for 4 days, then entrained and imaged as above. In order to confirm the effectiveness of vernalization, imaged seedlings were transferred from agar to soil immediately after the leaf-movement assay. Flowering time of these lines was measured as the number of rosette leaves when the floral bolt was 1 cm high. These studies confirmed the expected effects of FLC and FRI upon vernalization-responsiveness (data not shown).
Data analysis
Leaf movement data were analyzed by Fast Fourier Transform non-linear least squares program FFT-NLLS [51], essentially as described in Dowson-Day and Millar, 1999 [48]. The circadian period of each genotype was estimated as the variance-weighted mean of the most significant period within the circadian range (15–35 h) for each leaf. In order to make the most efficient use of data gathered in separate experiments, the data from all the experiments were analyzed jointly using REML [52] in the statistical package GENSTAT 5 [53]. REML is a generalization of analysis of variance and is appropriate for the analysis of unbalanced data. Genotypes to be compared directly were included in the same experiments. In the analyses, experiment, camera within experiment, plant within camera, and cotyledon within plant were taken as random factors, with mutant line as a fixed factor. The analysis was weighted to allow for the inherent variabilities of estimation of period from the different traces. The period estimate for each leaf recording was weighted for analysis by the reciprocal of the error associated with the period, as estimated by FFT-NLLS. Significance of FRI-FLC interactions and vernalization effects on period were assessed using the Wald test with variances derived from REML. The significance of the differences between the mean period of pairs of genotypes was assessed using the standard error of each difference, derived from REML. Figures 1, 2,3 report the conventional SE of each genotype mean.
Declarations
Acknowledgements
Work in R.M.A's laboratory was supported by the College of Agricultural and Life Sciences and the Graduate School of the University of Wisconsin, and by National Science Foundation grants 0133663 and 0209786. N.S. was supported by a CASE studentship from Horticulture Research International and the Biotechnology and Biological Sciences Research Council. S.J.D. was a Department of Energy fellow of the Life Sciences Research Foundation. The imaging facility at Warwick was funded by grants from the Biotechnology and Biological Sciences Research Council, Royal Society and Gatsby Charitable Foundation to A.J.M.
Authors' Affiliations
(1)
Department of Biological Sciences, University of Warwick, Coventry, UK
(2)
Warwick HRI, Wellesbourne, UK
(3)
Department of Biochemistry, University of Wisconsin-Madison, Madison, USA
(4)
Bauer Center for Genomics Research, Harvard University, Cambridge, USA
(5)
Department of Plant Developmental Biology, Max Planck Institute for Plant Breeding Research, Cologne, Germany
(6)
Department of Biology, Indiana University, Bloomington, USA
(7)
School of Biological Sciences, Edinburgh University, Edinburgh, UK
Copyright
© Salathia et al; licensee BioMed Central Ltd. 2006
This article is published under license to BioMed Central Ltd. This is an Open Access article distributed under the terms of the Creative Commons Attribution License (http://creativecommons.org/licenses/by/2.0), which permits unrestricted use, distribution, and reproduction in any medium, provided the original work is properly cited.