Research article
Open Access
Unexpected complexity of the Aquaporin gene family in the moss Physcomitrella patens
BMC Plant Biology
2008
8:45
Received: 20 December 2007
Accepted: 22 April 2008
Published: 22 April 2008
Abstract
Background
Aquaporins, also called major intrinsic proteins (MIPs), constitute an ancient superfamily of channel proteins that facilitate the transport of water and small solutes across cell membranes. MIPs are found in almost all living organisms and are particularly abundant in plants where they form a divergent group of proteins able to transport a wide selection of substrates.
Results
Analyses of the whole genome of Physcomitrella patens resulted in the identification of 23 MIPs, belonging to seven different subfamilies, of which only five have been previously described. Of the newly discovered subfamilies one was only identified in P. patens (Hybrid Intrinsic Protein, HIP) whereas the other was found to be present in a wide variety of dicotyledonous plants and forms a major previously unrecognized MIP subfamily (X Intrinsic Proteins, XIPs). Surprisingly also some specific groups within subfamilies present in Arabidopsis thaliana and Zea mays could be identified in P. patens.
Conclusion
Our results suggest an early diversification of MIPs resulting in a large number of subfamilies already in primitive terrestrial plants. During the evolution of higher plants some of these subfamilies were subsequently lost while the remaining subfamilies expanded and in some cases diversified, resulting in the formation of more specialized groups within these subfamilies.
Keywords
ExpansinNeighbour JoinIntrinsic ProteinTBLASTN SearchMajor Intrinsic Protein
Background
Water transport across cell membranes is essential for life and in order to facilitate the transport of water and other small polar molecules across hydrophobic membranes, living organisms have evolved a wide array of membrane integral protein channels. These proteins, termed major intrinsic proteins (MIPs), form a large and evolutionarily conserved superfamily of channel proteins, found in all types of organisms, including eubacteria, archaea, fungi, animals and plants [1, 2]. MIPs are present in many different tissues in mammals and are likely to be of major importance for many different diseases [reviewed in [3]], either directly or indirectly through their involvement in transport and water balance regulation. This general physiological involvement of MIPs has stimulated a growing interest in the molecular mechanisms responsible for regulation and substrate specificity. In plants the functions of MIPs are more complex and their physiological roles are not as clear [reviewed in [4, 5]]. However, the mere number of different MIPs in plants implies their importance, and it is likely that some isoforms play key roles in events such as rapid cell elongation and drought adaptation through their involvement in water transport regulation [6]. In order to fully understand whole plant water relations and the transport of other small polar molecules at a molecular level it is necessary to identify the complete set of MIPs along with their substrate specificities and expression patterns.
A comprehensive phylogenetic study of MIPs [7] supports the classification of two main evolutionary groups. Aquaporins (AQPs) originally thought to specifically transport water, and glycerol-uptake facilitators or aquaglyceroporins (GLPs) facilitating the transport of a variety of small neutral molecules. Although the MIPs form passive channels, the permeability of the membrane is regulated by controlling the amount of different MIPs and also in some cases by phosphorylation/dephosphorylation of the channels. Structures from x-ray and electron crystallography of MIPs [8–14] show a tetrameric quaternary structure in which each monomer consists of six membrane spanning helices (H1 to H6) connected by five loops (A-E). Loop B (cytoplasmic) and loop E (extracellular) form two half-membrane spanning helices (HB and HE) and interact with each other from opposing sides through two highly conserved aspargine-proline-alanine (NPA) boxes, forming a narrow region of the pore. A constriction region about 8 Å from the NPA boxes toward the periplasmic side, termed the aromatic/arginine (ar/R) region, is formed by two residues from H2 and H5 and two residues from loop E. This region forms a primary selection filter and is a major checkpoint for solute permeability [[15], and references therein].
Plant MIPs form a large and divergent superfamily of proteins with more than thirty identified members encoded in each of the genomes of Arabidopsis thaliana [16, 17], Zea mays [18] and Oryza sativa [19]. These large numbers of MIPs likely reflect a wide diversity in substrate specificity, localisation, transcriptional and posttranslational regulation. Based on sequence similarity plant MIPs have been divided into five subfamilies; the plasma membrane intrinsic proteins (PIPs), the tonoplast intrinsic proteins (TIPs), the nodulin-26 like intrinsic proteins (NIPs), the small basic intrinsic proteins (SIPs) and the GlpF-like intrinsic protein (GIPs) [7, 16, 20]. The GIPs have so far only been identified in Physcomitrella patens and another closely related moss [20]. Each of the other subfamilies can be further divided into groups based on sequence similarity [16]. Even though all MIPs in higher plants phylogenetically belong to the AQP clade of MIPs [7] they are not all highly specific for water. Several studies have shown plant MIPs to be permeable also to other molecules, for example TIPs have been reported to facilitate urea and ammonia transport [21–23]; NIPs to transport glycerol [24], ammonia [25], lactic acid [26], boron [27] and silicon [28]; PIPs have been postulated to be able to facilitate CO2 diffusion [29, 30] and for the SIPs water transport has only been reported for the SIP1 subgroup [31]. The difference in transport specificity is likely due to major differences in the ar/R filter of plant MIPs, as has been suggested for MIPs in A. thaliana, Z. mays and O. sativa [32, 33].
P. patens is a moss (bryophyte) and as such diverged from the lineage leading to higher plants approximately 443–490 million years ago, before the evolution of vascular plants [34]. This makes P. patens a valuable source of information in evolutionary comparisons with higher plants and any common features found can be expected to be present in most terrestrial plants. In addition P. patens has properties that make it an attractive plant model for future functional studies, above all the possibility of homologous recombination [information about the use of P. patens can be found in two excellent reviews by David Cove [35, 36]]. An assembled genome of P. patens (circa 480 Mbp), based on 8.1 times coverage, has recently been released by the Joint Genome Institute [37, 38] and has made it possible to extend the analysis of gene family evolution back to basal land plant lineages. Such an analysis has previously been described for the expansin superfamily of proteins [39] and we now present a similar analysis of the MIP superfamily. In agreement with the expansin study, we also hypothesised that P. patens were to have a simpler superfamily structure due to less need of cell-specific expression, a hypothesis that was partially proven wrong by the data collected for P. patens. In our analysis we did not only identify the five previously defined subfamilies (PIP, TIP, NIP, SIP and GIP) but also found two previously uncategorised MIP subfamilies; the hybrid intrinsic proteins (HIPs) and the uncategorized X intrinsic proteins (XIPs), a subfamily which we found also to be present in many other plant species. This data implies that MIP subfamilies evolved early on in plants and that the existence of diverse subfamilies reflects differences in subcellular localisation, substrate specificity, transcriptional and/or posttranslational regulation already of importance in primitive plants, whereas the specificity needed only in higher plants (e.g. cell specific expression in vascular tissue and seeds) is covered by the MIP groups that evolved later within the subfamilies present in higher plants.
In this study we try to address plant MIP function from an evolutionary perspective by comparing the whole set of MIPs in a primitive land plant (the moss P. patens) with those of two higher plants (A. thaliana and Z. mays). By annotating the whole MIP superfamily in P. patens we also lay the foundation for future functional studies in a plant system allowing homologous recombination and all advantages of this, such as knocking out/replacing endogenous genes.
Conclusion
In this study we identified a surprisingly large number of MIP encoding genes in
P. patens
, forming a diverse superfamily with seven subfamilies. In total 23 PpMIPs were identified; eight PIPs, four TIPs, five NIPs and two SIPs, one GIP and three MIPs belonging to two different, novel subfamilies, the HIPs and the XIPs. HIPs are hitherto not found in any higher plants, whereas the XIPs seem to be present in many plant species, although not in monocots. Interestingly, specific groups within the subfamilies, like PIP1s, PIP2s, NIP3s and possibly SIP1s were already present in a common ancestor of higher plants and bryophytes. In contrast, the subgroups of TIPs probably evolved later. These results suggest that early land plants had a large and divergent MIP superfamily consisting of at least the seven subfamilies found in
P. patens
and that during the evolution of higher plants some subfamilies were lost (Fig.
6
) whereas remaining subfamilies evolved further resulting in diversification and formation of subgroups within the subfamilies. We speculate that some of the new subgroups, or perhaps some other unrelated transporters have taken over the function of the lost MIP subfamilies in higher plants.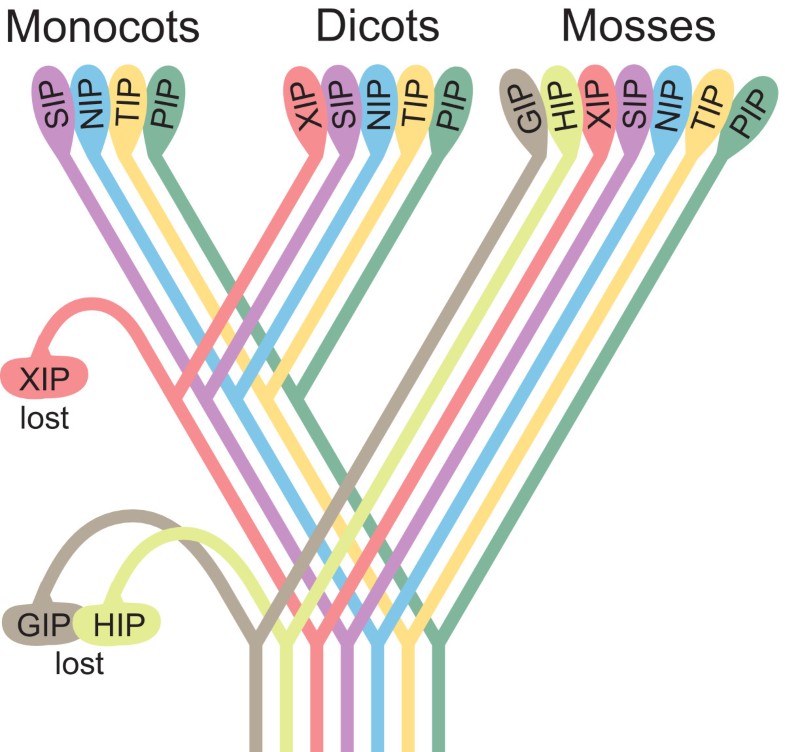 Methods
Gene identification and annotation
Physcomitrella patens MIP genes were identified by TBLASTN searches of the PpDB at the Joint Genome Institute [37] using the protein sequences of the complete set of 35 MIPs from Arabidopsis thaliana as queries [16]. Gene models overlapping with hits were manually inspected and kept based on subfamily sequence similarity or EST support. If no satisfying model existed, the genomic sequence was used to identify exons for the new or modified model (as specified in Table 1). The PpGIP1;1 sequence was also added to the sequences since it was previously identified as a PpMIP [20]. Protein sequences corresponding to the translation of the PpMIP genes were used in a second round of TBLASTN searches to identify more divergent MIP sequences in PpDB, but none were found. The resulting 23 PpMIPs were used in a multiple alignment of translated sequences, together with the 35 AtMIP and 33 ZmMIPs [18]. Alignments were manually inspected and adjusted and care was taken to keep the number of gaps low and to avoid gaps in functionally important features, such as the NPA-boxes and transmembrane regions. The alignment that forms the basis for all the phylogenetic analysis regarding the PpMIPs presented here is available as ALIGN_001168 in the EMBL-align database (which can be accessed either via the EMBL-EBI SRS homepage [55] or FTP [56]).
Orthologs of the unclassified PpHIP, PpXIP1;1 and PpXIP1;2 were searched for by TFASTX3 searches of the EMBL nucleotide sequence database [57] and TBLASTN searches of the nr/nt, est, gss and htgs databases at NCBI [58] using the translated sequence of the three PpMIPs. Translations representing hits from a wide variety of species were used in protein alignments together with either PpHIP1;1 or PpXIP1;1 and PpXIP1;2 and the PpPIPs and PpTIPs. The alignments were manually inspected and adjusted as mentioned above and used for phylogenetic analysis of PpHIP1;1 and the PpXIPs and are available in the EMBL-align database as ALIGN_001169 respectively ALIGN_001170.
The translated sequence of one of the PpXIP orthologs found [GenBank:EG656577] was used in additional TBLASTN searches of the nr/nt, est, gss and htgs databases at NCBI in order to find more homologs of this group. One ortholog found was from Populus trichocarpa and a translation of this sequence was used in a TBLASTN search of the P. trichocarpa genome at JGI to find paralogs. These paralogs together with a selection of homologs from the [GenBank:EG656577] and PpXIP searches were used in a multiple sequence alignment of translated sequences together with 22 PpMIPs (all except the PpHIP). The alignment was manually inspected and adjusted in the same manner as the PpMIP-AtMIP-ZmMIP alignment. This alignment forms the basis for all the phylogenetic analysis regarding the XIP group of MIPs and is available as ALIGN_001171 in the EMBL-align database.
Phylogenetic analysis
The PpMIP sequence alignment was analyzed by three different phylogenetic methods, Neighbour Joining (NJ), Maximum Parsimony (MP) and Bayesian inference (Bay). For all methods, gaps were treated as missing data. PAUP*4.0b10 [59] was used for the NJ and MP analysis. The default settings were used for both methods and bootstrapping with one thousand replicates for each method assessed the confidence of the best trees. Bayesian phylogenetic inferences were conducted using MrBayes 3.0.2 [60] using vague or uninformative prior probability distributions of the likelihood model under the JTT [61] +I+Γ model. Two sets of four parallel Metropolis Coupled Monte Carlo Markov Chains, of which three were heated with 0.2 temperature increments, were run for 2 million generations starting from random trees. Each 100th tree was sampled. The first 25 % of sampled trees was discarded as burn in, and stationary phase was empirically determined by looking at the likelihood scores of the kept samples. Robustness of the inferred tree was evaluated using Bayesian posterior probabilities. A "method consensus" tree was constructed as an overview, in this tree only branches that had a bootstrap or posterior probability support of more than 50 % in at least two of the methods were kept and all other were collapsed.
For the PpHIP1;1, PpXIPs and XIP-group alignments, PAUP*4.0b10 [59] was used for a NJ and MP analysis (gaps treated as missing data). The default settings were used for both methods and for the XIP-group alignment analysis, bootstrapping with one thousand replicates for each method assessed the confidence of the best trees. All trees from the PpMIP, PpHIP, PpXIPs and XIP family analyses are available in nexus format for viewing in Tree-View [62] [see Additional files 2, 3, 4, 5, 6, 7, 8, 9, 10, 11, 12, 13, 14].
Note added in proof
During the publication of this work we successfully identified the HIP subfamily of MIPs in the spike moss Selaginella moellendorffii. PpHIP1;1 and the closest homolog in S. moellendorffii are highly similar (with 73.7 % amino acid identity) and have the same NPA-boxes and ar/R filter motives. This proves that the HIP subfamily is indeed a novel conserved subfamily of MIPs and not an anomaly only found in Physcomitrella patens.
Declarations
Acknowledgements
We are grateful to the U.S. Department of Energy Joint Genome Institute for sequencing the genome of Physcomitrella patens and making the sequence available to the public. We would also like to thank Assoc. Prof. Nils Cronberg for valuable discussions on mosses and PhD Virginia Balbi and Laura Saavedra for the introduction to the PpDB at the Joint Genome Institute. This work was supported by grants from the Swedish Research Council for Environment, Agricultural Sciences and Spatial Planning (Formas; grants to U.J.).
Authors' Affiliations
(1)
Department of Biochemistry, Center for Molecular Protein Science, Center for Chemistry and Chemical Engineering, Lund University, Lund, Sweden
Copyright
© Danielson and Johanson; licensee BioMed Central Ltd. 2008
This article is published under license to BioMed Central Ltd. This is an Open Access article distributed under the terms of the Creative Commons Attribution License (http://creativecommons.org/licenses/by/2.0), which permits unrestricted use, distribution, and reproduction in any medium, provided the original work is properly cited.