Research article

Open Access
Transcriptional profiling of the pea shoot apical meristem reveals processes underlying its function and maintenance
BMC Plant Biology
2008
8:73
Received: 12 November 2007
Accepted: 30 June 2008
Published: 30 June 2008
Abstract
Background
Despite the importance of the shoot apical meristem (SAM) in plant development and organ formation, our understanding of the molecular mechanisms controlling its function is limited. Genomic tools have the potential to unravel the molecular mysteries of the SAM, and legume systems are increasingly being used in plant-development studies owing to their unique characteristics such as nitrogen fixation, secondary metabolism, and pod development. Garden pea (Pisum sativum) is a well-established classic model species for genetics studies that has been used since the Mendel era. In addition, the availability of a plethora of developmental mutants makes pea an ideal crop legume for genomics studies. This study aims to utilise genomics tools in isolating genes that play potential roles in the regulation of SAM activity.
Results
In order to identify genes that are differentially expressed in the SAM, we generated 2735 ESTs from three cDNA libraries derived from freshly micro-dissected SAMs from 10-day-old garden peas (Pisum sativum cv Torsdag). Custom-designed oligonucleotide arrays were used to compare the transcriptional profiles of pea SAMs and non-meristematic tissues. A total of 184 and 175 transcripts were significantly up- or down-regulated in the pea SAM, respectively. As expected, close to 61% of the transcripts down-regulated in the SAM were found in the public database, whereas sequences from the same source only comprised 12% of the genes that were expressed at higher levels in the SAM. This highlights the under-representation of transcripts from the meristematic tissues in the current public pea protein database, and demonstrates the utility of our SAM EST collection as an essential genetic resource for revealing further information on the regulation of this developmental process. In addition to unknowns, many of the up-regulated transcripts are known to encode products associated with cell division and proliferation, epigenetic regulation, auxin-mediated responses and microRNA regulation.
Conclusion
The presented data provide a picture of the transcriptional profile of the pea SAM, and reveal possible roles of differentially expressed transcripts in meristem function and maintenance.
Keywords
Gene OntologyShoot Apical MeristemAuxin Response FactorChromatin Remodelling FactorAustralian Genome Research Facility
Background
Organ formation is not limited to embryonic development, but can occur throughout the lifetime of a plant. The potential to develop new organs post-embryonically is attributed to meristems located at the growing tips of the plants, with the root apical meristem generating the underground part of the plant and the shoot apical meristem (SAM) giving rise to the entire shoot system after seed germination.
Like its root counterpart, the SAM contains a pool of pluripotent stem cells that can self-maintain as well as produce the cells that can differentiate into multiple cell and tissue types [reviewed in [1]]. While lateral organs such as the leaves are initiated from the peripheral regions of the SAM, the basal regions of the SAM contribute to the formation of the stem. The stem cells of the SAM must thus replenish areas where cells have been recruited and at the same time maintain the population of stem cells. This is generally attributed to an active process of communication among neighbouring SAM cells in the microenvironment of the stem cells [2–4].
Elegant genetic work carried out in the model plant, Arabidopsis thaliana, has enhanced our understanding of this vital developmental process [reviewed by [5]]. This is exemplified by the identification in Arabidopsis of WUSCHEL (WUS), a homeodomain transcription factor essential for maintaining the pools of stem cells in an undifferentiated state [6], and the CLAVATA group of genes that act together to restrict the proliferation of stem cells [7]. While the Arabidopsis genus provides invaluable model plants for enhancing our understanding of plant biology, it does not represent all the diverse developmental, environmental and physiological processes operating in the plant kingdom. There thus remains a need to extend the knowledge gained to other plant species especially crop plants.
Applying modern genomics research techniques to improving crops requires new knowledge and the development of new genomics resources. Legume species belonging to the family Fabaceae are cultivated for seeds rich in proteins, and represent important components of the diet in many parts of the world, especially pea, lentil and soybean. Legumes have attracted the attention of biologists because of their unique characteristics such as nitrogen fixation, secondary metabolism and pod development, and these are among the various processes that cannot be studied in Arabidopsis species. On the other hand, garden pea (Pisum sativum) has been a classic model species used in genetics [8, 9] and plant-development studies. Its extensive use in studies of flowering initiation and development has provided important insights into this transition process [10–13]. In addition, the availability of various developmental and flowering pea mutants [11, 14–18] makes this tractable for genomics studies.
In this study, we applied a transcriptomics approach to investigate the gene expression profiles associated with the SAM of the garden pea, an agriculturally and commercially important model legume. We also investigated the use of micro-dissected SAMs in unravelling the transcriptome profile of the SAM. By identifying genes that exhibit differential expression between SAMs and non-meristematic tissues (NM), we aimed to elucidate the transcriptional signature of the SAM and thereby identify genes that might play important roles in regulating SAM activity.
To this end, three directional cDNA libraries were constructed using SAMs that were carefully micro-dissected from garden peas. These libraries comprised the standard cDNA library plus a normalized library and a subtracted library, in order to increase the likelihood of recovering rare cDNAs, allowing the sampling of the wide diversity of genes expressed in the pea SAM. The EST sequences derived from these libraries were used in the subsequent design of a CombiMatrix CustomArray™ 4 × 2 K oligonucleotide array that was representative of the gene content of the SAM.
In this paper, we present the EST and transcriptional profiling data from this genomics project. The transcriptional profiling experiment represents the first analysis of genes that exhibit differential expression between the pea SAM and NM. The data reveal that transcripts putatively annotated as being associated with cell division and proliferation, epigenetic regulation, auxin-mediated responses and microRNA (miRNA) regulation are more abundant in the SAM than in the NM. In contrast, sequences related to photosynthesis, abiotic or biotic stress responses, reactive oxygen species (ROS) homeostasis and general cell-wall maintenance are down-regulated in the SAM.
Conclusion
The development of our EST collection from the pea SAM represents an important advance towards understanding SAM function and maintenance, especially due to the under-representation of SAM-related transcripts in the public database as demonstrated in this study. Subsequent transcriptional profiling experiments using the microarray constructed from ESTs yielded the transcriptional signatures of the pea SAM, and we have reported a repertoire of transcripts with putative or unknown functions that are differentially regulated in the SAM. In silico analysis of the predicted gene products has implicated several processes in the complex molecular network that regulates this developmental process. Future studies of these genes should attempt to reveal how they interact in the complex molecular network that maintains and regulates the dynamics of the SAM.
Methods
Plant materials and cDNA libraries synthesis
Garden pea (
Pisum sativum
) cultivar Torsdag was grown in a greenhouse located at the University of Melbourne, Australia. SAMs were micro-dissected from 10-day-old peas under the dissecting microscope at 40× magnification. Any leaf primordia were excluded in order to create a meristem-enriched tissue collection and the location of tissue sample is indicated in Figure
5
. Dissected samples were quickly frozen in liquid nitrogen and stored at -80°C until used for RNA extraction and cDNA library synthesis [
49
]. For the subtracted library, the driver sequences were derived from an equal mix of RNA extracted from non-meristematic (NM) tissue consisted of primary stem (without axillary meristems), mature leaf lamina, primary roots (without root apical meristem and root hairs), whereas the tester sequences consisted of RNA harvested from dissected SAM. All cDNAs were cloned into pBlueScriptIISK+ plasmid vector.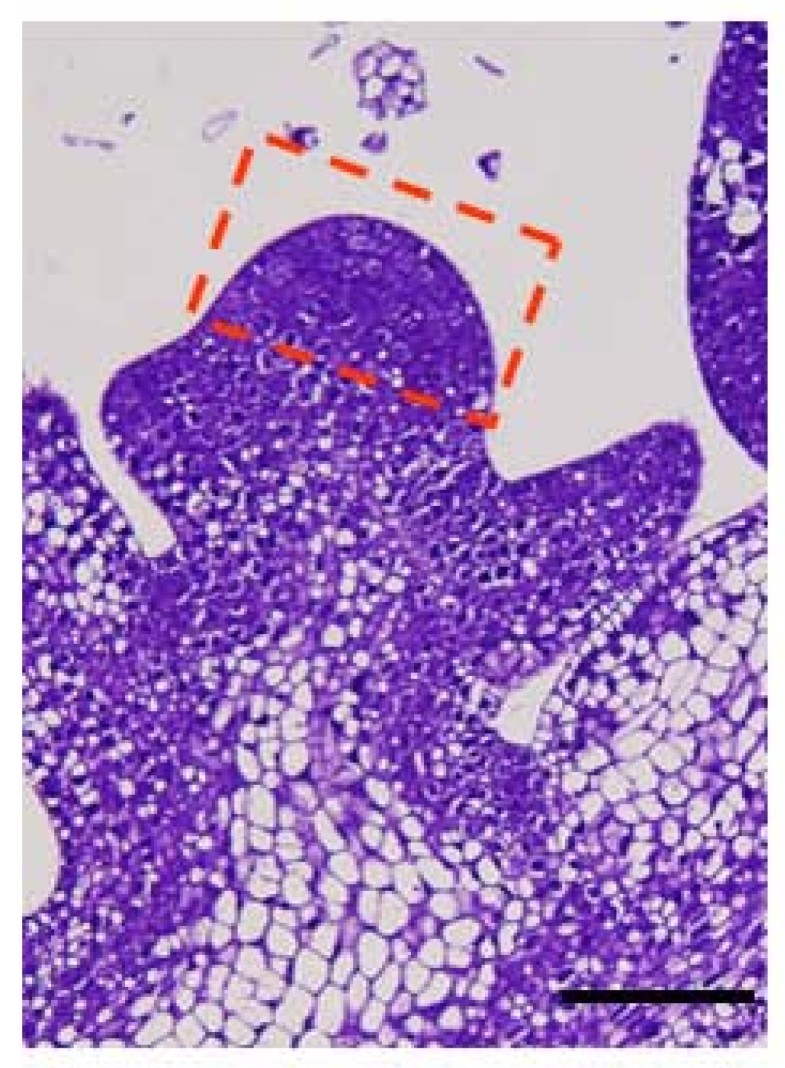 EST sequencing
A total of about 500, 1000 and 1500 randomly picked clones from each of the standard (C), subtracted (S) and normalized (N) libraries were sequenced at Australian Genome Research Facility (AGRF), Australia and subsequently at Macrogen Korea using T7 primer. These sequences have been deposited in GenBank under the accession numbers EX568682 to EX571416.
Sequence analysis and annotation
Sequence data were trimmed off vector, adaptor and low quality sequences using SEQTools [50]. Trimmed sequences that were shorter than 100 basepairs were excluded from further analysis. Blast score-based clustering method with a score cut-off of 0.6 from SEQTools was then used to assemble the sequences. All clusters and singletons resulting from this automated clustering were considered to be the best estimation of a minimal gene set for our EST library and we have called this set as "unigenes".
All sequences were then imported into Blast2GO, a web-based Gene Ontology (GO) annotation and analysis tool [21] for subsequent analysis. This involved automated retrieval of GO terms associated to the hits obtained after a BLASTX search of the corresponding unigene sequence against NCBI (nr) protein database. The e-value cut off was set at 1e-5.
RNA Extraction for microarray experiments
Total RNA was extracted from dissected SAM (approximately 80 SAMs per extraction) or other plant parts (primary stem, primary roots and mature leaves) using Qiagen RNeasy Mini Kit. Four independent tissue collections and RNA extractions (designated A, B, C and D) were performed for each of the microarray hybridization experiment.
Design of pea SAM Combimatrix CustomArray™ 4X2K
The Combimatrix arrays are semiconductor-based oligonucleotide microarrays and are generated based on CombiMatrix technology (hyperlink) of in situ synthesis [51]. The CustomArray™ 4x2k is a microarray that is divided into 4 sectors, each of which can contain up to 2,240 different oligonucleotide probes (spots) and can be hybridized individually with different targets using a provided sectored hybridization cap. A total of 1686 pea sequences (290 sequences from C library, 300 sequences from S library and 1086 ESTs from the N library) together with 500 pea sequences randomly selected from GenBank pea protein database were submitted for probe design using the open source CombiMatrix probe design system. The length of probes ranged from 35–40 bases in length. A variety of control elements were also arrayed on the slide and these include blank spot, housekeeping genes (actin) as well as non-plant transgenes.
Target preparation and hybridization to microarray
Target preparation and hybridization were performed in Australian Genome Research Facility Ltd (AGRF) according to the standard CombiMatrix protocol described in detail at http://www.combimatrix.com/docs/PTL005_00_4x2K_%20Hyb_%20Imaging.pdf. One microgram of total RNA from SAM or NM was labelled using the Kreatech's ULS™ RNA ampULSe kit to generate Cy5 or Cy3 labelled targets. The Cy5- or Cy3-labelled cDNA was then hybridized to different sector of the chip according to a balanced block design dual label experiment scheme [23]:
Sector 1: Cy3-SAM A vs Cy5-NM A
Sector 2: Cy5-SAM B vs Cy3-NM B
Sector 3: Cy3-SAM C vs Cy5-NM C
Sector 4: Cy5-SAM D vs Cy3-NM D
Image acquisition and data analysis
The Cy5- and Cy3-hybridized chip was then scanned using Genepix 4000B microarray scanner (Axon Instruments, CA, USA) according to manufacturer's instructions. The generated tiff image files were then imported into Combimatrix Microarray Imager to produce intensity data. The LimmaGUI software, which is an implementation of the Empirical Bayes linear modelling approach, was used for subsequent statistical analysis of the resulting data [24]. A robust spline method was chosen for within array normalization and a least-square linear model fit was computed with the p-value adjusted using the Benjamini-Hochberg procedure. The entire differentially-expressed transcripts (p value < 0.05) in the SAM are listed in Additional File 1 and Additional File 2. Microarray data have been deposited in the Gene Expression Omnibus database [20] under accession number GSE9278.
RT-PCR analysis
The one-tube, two enzyme Access RT-PCR system (Promega, Annandale, New South Wales, Australia) was used according to manufacturer's instructions in all RT-PCR analysis. Ten ng of RNA isolated from the SAM, mature stem, mature leaf and primary root of 10-day-old pea seedlings were used as a template in a 10 μl reaction volume. The pea actin gene was used as an internal control. The number of cycles used for the transcripts investigated was routinely between 25–28 and 80 % of the PCR reaction was separated on 1% agarose gel containing 0.1 μg/μl ethidium bromide and visualized under UV light.
Abbreviations
SAM:

shoot apical meristem
NM:

non-meristem
EST:

expressed sequence tag.
Declarations
Acknowledgements
We thank Andrea Merrell and Cathy Jensen for their assistance in the pea meristem dissections. This work was supported by the Australian Research Council Centre of Excellence (grant no. CEO348212) to the University of Melbourne Node of the Centre of Excellence for Integrative Legume Research.
Authors' Affiliations
(1)
Plant Molecular Biology and Biotechnology laboratory, Australian Research Centre of Excellence for Integrative Legume Research, Faculty of Land and Food Resources, The University of Melbourne, Parkville, Australia
Copyright
© Wong et al; licensee BioMed Central Ltd. 2008
This article is published under license to BioMed Central Ltd. This is an Open Access article distributed under the terms of the Creative Commons Attribution License (http://creativecommons.org/licenses/by/2.0), which permits unrestricted use, distribution, and reproduction in any medium, provided the original work is properly cited.