GarlicESTdb: an online database and mining tool for garlic EST sequences
BMC Plant Biology
2009
9:61
Received: 19 November 2008
Accepted: 18 May 2009
Published: 18 May 2009
Abstract
Background
Allium sativum., commonly known as garlic, is a species in the onion genus (Allium), which is a large and diverse one containing over 1,250 species. Its close relatives include chives, onion, leek and shallot. Garlic has been used throughout recorded history for culinary, medicinal use and health benefits. Currently, the interest in garlic is highly increasing due to nutritional and pharmaceutical value including high blood pressure and cholesterol, atherosclerosis and cancer. For all that, there are no comprehensive databases available for Expressed Sequence Tags(EST) of garlic for gene discovery and future efforts of genome annotation. That is why we developed a new garlic database and applications to enable comprehensive analysis of garlic gene expression.
Description
GarlicESTdb is an integrated database and mining tool for large-scale garlic (Allium sativum) EST sequencing. A total of 21,595 ESTs collected from an in-house cDNA library were used to construct the database. The analysis pipeline is an automated system written in JAVA and consists of the following components: automatic preprocessing of EST reads, assembly of raw sequences, annotation of the assembled sequences, storage of the analyzed information into MySQL databases, and graphic display of all processed data. A web application was implemented with the latest J2EE (Java 2 Platform Enterprise Edition) software technology (JSP/EJB/JavaServlet) for browsing and querying the database, for creation of dynamic web pages on the client side, and for mapping annotated enzymes to KEGG pathways, the AJAX framework was also used partially. The online resources, such as putative annotation, single nucleotide polymorphisms (SNP) and tandem repeat data sets, can be searched by text, explored on the website, searched using BLAST, and downloaded. To archive more significant BLAST results, a curation system was introduced with which biologists can easily edit best-hit annotation information for others to view. The GarlicESTdb web application is freely available at http://garlicdb.kribb.re.kr.
Conclusion
GarlicESTdb is the first incorporated online information database of EST sequences isolated from garlic that can be freely accessed and downloaded. It has many useful features for interactive mining of EST contigs and datasets from each library, including curation of annotated information, expression profiling, information retrieval, and summary of statistics of functional annotation. Consequently, the development of GarlicESTdb will provide a crucial contribution to biologists for data-mining and more efficient experimental studies.
Keywords
Single Nucleotide PolymorphismAlliinContig ViewerAlliin LyaseAJAX Framework
Background
EST sequencing is a useful tool for investigating a wide variety of genetic characteristics of a species, such as how many genes exist in the species, how gene expression patterns differ between tissues, where exonic and intronic regions are located and how many alternatively spliced transcripts can be created from a single gene [1–3]. In addition, ESTs have proven to be extremely useful for making DNA-based molecular markers, including microsatellites, SSRs (simple sequence repeats) and SNPs (single nucleotide polymorphisms) [4, 5]. In this respect, EST information is regarded as a valuable resource for evaluating genetic diversity, for marker-assisted breeding, and for capturing and mining the transcript of a gene, to predict its protein product and eventually its function.
With steady advances in high-throughput sequencing technology, a number of researchers have attempted to obtain a more abundant EST data set, creating a desire to manipulate huge quantities of EST data more quickly and accurately to keep up with the pace of data generation. Efforts to analyze ESTs have employed various strategies such as: ESTIMA, ESTAnnotator, and ESTminer as web applications and database schema [6–8]. Until very recently, however, there was no an integrated database or tools available to curate finished annotations and simultaneously provide processed EST information about garlic (Allium sativum).
For this reason, we developed the GarlicESTdb using a pipeline system. The GarlicESTdb provides a handy way to access all the available garlic EST resources and be integrated with comprehensive information, which includes information about cluster, annotation, protein domain, pathway, tandem repeat, SNP, and so on. In addition, the GarlicESTdb makes it possible to manage annotation data in a manner that can be readily changed according to personal inclination, as well as to access abundant and valuable EST information.
Construction and content
Database overview
GarlicESTdb has been developed on a platform comprised of the Apache/Tomcat web server on RedHat9.0 and uses the MySQL5.0 database management system. The web application was implemented with JSP (Java Server Pages)/EJB (Enterprise Java Beans)/JavaServlet technology and AJAX framework. GarlicESTdb provides users with the flexibility to perform all analysis steps separately. In addition, all the information in each project library can be accessed and searched through the web application.
In the present work, a total of 21,595 garlic EST sequences derived from four cDNA libraries made from leaf and stem tissues of Korean and Chinese garlic plants were used to construct the database (refer to the "cDNA library construction" on the website for details). To analyze these data, we have built a pipeline using the JAVA programming language as shown in Figure
1
. The pipeline is composed of a series of fully integrated systems and will automatically process, analyze and store the data into a MySQL database management system. Major modules of the analysis pipeline include the following programs: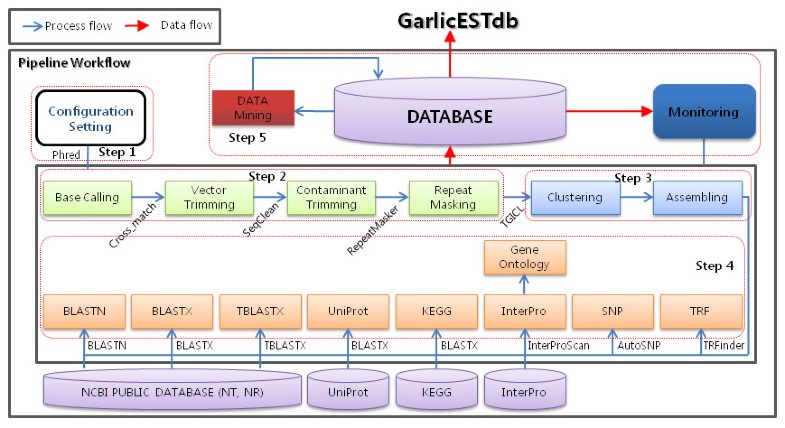 (i) Pre-processing (Step 1, 2 and 3): a bundle of background pipelines for cleaning raw DNA sequences, clustering reads and assembling contigs.
(ii) Functional annotation (Step 4): a set of programs for annotation and storage of results in a relational database using various tools.
(iii) Data mining & Visualization (Step 5): a web application for providing higher-level information on processed sequence status and functional annotation, and for curating the biological meaning assigned to all EST consensus sequences (for more detailed information about the programs and parameters used in each step, please refer to "User Guide" at the top of the main page on the GarlicESTdb site).
The database contains:
(i) Pre-processed data including trace data, cleaned sequence reads, contigs, clustering and assembling data.
(ii) Functional annotation data from BLASTN, BLASTX, TBLASTX, UNIPROT, KEGG, INTERPRO, GO, TRF, and SNP.
(iii) Secondary mined data from electronic northern expression with annotated information gained from BLAST searches, and pathway information mapped using Basic, E. coli (Escherichia coli) and yeast pathways from KEGG.
Conclusion
In summary, the GarlicESTdb is the first incorporated online information database of garlic EST sequences that can be freely accessed and downloaded. Our garlic EST database is not only uniquely comprehensive world-wide garlic EST database, but also the most useful one which includes sufficient information of genes that are representative to the characteristics of garlic in health-giving aspects, and which also, includes important information in investigating the properties of garlic genes in molecular level and gene function level. Moreover, it is a tool for information retrieval, visualization, and management. Consequently, the development of the GarlicESTdb will provide a crucial contribution to biologists for data-mining and more efficient experimental studies.
Availability and requirements
The GarlicESTdb is freely available at http://garlicdb.kribb.re.kr. Curation service requires free user registration because users need a unique session. All questions, comments and requests may be sent by email to todaewon@kribb.re.kr.
Declarations
Acknowledgements
We are grateful to the plant biology research community for their valuable input on this project and suggestions in building and maintaining this database. This work was supported by grant 2007-04269 from the Ministry of Education, Science and Technology and grant KGM1230812 from the Korea Research Institute of Bioscience and Biotechnology (KRIBB).
Authors' Affiliations
(1)
Genome Research Center (GRC), Korea Research Institute of Bioscience and Biotechnology, Daejeon, Korea
(2)
University of Science and Technology (UST), Daejeon, Korea
(3)
Gnc Bio Co Ltd, Daejeon, Korea
(4)
Mokpo National University, Jeonnam, Korea
Copyright
© Kim et al; licensee BioMed Central Ltd. 2009
This article is published under license to BioMed Central Ltd. This is an Open Access article distributed under the terms of the Creative Commons Attribution License (http://creativecommons.org/licenses/by/2.0), which permits unrestricted use, distribution, and reproduction in any medium, provided the original work is properly cited.