research article

Open Access
Natural variants of ELF3 affect thermomorphogenesis by transcriptionally modulating PIF4-dependent auxin response genes
BMC Plant Biology
2015
15:197
Received: 18 March 2015
Accepted: 2 July 2015
Published: 14 August 2015
Abstract
Background
Perception and transduction of temperature changes result in altered growth enabling plants to adapt to increased ambient temperature. While PHYTOCHROME-INTERACTING FACTOR4 (PIF4) has been identified as a major ambient temperature signaling hub, its upstream regulation seems complex and is poorly understood. Here, we exploited natural variation for thermo-responsive growth in Arabidopsis thaliana using quantitative trait locus (QTL) analysis.
Results
We identified GIRAFFE2.1, a major QTL explaining ~18 % of the phenotypic variation for temperature-induced hypocotyl elongation in the Bay-0 x Sha recombinant inbred line population. Transgenic complementation demonstrated that allelic variation in the circadian clock regulator EARLY FLOWERING3 (ELF3) is underlying this QTL. The source of variation could be allocated to a single nucleotide polymorphism in the ELF3 coding region, resulting in differential expression of PIF4 and its target genes, likely causing the observed natural variation in thermo-responsive growth.
Conclusions
In combination with other recent studies, this work establishes the role of ELF3 in the ambient temperature signaling network. Natural variation of ELF3-mediated gating of PIF4 expression during nightly growing periods seems to be affected by a coding sequence quantitative trait nucleotide that confers a selective advantage in certain environments. In addition, natural ELF3 alleles seem to differentially integrate temperature and photoperiod information to induce architectural changes. Thus, ELF3 emerges as an essential coordinator of growth and development in response to diverse environmental cues and implicates ELF3 as an important target of adaptation.
Keywords
Ambient temperature signaling
Auxin
ELF3
PIF4
Thermomorphogenesis
Background
In analogy to photomorphogenesis, the term thermomorphogenesis describes the effect of temperature on morphogenesis [1]. Hypocotyl elongation [2] and leaf hyponasty [3] belong to the most sensitive thermomorphogenic changes in plant development. Physiologically, these coordinated responses likely enhance evaporative leaf cooling [4, 5] and thus enable plants to adapt to warmth. Within the context of globally increasing ambient temperatures, it is imperative to improve our understanding of the basic processes plants employ to react to such environmental perturbations.
A major hub in the ambient temperature signaling network is the basic helix-loop-helix (bHLH) transcription factor PHYTOCHROME-INTERACTING FACTOR4 (PIF4). PIF4 protein binds to the promoters of auxin biosynthesis and response genes [6–9]. It thereby transcriptionally activates auxin responses, resulting in elongation growth. PIF4 itself seems to be transcriptionally regulated in a temperature-dependent manner by the bZIP transcription factor ELONGATED HYPOCOTYL5 (HY5) [10]. Accumulating data on PIF4 regulation from light signaling, photomorphogenesis and the circadian clock [11–13] indicate a more complex regulation of PIF4 activity on several levels.
The objective of this study was to exploit natural variation within the gene pool of Arabidopsis thaliana to identify additional components of the complex signaling network that plants use to adapt growth to changes in ambient temperature. Based on a quantitative genetic approach, we here show that two naturally occurring alleles of EARLY FLOWERING3 (ELF3) cause a differential response in thermomorphogenesis.
Results
We previously observed extensive natural variation for the thermomorphogenic signature phenotype we termed
temperature-induced hypocotyl elongation
(TIHE; [
10
,
14
]). To identify the underlying genetic variants, we performed quantitative trait locus (QTL) analyses based on two natural accessions from geographically distant locations. When comparing growth at 20 and 28 °C, the selected accessions Bay-0 (Germany) and Sha (Tajikistan) differed significantly in several thermomorphogenic responses (Fig.
1a
,
b
; Additional file
1
). Identification of the underlying genetic variants would help to improve our understanding of how ambient temperature changes are translated into growth responses.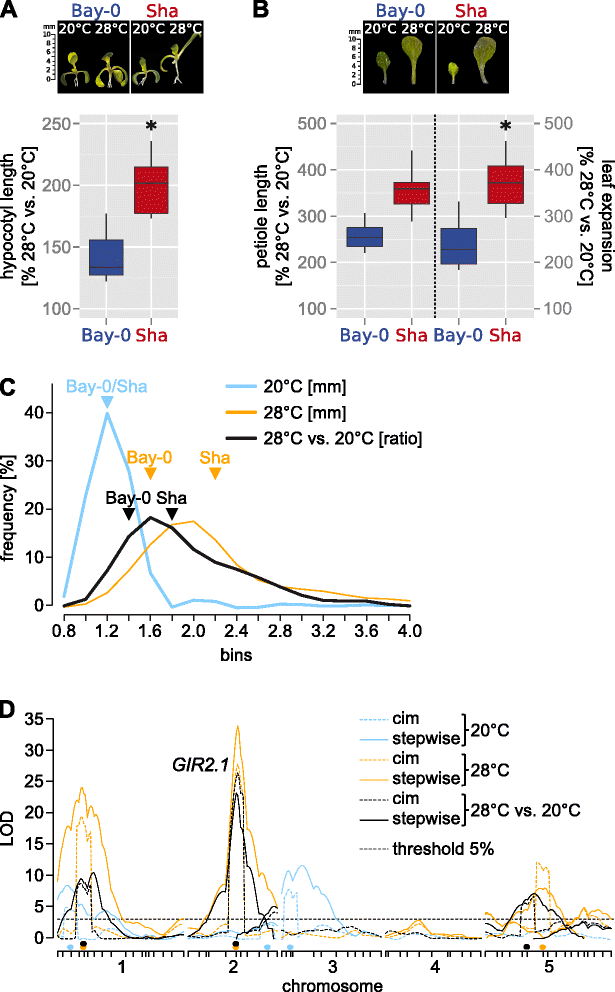 Discussion
Our findings shown here illustrate the power of natural variation approaches and support ELF3 as a negative regulator of ambient temperature signaling. Physiological and gene expression data indicate that ELF3 protein might be involved in down-regulating transcript levels of the major ambient temperature signaling hub PIF4, and thereby affect thermo-responsive growth. Transgenic complementation assays furthermore demonstrated that a nonsynonymous SNP between the natural accessions Bay-0 and Sha significantly affects the ability of ELF3 to regulate temperature-induced PIF4 transcript levels, its target genes, and hypocotyl elongation.
In general, different types of polymorphisms, such as nonsynonymous SNPs or expression level polymorphisms, can contribute to the expression of a particular trait [26]. In line with this phenomenon, distinct types of naturally occurring ELF3 polymorphisms seem to contribute to hypocotyl elongation in response to different temperatures. Box et al. [27] recently used a different quantitative genetic approach based on the MAGIC lines [28], and elegantly showed that both protein-coding and expression level polymorphisms in ELF3 are likely responsible for TIHE differences in natural accessions. The authors presented convincing evidence that warmth relieves the gating of growth by ELF3 at night. Specifically, ELF3 gating of transcriptional targets responds rapidly to changes in temperature by temperature-dependent binding of ELF3 to target promoters including PIF4. Together with Box et al.'s [27] non-transgenic quantitative complementation assays, our transgenic complementations unequivocally establish the role of ELF3 in thermomorphogenesis signaling.
Intriguingly, the
ELF3
QTLs in both studies were identified in different photoperiods.
ELF3
polymorphisms causal for variation within the MAGIC population were identified under short-day conditions. In contrast, our study identified the
ELF3
polymorphism under a long-day photoperiod and subsequent analysis of HIF lines showed long-day specificity (Fig.
2b
). Furthermore, a direct comparison of Bay-0 and Sha with two of the parental lines used in the study of Box
et al.
[
27
] revealed the short-day-specificity of the Sf-2 and Zu-0 alleles in promoting hypocotyl elongation (Additional file
7
). This photoperiod specificity of the different natural alleles represents an interesting observation in itself requesting further investigations. Another unexpected difference between the two studies relates to the growth temperature at which the
ELF3
QTL was detected. Whereas we identified the
ELF3
QTL peak for hypocotyl growth at 28 °C, but not at 20 °C (Fig.
1d
), Box
et al.
[
27
] did not detect
ELF3
at high temperature but rather at 22 °C standard growth conditions. This difference could be attributed to the differential integration of temperature and photoperiod by natural
ELF3
alleles. Alternatively, the genetic backgrounds and interactions with other contributing loci might be involved. In support of this, it is known that the capacity of
ELF3
to mediate growth depends on the context of the genome [
23
]. Hence, Box
et al.
[
27
] and this study confer complementary evidence for a central role of ELF3 as a major signaling hub acting upstream of PIF4 in the ambient temperature signaling network and add yet another layer to its complex regulation (Fig.
5
).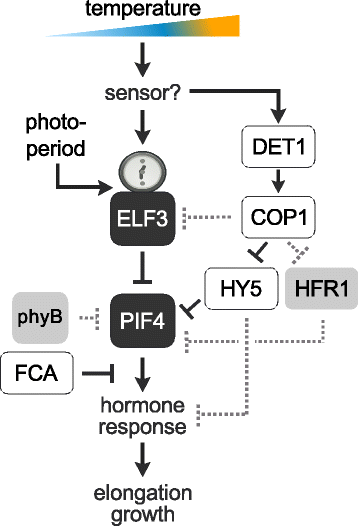 Anwer et al. [11] recently identified ELF3 as a QTL for the regulation of the circadian clock in the same Bay-0 × Sha population. In fact, they showed that the ELF3Sha protein variant failed to properly localize to the nucleus and its ability to accumulate in the dark was compromised. If the same scenario holds for ambient temperature responses, then ELF3Sha might fail to accumulate in the nucleus during nighttime when hypocotyl growth peaks. As a consequence of a weaker potential of ELF3Sha to repress PIF4 expression, a temperature increase could result in a much earlier activation of PIF4-mediated signaling processes during the night. Indeed, Box et al. [27] demonstrated that hypocotyl growth dynamics at elevated temperatures are considerably different from those at standard conditions and show a prolonged growth throughout the first night and an additional growth peak in the beginning of the dark period in subsequent nights. However, it is currently unknown in which manner temperature might affect ELF3 protein localization.
Conclusions
In summary, remarkable progress has been made in understanding the functions of ELF3. In combination with recent studies on the role of ELF3 in the shade avoidance response [18, 21] and the circadian clock [11, 13, 29], this work contributes to understanding its role in the fine-tuned integration of a variety of environmental stimuli that in concert regulate plant growth and development (Fig. 5). Natural variation in thermomorphogenesis caused by ELF3 variants could be mediated at several levels. First, transcriptional regulation of ELF3 itself caused by expression level polymorphisms can result in varying amounts of PIF4-repressing ELF3 protein [27]. In addition, coding sequence polymorphisms might affect the ability of ELF3 protein to interact with PIF4 protein and thereby inhibit its transcriptional activity, as shown by Nieto et al. [13]. However, it is unknown whether this protein-protein interaction is temperature-dependent and the existence of natural variation for this mechanism has yet to be reported. Lastly, nonsynonymous SNPs may affect nuclear accumulation of ELF3, which - like expression level polymorphisms described above - would result in variation of the amount of nuclear ELF3 [11] capable of transcriptionally repressing PIF4, and other targets. Possibly, the latter mechanism is responsible for natural variation between Bay-0 and Sha thermomorphogenesis reported here.
Our work in combination with the study of Box et al. [27] adds further insight into the essential role of ELF3 in integrating multiple signals to promote architectural changes. The photoperiod-specific function of natural ELF3 alleles could provide new avenues to elucidate the clock-mediated growth regulation in general and the ELF3 mode of action specifically.
Methods
Plant material
Plant material used for QTL analyses has been obtained from the Versailles Arabidopsis Stock Center: Bay-0 (accession number 41AV), Sha (236AV), heterogeneous inbred families (HIFs, 33HV84, 33HV194), Bay-0 × Sha population (33RV). Lines used for complementation assays have been described in Anwer et al. [11]. Natural accessions Sf-2 (N6857) and (Zu-0 N6902) were obtained from the Nottingham Arabidopsis Stock Centre.
Thermo-responsive growth assays
Seeds were surface-sterilized and kept in deionized H2O for 3 days at 4 °C before sowing. Seedlings were germinated and grown under sterile conditions and the indicated temperatures on Arabidopsis thaliana solution (ATS) medium [30]. Hypocotyl growth was quantified in seedlings cultivated for 8–10 days under 250 μmol m−2 s−1 white light and a long-day photoperiod (16/8) unless stated otherwise. Hypocotyl length was measured using the RootDetection software package (http://www.labutils.de/). Petiole length and leaf expansion were measured on 12 days-old seedlings using ImageJ. All growth assays including phenotyping of the Bay-0 × Sha population have been repeated at least three times with similar results of which one representative data set is shown.
QTL mapping
Described QTL mapping was applied using Haley-Knott Regression [31] at 1 cM steps with the R/qtl package [32]. Logarithm of odds (LOD) score thresholds were based on 1000 permutations and an alpha error rate of 0.05. Detailed instructions on the QTL mapping procedure are found in Additional file 8. QTL mapping has been performed on all three repetitions of phenotyping of the Bay-0 × Sha mapping population independently with similar results. QTL mapping data of one representative data set are shown. Phenotypic data used for QTL mapping is provided as Additional file 9.
Light response assays
Seeds were surface-sterilized, stratified at 4 °C for 2 days, and dispersed on 0.8 % agar (w/v) Murashige and Skoog medium. Monochromatic red (670 nm peak wavelength, 0.89 μmol m−2 s−1), far-red (735 nm peak wavelength, 0.024 μmol m−2 s−1), or blue light (470 nm peak wavelength, 4.93 μmol m−2 s−1) was generated with an LED SNAP-LITE (Quantum Devices, Barnereld, WI). Green light (540 nm peak wavelength, 0.32 μmol m−2 s−1) was generated from a filtered fluorescent light bulb. Peak wavelength verification and light intensity measurements were done with a SPEC-UV/PAR spectroradiometer (Apogee Instruments, Logan, UT). Plant images were taken after plants were incubated in darkness or under light for the indicated time. Hypocotyl length was measured using ImageJ software.
qRT-PCR
Surface-sterilized seeds were placed on ATS medium and grown for 7 days under long-day photoperiod (16/8) and 100 μmol m−2 s−1 white light at 20 °C. Temperature-induced samples were shifted to 28 °C at dusk, while control plants remained at 20 °C. Samples for qRT-PCR analyses were harvested in the middle of the night 4 h before subjective dawn. Sample preparation and qRT-PCR (including primer sequences) were performed as previously described [10].
Statistical analyses
Statistical differences among absolute length or expression values were analyzed by one-way ANOVA using default parameters in R (www.r-project.org ). To assess differences in the treatment response among different genotypes, we used the "genotype x treatment" interaction results of a two-way ANOVA analysis performed on the absolute values in R. Statistically significant differences were highlighted in box plots showing the relative length data.
Abbreviations
ATS:

Arabidopsis thaliana solution
AtHB2:

ARABIDOPSIS THALIANA HOMEOBOX PROTEIN2
BAP:

BZR-ARF-PIF
bHLH:

Basic helix-loop-helix
COP1:

CONSTITUTIVE PHOTOMORPHOGENIC1
DD:

Darkness
DET1:

DE-ETIOLATED1
ELF3:

EARLY FLOWERING3
FCA:

FLOWERING TIME CONTROL PROTEIN
GIR:

GIRAFFE
HFR1:

LONG HYPOCOTYL IN FAR-RED1
HIF:

Heterogeneous inbred family
HLH:

Helix-loop-helix
HY5:

ELONGATED HYPOCOTYL5
IQR:

Interquartile ranges
LD:

Long day
LL:

Continuous light
LOD:

Logarithm of odds
LUX:

LUX ARRHYTHMO
PIF4:

PHYTOCHROME-INTERACTING FACTOR4
QTL:

Quantitative trait locus
SAUR:

SMALL AUXIN UPREGULATED RNA
SD:

Short day
SNP:

Single nucleotide polymorphism
TIHE:

Temperature-induced hypocotyl elongation
Declarations
Acknowledgements
We thank Christine Camilleri and INRA Versailles for providing HIF lines. This work was supported by a grant from the Deutsche Forschungsgemeinschaft to MQ (Qu 141/3-1) and by the Leibniz Association.
Open AccessThis article is distributed under the terms of the Creative Commons Attribution 4.0 International License (http://creativecommons.org/licenses/by/4.0), which permits unrestricted use, distribution, and reproduction in any medium, provided you give appropriate credit to the original author(s) and the source, provide a link to the Creative Commons license, and indicate if changes were made. The Creative Commons Public Domain Dedication waiver (http://creativecommons.org/publicdomain/zero/1.0/) applies to the data made available in this article, unless otherwise stated.
Authors' Affiliations
(1)
Department of Molecular Signal Processing, Leibniz Institute of Plant Biochemistry, Halle, Germany
(2)
Department of Plant Developmental Biology, Max Planck Institute for Plant Breeding Research, Cologne, Germany
(3)
PlantaServ GmbH, Freising, Germany
(4)
Department of Plant Biology, University of Minnesota Twin Cities, Saint Paul, USA
(5)
Department of Biology, University of York, York, UK
(6)
Martin Luther University Halle‐Wittenberg, Institute of Agricultural and Nutritional Sciences, Halle (Saale), Germany