Research article

Open Access
RNAi-mediated down-regulation of the expression of OsFAD2-1: effect on lipid accumulation and expression of lipid biosynthetic genes in the rice grain
BMC Plant Biology
BMC series – open, inclusive and trusted
2016
16:189
Received: 9 July 2016
Accepted: 24 August 2016
Published: 31 August 2016
Abstract
Background
The bran from polished rice grains can be used to produce rice bran oil (RBO). High oleic (HO) RBO has been generated previously through RNAi down-regulation of OsFAD2-1. HO-RBO has higher oxidative stability and could be directly used in the food industry without hydrogenation, and is hence free of trans fatty acids. However, relative to a classic oilseed, lipid metabolism in the rice grain is poorly studied and the genetic alteration in the novel HO genotype remains unexplored.
Results
Here, we have undertaken further analysis of role of OsFAD2-1 in the developing rice grain. The use of Illumina-based NGS transcriptomics analysis of developing rice grain reveals that knockdown of Os-FAD2-1 gene expression was accompanied by the down regulation of the expression of a number of key genes in the lipid biosynthesis pathway in the HO rice line. A slightly higher level of oil accumulation was also observed in the HO-RBO.
Conclusion
Prominent among the down regulated genes were those that coded for FatA, LACS, SAD2, SAD5, caleosin and steroleosin. It may be possible to further increase the oleic acid content in rice oil by altering the expression of the lipid biosynthetic genes that are affected in the HO line.
Keywords
Rice bran oil
Triacylglycerol
Oleic acid
FAD2
Transcriptome
Background
Rice is one of the most important crops for mankind as it provides nearly half of the world's population a source of dietary energy [1]. Apart from starch, rice grains contain a small proportion of lipids (1–4 % of the grain) located mostly in the bran. Rice bran oil (RBO) is extracted from rice bran as a by-product of milling and is commercially available as a food grade vegetable oil [2, 3]. Triacylglycerols (TAGs) make up about 85 % of the total lipids in RBO, followed by phospholipids (~6.5 %) and free fatty acids (~4.5 %) [4]. RBO is also rich in compounds such as oryzanol and tocotrienes having antioxidant and cholesterol–reducing activities [5–8]. TAGs inRBO are composed of three main fatty acids: palmitic acid, oleic acid and linoleic acid. The relative content of palmitic (15–20 %), oleic (36–48 %) and linoleic acids (30–38 %) depends on the cultivar and environment [9, 10].
Linoleic acid can undergo non-enzymatic oxidation because of the presence of the two reactive double bonds in the molecule [11, 12] which reduces the shelf-life of RBO and leads to wastage of 60–70 % of RBO [6, 13]. Therefore, partial hydrogenation has often been used to enhance the oxidative stability of RBO, resulting in nutritionally undesirable trans fatty acids as a by-product. Trans fatty acids have been found to increase the risk of cardiovascular diseases and have been prohibited in foods in an increasing number of countries in the world [14–17]. On the other hand, oleic acid is both oxidatively stable and nutritionally desirable, hence favored for direct food applications without partial hydrogenation.
The microsomal enzyme ∆12 fatty acid desaturase (FAD2) converts oleic acid into linoleic acid while associated with phosphatidylcholine in the endoplasmic reticulum (ER). A total of 18 desaturase genes have been annotated in rice genome, among which are the four FAD2 genes investigated by Zaplin et al. [18]. These were termed OsFAD2–1, –2, –3 and –4. Among these four genes, the expression of OsFAD2–1 was reduced by RNA interference (RNAi) suppression which resulted in an increase in the proportion of oleic acid and a reduction of the proportions of linoleic and palmitic acids in T3 grains. Our previous results suggested that the OsFAD2–1gene was an effective target for raising oleic acid levels at the expense of the oxidatively unstable linoleic acid and the cholesterol-raising palmitic acid [18].
Most reports of genetic modification and characterisation of oil accumulation in plants have so far been carried out in Arabidopsis and classic dicot oilseed crops and focused mainly on trait development [19–24]. We have therefore decided to investigate further the role of the OsFAD2-1 gene in the rice grain. The comparative analysis of lipid fractions in wild type (WT) and HO-RBO was carried out. We also describe the use of Illumina-based NGS transcriptomic analysis on the same selected HO rice line to study the effect of RNAi down-regulation of OsFAD2-1 on the grain transcriptome, especially on other genes that are involved in lipid biosynthesis and turnover. Preliminary qPCR experiments confirmed the transcriptomic results for some of the selected genes. In this paper we also show that the down-regulation of OsFAD2-1with a seed-specific promoter to produce HO rice line was not associated with compromised oil accumulation in the grain, but rather a modest increase.
Conclusion
The transcriptomic analysis of the HO rice grains generated through RNAi down-regulation of
OsFAD2-1
suggests that a suite of key genes involved in fatty acid biosynthesis, TAG assembly and turnover have been differentially regulated in order to incorporate the increased level of oleic acid in TAG that is stored in the form of OBs. Further, the observation of a modest increase in TAG in the HO rice grains may also suggest that the availability of high level of oleic acid is likely favourable for TAG biosynthesis in rice. Overall, this study has delineated a subset of lipid-metabolism genes as being affected when
OsFAD2-1
is down-regulated and the proportion of oleic acid increases in TAG (Fig.
3
). The impact on these genes is currently being verified by other techniques. It is envisaged that the genetic manipulation or co-expression of the genes clearly shown to be affected might lead to in further enhancement of the nutritionally desirable oleic acid and TAG accumulation in rice grains.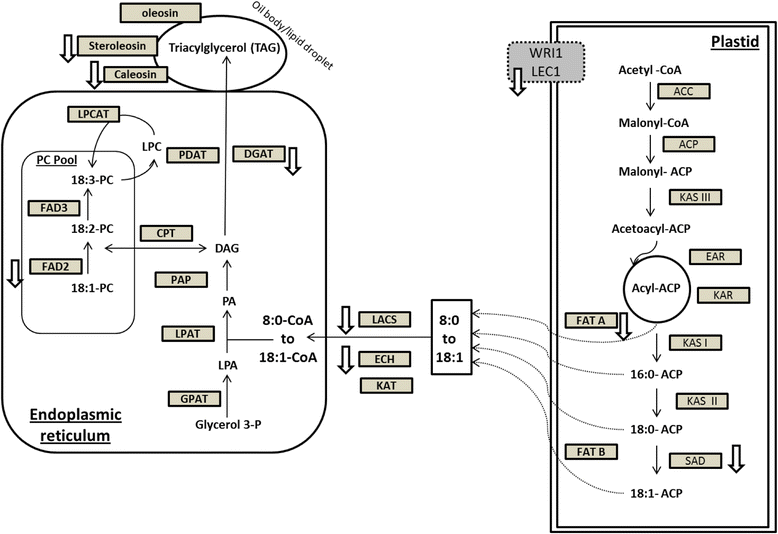 Declarations
Funding
We thank Monash University, Malaysia for research funding and the Monash University Malaysia Tropical Medicine and Biology Platform for partially funding this study.
Availability of data and materials
All the supporting data are included as additional files in this manuscript.
Authors' contribution
GJT, QL, ZL, SR contributed to the design of the research. GJT carried out the RNA analysis with the help of the Monash University Genomics Facility with RNA provided by ZL. PS carried out the lipid analysis, GJT, QL, PS, ZL, SR contributed to the analysis of the results and writing the manuscript. All authors have read and approved the final version of the manuscript.
Competing interests
The authors declare that they have no competing interests.
Consent for publication
Not applicable.
Ethics approval and consent to participate
No ethics approval was needed for this study.
Open AccessThis article is distributed under the terms of the Creative Commons Attribution 4.0 International License (http://creativecommons.org/licenses/by/4.0/), which permits unrestricted use, distribution, and reproduction in any medium, provided you give appropriate credit to the original author(s) and the source, provide a link to the Creative Commons license, and indicate if changes were made. The Creative Commons Public Domain Dedication waiver (http://creativecommons.org/publicdomain/zero/1.0/) applies to the data made available in this article, unless otherwise stated.
Authors' Affiliations
(1)
School of Science, Monash University Malaysia, Selangor, Malaysia
(2)
Monash University Malaysia Genomics Facility, Selangor, Malaysia
(3)
CSIRO Agriculture & Food, Canberra, Australia
References
Maclean JL. Rice almanac: Source book for the most important economic activity on earth. Int Rice Res Inst. 2002.Google Scholar
Juliano B. Lipids in rice and rice processing. Lipids Cereal Technol. 1983;440. http://0-www.sciencedirect.com.brum.beds.ac.uk/science/article/pii/B9780120790203500210.
Sugano M, Tsuji E. Rice bran oil and cholesterol metabolism. J Nutr. 1997;127(3):521S–4S.PubMedGoogle Scholar
Yoshida H, Tanigawa T, Kuriyama I, Yoshida N, Tomiyama Y, Mizushina Y. Variation in fatty acid distribution of different acyl lipids in rice (Oryza sativa L.) brans. Nutrients. 2011;3(4):505–14.PubMedPubMed CentralView ArticleGoogle Scholar
Carroll L. Functional properties and applications of stabilized rice bran in bakery products. Food Technol. 1990;44(4):74–6.Google Scholar
Orthoefer FT. Rice bran oil: healthy lipid source. Food Technol. 1996;50(12):62–4.Google Scholar
McCASKILL DR, Zhang F. Use of rice bran oil in foods: Developing nutraceuticals for the new millenium. Food Technol. 1999;53(2):50–3.Google Scholar
Lai P, Li KY, Lu S, Chen HH. Phytochemicals and antioxidant properties of solvent extracts from Japonica rice bran. Food Chem. 2009;117(3):538–44.View ArticleGoogle Scholar
Taira H, Nakagahra M, Nagamine T. Fatty acid composition of Indica, Sinica, Javanica, Japonica groups of nonglutinous brown rice. J Agric Food Chem. 1988;36(1):45–7.View ArticleGoogle Scholar
Radcliffe JD, Imrhan VL, Hsueh AM. The use of soy protein isolate to reduce the severity of 13-cis retinoic acid-induced hypertriglyceridemia. Cancer Detect Prev. 1997;22(6):526–32.View ArticleGoogle Scholar
Spiteller G. Linoleic acid peroxidation—the dominant lipid peroxidation process in low density lipoprotein—and its relationship to chronic diseases. Chem Phys Lipids. 1998;95(2):105–62.PubMedView ArticleGoogle Scholar
Chaiyasit W, Elias RJ, McClements DJ, Decker EA. Role of physical structures in bulk oils on lipid oxidation. Crit Rev Food Sci Nutr. 2007;47(3):299–317.PubMedView ArticleGoogle Scholar
Zhou Z, Robards K, Helliwell S, Blanchard C. Composition and functional properties of rice. Int J Food Sci Technol. 2002;37(8):849–68.View ArticleGoogle Scholar
Mauger J-F, Lichtenstein AH, Ausman LM, Jalbert SM, Jauhiainen M, Ehnholm C, et al. Effect of different forms of dietary hydrogenated fats on LDL particle size. Am J Clin Nutr. 2003;78(3):370–5.PubMedGoogle Scholar
Esmaillzadeh A, Azadbakht L. Consumption of hydrogenated versus nonhydrogenated vegetable oils and risk of insulin resistance and the metabolic syndrome among Iranian adult women. Diabetes Care. 2008;31(2):223–6.PubMedView ArticleGoogle Scholar
Benatar JR, Gladding P, White HD, Zeng I, Stewart RA. Trans-fatty acids in New Zealand patients with coronary artery disease. Eur J Cardiovasc Prev Rehabil. 2011;18(4):615–20.PubMedView ArticleGoogle Scholar
U.S. Food and Drug Administration. [http://www.fda.gov/ForConsumers/ConsumerUpdates/ucm372915.htm].
Zaplin ES, Liu Q, Li Z, Butardo VM, Blanchard CL, Rahman S. Production of high oleic rice grains by suppressing the expression of the OsFAD2-1 gene. Funct Plant Biol. 2013;40(10):996–1004.View ArticleGoogle Scholar
Weselake RJ, Shah S, Tang M, Quant PA, Snyder CL, Furukawa-Stoffer TL, et al. Metabolic control analysis is helpful for informed genetic manipulation of oilseed rape (Brassica napus) to increase seed oil content. J Exp Bot. 2008;59(13):3543–9.PubMedPubMed CentralView ArticleGoogle Scholar
Xu J, Francis T, Mietkiewska E, Giblin EM, Barton DL, Zhang Y, et al. Cloning and characterization of an acyl‐CoA‐dependent diacylglycerol acyltransferase 1 (DGAT1) gene from Tropaeolum majus, and a study of the functional motifs of the DGAT protein using site‐directed mutagenesis to modify enzyme activity and oil content. Plant Biotechnol J. 2008;6(8):799–818.PubMedView ArticleGoogle Scholar
Jako C, Kumar A, Wei Y, Zou J, Barton DL, Giblin EM, et al. Seed-specific over-expression of an Arabidopsis cDNA encoding a diacylglycerol acyltransferase enhances seed oil content and seed weight. Plant Physiol. 2001;126(2):861–74.PubMedPubMed CentralView ArticleGoogle Scholar
Clemente TE, Cahoon EB. Soybean oil: genetic approaches for modification of functionality and total content. Plant Physiol. 2009;151(3):1030–40.PubMedPubMed CentralView ArticleGoogle Scholar
Taylor DC, Zhang Y, Kumar A, Francis T, Giblin EM, Barton DL, et al. Molecular modification of triacylglycerol accumulation by over-expression of DGAT1 to produce canola with increased seed oil content under field conditions This paper is one of a selection of papers published in a Special Issue from the National Research Council of Canada-Plant Biotechnology Institute. Botany. 2009;87(6):533–43.View ArticleGoogle Scholar
Van Erp H, Bates PD, Burgal J, Shockey J. Castor phospholipid: diacylglycerol acyltransferase facilitates efficient metabolism of hydroxy fatty acids in transgenic Arabidopsis. Plant Physiol. 2011;155(2):683–93.PubMedView ArticleGoogle Scholar
MSU Rice Genome Annotation Project. [http://rice.plantbiology.msu.edu/index.shtml].
Hiltunen JK, Schonauer MS, Autio KJ, Mittelmeier TM, Kastaniotis AJ, Dieckmann CL. Mitochondrial fatty acid synthesis type II: more than just fatty acids. J Biol Chem. 2009;284(14):9011–5.PubMedPubMed CentralView ArticleGoogle Scholar
Hiltunen JK, Autio KJ, Schonauer MS, Kursu VS, Dieckmann CL, Kastaniotis AJ. Mitochondrial fatty acid synthesis and respiration. Biochim Biophys Acta Bioenergetics. 2010;1797(6):1195–202.View ArticleGoogle Scholar
Salas JJ, Ohlrogge JB. Characterization of substrate specificity of plant FatA and FatB acyl-ACP thioesterases. Arch Biochem Biophys. 2002;403(1):25–34.PubMedView ArticleGoogle Scholar
Wang L, Yu S, Tong C, Zhao Y, Liu Y, Song C, et al. Genome sequencing of the high oil crop sesame provides insight into oil biosynthesis. Genome Biol. 2014;15(2):1.View ArticleGoogle Scholar
Theodoulou FL, Eastmond PJ. Seed storage oil catabolism: a story of give and take. Curr Opin Plant Biol. 2012;15(3):322–8.PubMedView ArticleGoogle Scholar
Vanhercke T, El Tahchy A, Liu Q, Zhou XR, Shrestha P, Divi UK, et al. Metabolic engineering of biomass for high energy density: oilseed‐like triacylglycerol yields from plant leaves. Plant Biotechnol J. 2014;12(2):231–9.PubMedView ArticleGoogle Scholar
Lung S-C, Weselake RJ. Diacylglycerol acyltransferase: a key mediator of plant triacylglycerol synthesis. Lipids. 2006;41(12):1073–88.PubMedView ArticleGoogle Scholar
Bates PD. The significance of different diacylgycerol synthesis pathways on plant oil composition and bioengineering. Frontiers Plant Sci. 2012;3:147.View ArticleGoogle Scholar
Beaudoin F, Napier JA. 8 Biosynthesis and compartmentation of triacylglycerol in higher plants. Lipid Metabolism and Membrane Biogenesis: Springer; 2004. p. 267–87.Google Scholar
Coleman RA, Lee DP. Enzymes of triacylglycerol synthesis and their regulation. Prog Lipid Res. 2004;43(2):134–76.PubMedView ArticleGoogle Scholar
Stobart K, Mancha M, Lenman M, Dahlqvist A, Stymne S. Triacylglycerols are synthesised and utilized by transacylation reactions in microsomal preparations of developing safflower (Carthamus tinctorius L.) seeds. Planta. 1997;203(1):58–66.Google Scholar
Kroon JT, Wei W, Simon WJ, Slabas AR. Identification and functional expression of a type 2 acyl-CoA: diacylglycerol acyltransferase (DGAT2) in developing castor bean seeds which has high homology to the major triglyceride biosynthetic enzyme of fungi and animals. Phytochemistry. 2006;67(23):2541–9.PubMedView ArticleGoogle Scholar
Abbadi A, Domergue F, Bauer J, Napier JA, Welti R, Zähringer U, et al. Biosynthesis of very-long-chain polyunsaturated fatty acids in transgenic oilseeds: constraints on their accumulation. Plant Cell. 2004;16(10):2734–48.PubMedPubMed CentralView ArticleGoogle Scholar
Cahoon EB, Shockey JM, Dietrich CR, Gidda SK, Mullen RT, Dyer JM. Engineering oilseeds for sustainable production of industrial and nutritional feedstocks: solving bottlenecks in fatty acid flux. Curr Opin Plant Biol. 2007;10(3):236–44.PubMedView ArticleGoogle Scholar
Cagliari A, Margis-Pinheiro M, Loss G, Mastroberti AA, de Araujo Mariath JE, Margis R. Identification and expression analysis of castor bean (Ricinus communis) genes encoding enzymes from the triacylglycerol biosynthesis pathway. Plant Sci. 2010;179(5):499–509.Google Scholar
Shimada TL, Shimada T, Takahashi H, Fukao Y, Hara‐Nishimura I. A novel role for oleosins in freezing tolerance of oilseeds in Arabidopsis thaliana. Plant J. 2008;55(5):798–809.Google Scholar
Siloto RM, Findlay K, Lopez-Villalobos A, Yeung EC, Nykiforuk CL, Moloney MM. The accumulation of oleosins determines the size of seed oilbodies in Arabidopsis. Plant Cell. 2006;18(8):1961–74. http://www.sciencedirect.com.ezproxy.lib.monash.edu.au/science/article/pii/S0168945205003602.
Chepyshko H, Lai C-P, Huang L-M, Liu J-H, Shaw J-F. Multifunctionality and diversity of GDSL esterase/lipase gene family in rice (Oryza sativa L. japonica) genome: new insights from bioinformatics analysis. BMC Genomics. 2012;13(1):1.View ArticleGoogle Scholar
Parcy F, Valon C, Raynal M, Gaubier-Comella P, Delseny M, Giraudat J. Regulation of gene expression programs during Arabidopsis seed development: roles of the ABI3 locus and of endogenous abscisic acid. Plant Cell. 1994;6(11):1567–82.PubMedPubMed CentralView ArticleGoogle Scholar
Stone SL, Kwong LW, Yee KM, Pelletier J, Lepiniec L, Fischer RL, et al. LEAFY COTYLEDON2 encodes a B3 domain transcription factor that induces embryo development. Proc Natl Acad Sci. 2001;98(20):11806–11.PubMedPubMed CentralView ArticleGoogle Scholar
Jakoby M, Weisshaar B, Dröge-Laser W, Vicente-Carbajosa J, Tiedemann J, Kroj T, et al. bZIP transcription factors in Arabidopsis. Trends Plant Sci. 2002;7(3):106–11.PubMedView ArticleGoogle Scholar
Cernac A, Benning C. WRINKLED1 encodes an AP2/EREB domain protein involved in the control of storage compound biosynthesis in Arabidopsis. Plant J. 2004;40(4):575–85.PubMedView ArticleGoogle Scholar
Braybrook SA, Stone SL, Park S, Bui AQ, Le BH, Fischer RL, et al. Genes directly regulated by LEAFY COTYLEDON2 provide insight into the control of embryo maturation and somatic embryogenesis. Proc Natl Acad Sci U S A. 2006;103(9):3468–73.PubMedPubMed CentralView ArticleGoogle Scholar
Dabbs P. Identification of Plant Transcription Factors that Play a Role in Triacylglycerol Biosynthesis. 2015.Google Scholar
Vanhercke T, Wood CC, Stymne S, Singh SP, Green AG. Metabolic engineering of plant oils and waxes for use as industrial feedstocks. Plant Biotechnol J. 2013;11(2):197–210.PubMedView ArticleGoogle Scholar
Higgins T, Goodwin PB, Whitfeld PR. Occurrence of short particles in beans infected with the cowpea strain of TMV: II. Evidence that short particles contain the cistron for coat-protein. Virology. 1976;71(2):486–97.PubMedView ArticleGoogle Scholar
Geneious. [http://www.geneious.com].
Chen JC, Tsai CC, Tzen JT. Cloning and secondary structure analysis of caleosin, a unique calcium-binding protein in oil bodies of plant seeds. Plant Cell Physiol. 1999;40(10):1079–86.PubMedView ArticleGoogle Scholar
Toyota K, Tamura M, Ohdan T, Nakamura Y. Expression profiling of starch metabolism-related plastidic translocator genes in rice. Planta. 2006;223(2):248–57.PubMedView ArticleGoogle Scholar
Livak KJ, Schmittgen TD, Livak KJ, Schmittgen TD. Analysis of relative gene expression data using real-time quantitative PCR and the 2− ΔΔCT method. Methods. 402-8;25(4).Google Scholar