Research article

Open Access
Comparative mapping in the Fagaceae and beyond with EST-SSRs
BMC Plant Biology
2012
12:153
Received: 27 March 2012
Accepted: 22 August 2012
Published: 29 August 2012
Abstract
Background
Genetic markers and linkage mapping are basic prerequisites for comparative genetic analyses, QTL detection and map-based cloning. A large number of mapping populations have been developed for oak, but few gene-based markers are available for constructing integrated genetic linkage maps and comparing gene order and QTL location across related species.
Results
We developed a set of 573 expressed sequence tag-derived simple sequence repeats (EST-SSRs) and located 397 markers (EST-SSRs and genomic SSRs) on the 12 oak chromosomes (2n = 2x = 24) on the basis of Mendelian segregation patterns in 5 full-sib mapping pedigrees of two species: Quercus robur (pedunculate oak) and Quercus petraea (sessile oak). Consensus maps for the two species were constructed and aligned. They showed a high degree of macrosynteny between these two sympatric European oaks. We assessed the transferability of EST-SSRs to other Fagaceae genera and a subset of these markers was mapped in Castanea sativa, the European chestnut. Reasonably high levels of macrosynteny were observed between oak and chestnut. We also obtained diversity statistics for a subset of EST-SSRs, to support further population genetic analyses with gene-based markers. Finally, based on the orthologous relationships between the oak, Arabidopsis, grape, poplar, Medicago, and soybean genomes and the paralogous relationships between the 12 oak chromosomes, we propose an evolutionary scenario of the 12 oak chromosomes from the eudicot ancestral karyotype.
Conclusions
This study provides map locations for a large set of EST-SSRs in two oak species of recognized biological importance in natural ecosystems. This first step toward the construction of a gene-based linkage map will facilitate the assignment of future genome scaffolds to pseudo-chromosomes. This study also provides an indication of the potential utility of new gene-based markers for population genetics and comparative mapping within and beyond the Fagaceae.
Keywords
Linkage GroupGenomic SSRsHomologous Linkage GroupAccessory MarkerFagaceae Family
Background
Genetic linkage maps constitute an ideal framework for studies of the genetic architecture of quantitative traits [1, 2] and genome evolution [3, 4]. They are also a prerequisite for map-based gene cloning [5–7] and for the ordering of physical scaffolds in genome sequencing projects [8]. Furthermore they are essential tools for marker assisted plant breeding [9].
Comparative analyses of genetic maps across phylogenetically related species are based on the development of transferable and orthologous genetic makers. Simple sequence repeats (SSRs) are the markers of choice, because they are reproducible, abundant in the genome and they provide highly polymorphic information and are readily transferable between phylogenetically related species [10]. Their properties are highly prevalent in EST-derived SSRs, making these markers particularly useful, as shown for Theobroma[11], Silena[12], Prunus[13], Dactylis[14] and Citrus[15]. SSRs are also easy to handle and, once developed, are cost-effective markers for high-throughput genotyping.
In the last 12 years, several linkage maps have been generated for the three main genera of the Fagaceae family: oaks (Quercus), beeches (Fagus), and chestnuts (Castanea). These long-lived species constitute important economic and ecological resources and have been the focus of genetic investigations relating to their evolution and more applied objectives, such as those of conservation and breeding programs [16]. Linkage maps have been established to support forward genetic approaches for studying the genetic architecture of adaptive traits (number, location and effect of QTLs) and to increase our knowledge of the structural features of the oak genome and its evolutionary history.
First-generation linkage maps have been obtained with anonymous RAPD and AFLP markers for oak [17], chestnut [18, 19] and beech [20]. QTL studies, mostly in oak, have focused on dissecting the genetic architecture of adaptive traits, such as growth and bud phenology [21–23] and of traits related to species divergence between pedunculate and sessile oaks, two species occurring in sympatry in Europe [24, 25]. A limited number of genomic SSRs (about 50) and EST-based (about 50) markers [26, 27], have also been added to these maps. These markers allowed to align homologous linkage groups between oak and chestnut and to compare and validate the QTLs that had been previously characterized in the two genera [27, 28]. A first step toward the construction of a dense SSR-based genetic map was taken recently, with the development and mapping of 256 EST-SSRs [29]. The authors used a selective mapping strategy with a bin set of 14 highly informative offspring from a single full-sib (FS) mapping population for which an AFLP framework map was available. SSR markers were assigned to 44 bins of the female and 37 bins of the male parental maps, spanning the entire genome.
The main goal of this study was to advance the establishment of a dense EST-SSR-based map for oak, by genotyping trees with a broader genetic background and using a larger set of genomic and EST-SSRs. Our specific objectives were as follows: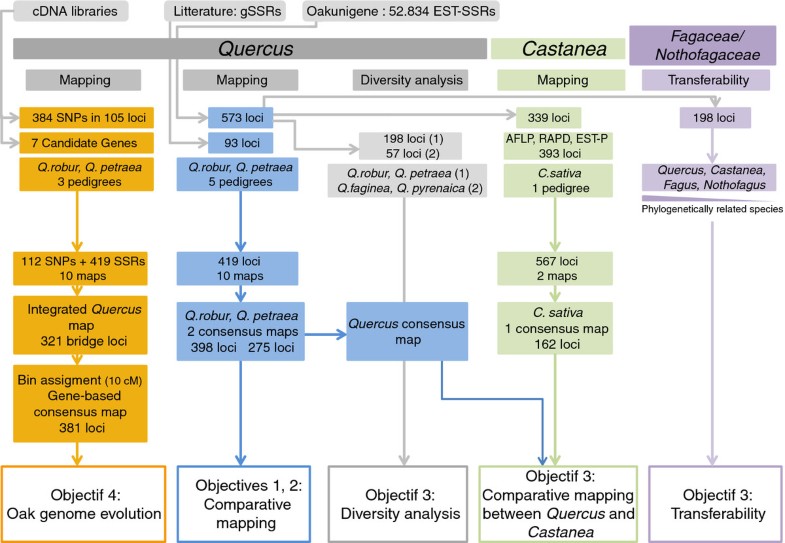 Results
Functional annotation of EST-SSRs
We identified more than 52,834 EST-SSRs among the Quercus ESTs [33]. As a first step towards functional characterization of the EST-containing SSRs, we used the Slim GO classification and compared the annotations for four sets of sequences containing SSRs: coding regions (CRs), non-coding regions (NCRs), 5'UTRs and 3'UTRs. We identified 35, 7 and 19 gene categories, at "level 3", within the biological process (BP), cell compound (CC) and molecular function (MF) classes, respectively (Additional file 4). About half the SSRs in the BP class belong to four main categories: "primary metabolic processes" (11%-13.6%), "cellular metabolic processes" (11.7%-14.8%), "macromolecule metabolic processes" (8.1%-10.6%) and "biosynthetic processes" (7.7%-9.9%). For the CC class, 80% of the SSRs were assigned to the "cell part" (42.5%-44.8%) and "membrane-bound organelle" (30.8%-32.3%) categories. For the MF class, six categories of similar size accounted for most of the SSRs: namely "nucleic acid binding" (10.7-14.4), "protein binding" (12.5-13.5%), "nucleotide binding" (10.5%-11.1%), "ion binding" (10.1%-10.6%), "transferase activity" (9.8%-11.3%) and "hydrolase activity" (9.7%-10.1%). The distribution of these categories was similar between the four datasets (Additional file 5), indicating a lack of ability of gene ontology to discriminate between the different transcribed regions in terms of the presence of SSRs. However, slight differences between transcribed regions were nevertheless observed when all categories were considered together in a hierarchical clustering analysis (Additional file 6), but the distribution between the BP, CC and MF classes of the four datasets remained inconsistent.
SSR-based map construction in Q. robur and Q. petraeaand synteny analysis
Identification of polymorphic markers
In total, we identified 573 primer pairs, which were tested for polymorphism in at least one pedigree (Table
2
). Overall, 378 EST-SSRs were informative. We tested 93 of the gSSRs already available for the Fagaceae; 68 (73%) were found to be polymorphic in at least one pedigree. Thus, in total, 446 polymorphic loci (68 gSSRs and 378 EST-SSRs) were available for further mapping.
Table 2
Summary of polymorphism statistics for the five pedigrees (P1 to P5), Na not available
P1

P2

P3

P4

P5

tested loci

321

434

406

Na

Na

polymorphic loci

274 (85%)

211 (49%)

243 (60%)

145 (% Na)

143 (% Na)

marker type 1:1:1:1

133

110

130

Na

70

1:1

134

96

100

Na

63

1:2:1

7

5

13

Na

10

EST-SSR

229

167

217

122

125

g-SSR

45

44

26

23

18

female

male

female

male

female

male

female

male

female

male

genotyped offspring

46

84

78

96

101

discarded offspring

0

0

6

4

0

1

3

4

10

11

polymorphic loci

205

195

169

144

190

171

110

114

100

103

discarded loci

0.5% (1)

0% (0)

0.6% (1)

0.7% (1)

0% (0)

0% (0)

2% (2)

0% (0)

20% (20)

15% (16)

distorded

2.4% (5)

1.5% (3)

1.8% (3)

6.9% (10)

2.1% (4)

1.8% (3)

2.7% (3)

0.9% (1)

2% (2)

3.9% (4)

unlinked loci

4.3% (9)

6% (12)

4% (7)

7.6% (11)

0.5% (1)

0.6% (1)

0% (0)

0.9% (1)

23% (23)

25% (26)

mapped loci

93% (190)

93% (180)

933% (158)

85% (122)

975% (185)

98% (167)

95% (105)

98% (112)

55% (55)

55% (57)
Construction of individual linkage maps
Genotypic data were available for 446 loci in one to five mapping populations among them 397 were mapped. We found that 50% to 85% of the loci tested were polymorphic, depending on the pedigree. The interspecific pedigree (P2) was found to be less polymorphic than the intraspecific pedigrees (Table 2). Differences in levels of polymorphism between intra vs. interspecific pedigrees are likely be due to sampling effects, as the two species exhibit similar levels of genetic diversity and very low interspecific differentiation. The number of tested loci found to be polymorphic varied considerably between the parents, from 100 loci for P5-female (Q. robur) to 205 loci for P1-female (Q. robur). Distorted loci were more frequent for P2-female (Q. robur) from the interspecific pedigree (6.8%) than for the other pedigrees (Table 2). Unlinked loci were rare (except for both of the parental maps for P5, in which 45% of the loci were ungrouped). In the following analyses, we focused on the four pedigrees (P1 to P4) because of the smaller set of data for P5.
Consensus maps for Q. robur and Q. petraea and comparative mapping
A consensus map for
Q. robur
was constructed from the seven
Q. robur
parental maps. This map includes 398 markers (including 179 accessory markers) and spans 933 cM (Table
4
). Similarly, a consensus map for
Q. petraea
was established from the three parental maps available for this species. It includes 275 markers (90 accessory markers) and spans 767 cM (Table
4
, Figure
5
). LG sizes varied from 61.3 cM (LG11) to 116 cM (LG2) for
Q .robur
and from 31.4 cM (LG11) to 120 cM (LG9) for
Q. petraea
. Mean LG length was 78 cM for
Q. robur
and 64 cM for
Q. petraea
. The mean spacing between markers was 4.25 cM, with values ranging from 2.8 cM to 6.42 cM (Table
5
).
Table 4
LG size (in cM) for both species, Q. robur and Q. petraea
| n° LG | LG1 | LG2 | LG3 | LG4 | LG5 | LG6 | LG7 | LG8 | LG9 | LG10 | LG11 | LG12 | tot | mean |
| --- | --- | --- | --- | --- | --- | --- | --- | --- | --- | --- | --- | --- | --- | --- |
| Q. robur | 84.4 | 116 | 81.5 | 62.3 | 76.8 | 74 | 63.6 | 101 | 71.1 | 76.6 | 61.3 | 64.2 | 933 | 77.8 |
| Q. petraea | 81.4 | 84.8 | 64.8 | 47.5 | 64.2 | 62.8 | 47 | 66.5 | 120 | 48 | 31.4 | 48.3 | 767 | 63.9 |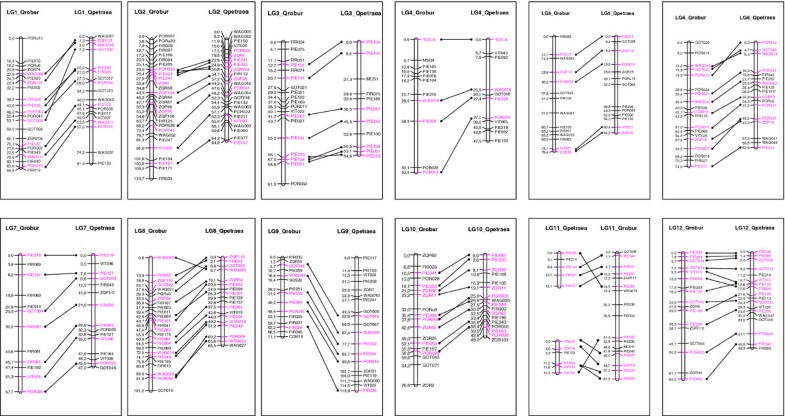 Table 5
Mean distance between two loci for each LG and both species, Q. robur and Q. petraea
| mean dist loci/cM | LG1 | LG2 | LG3 | LG4 | LG5 | LG6 | LG7 | LG8 | LG9 | LG10 | LG11 | LG12 | mean |
| --- | --- | --- | --- | --- | --- | --- | --- | --- | --- | --- | --- | --- | --- |
| Q. robur | 2.8 | 1.2 | 2.7 | 3.3 | 2.5 | 2.1 | 2.9 | 2.8 | 2.7 | 2.7 | 2.5 | 2.9 | 2.6 |
| Q. petraea | 3.4 | 2.0 | 4 | 2.4 | 2.8 | 2.2 | 3.9 | 2.1 | 4.1 | 2.4 | 2.8 | 2.7 | 2.9 |
The consensus species maps were compared for the analysis of genomic organization and structural rearrangements. A high degree of macrocollinearity was observed between the two maps, based on 100 common markers evenly distributed over the 12 LGs (Figure 5). Some order discrepancies occurred in small sections of LGs, as in LG2 and LG3, for example. Furthermore, the positions of a few markers were inconsistent over larger distances. For example, GOT009 was localized to the top of LG1 for Q. petraea but was found in the center of this LG in Q. robur. It should also be noted that LG11 was split into two parts in Q. petraea.
Transferability of EST-SSRs to other members of the Fagaceae and Nothofagaceae and comparative mapping of Quercus and Castanea
Transferability of EST-SSRs
We assessed the transferability of 198 EST-SSR markers to Q. ilex and Q. suber, of 194 markers to C. sativa and F. sylvatica, and 126 markers to N. pumilio and N. antarctica (Additional file 10). A PCR product of the expected size was amplified in at least one of the Fagaceae or Nothofagaceae species for 91.8% (223/243) of the EST-SSRs tested. Within the Fagaceae family, transferability was greatest for the two white oaks (Q. faginea and Q. pyrenaica), with transferability rates close to 100% (a few EST-SSRs amplified products that could not be analyzed due to extra bands and/or duplicated genes). Transferability was intermediate for Q. suber, Q. ilex and C. sativa, with rates of 70.7%, 69.7% and 68% respectively. The lowest transferability within the Fagaceae family was observed in Fagus sylvatica, with only 14.4% of transferable markers. Levels of transferability to Nothofagaceae species were very low. Only 12 and 15 markers were successfully transferred to N. pumilio and N. antarctica, respectively.
Comparative mapping
We mapped 555 polymorphic markers in
Castanea
(Table
6
), 91 of which were common (63 EST-SSRs, 16 gSSRs, 12 EST-P) to the consensus
Quercus
map. For all 12
Castanea
LGs (LG-C), homologous linkage groups were identified in
Quercus
(LG-Q), with four to 17 markers shared for LG4-C (= LG5-Q) and LG1-C (= LG2-Q), respectively (Table
7
). A set of 16 markers was located on linkage groups that were not homologous between
Castanea
and
Quercus
. Overall, macrosynteny was well conserved between the two genera, despite the inversion of a few markers (illustrated for one LG in Figure
6
and supported for all LGs in Additional file
11
).
Table 6
Segregating and mapped markers in Castanea sativa
Castanea

genotyped samples

90

polymorphic loci

555

segregation type

1:1

502

1:1:1:1

50

1:2:1

3

female

male

markers type

RAPD

183

149

AFLP

31

14

EST-P

32

25

gSSR

27

28

EST-SSR

60

55

total

333

271

distorted loci

12 (3.6%)

8 (3%)

discarded loci

20

10

unlinked loci

7

15

mapped loci

306 (92%)

246 (91%)
Table 7
Correspondence between LG in Quercus (this study) and Castanea (following the nomenclature of Casasoli et al. [[27]])
| LG_Q | LG_C |
| --- | --- |
| 1 | 6 |
| 2 | 1 |
| 3 | 8 |
| 4 | 2 |
| 5 | 4 |
| 6 | 11 |
| 7 | 5 |
| 8 | 7 |
| 9 | 9 |
| 10 | 10 |
| 11 | 3 |
| 12 | 12 |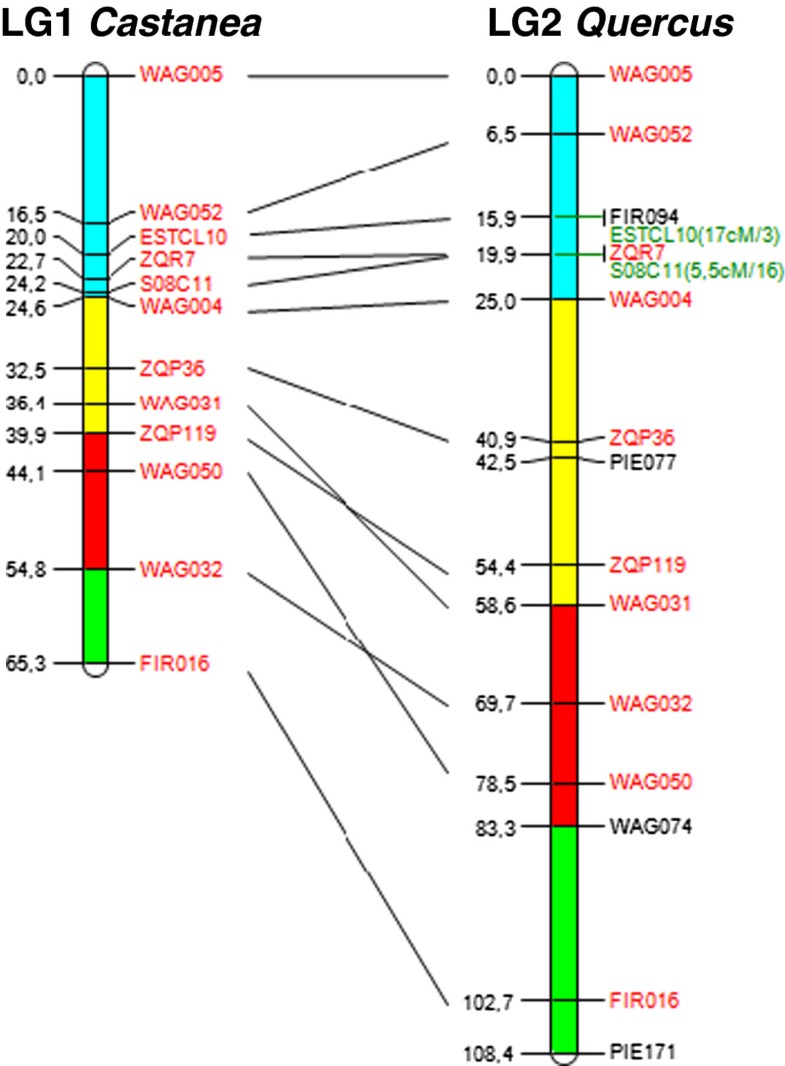 Diversity analysis
A high-quality amplification product was obtained for 83.8% (166) of the 198 markers studied in the first experiment and 94.6% (157) were found to be polymorphic in at least one natural population of Q. robur and Q. petraea. In the two populations considered, expected heterozygosity (H e ) ranged from low (0.100 and 0.091, for Q. robur and Q. petraea, respectively) to high (0.939 and 0.964, respectively) values. Diversity levels (allelic richness and H e ) were similar in the two species.
Diversity levels were rather similar in the two sub-mediterranean Quercus species (Additional file 12). All diversity estimates were largest for EST-SSRs with dinucleotide repeat motifs. However, differences were small between tri and hexanucleotide EST-SSRs in these two oaks. The same trend was observed for Q. robur and Q. petraea.
Oak genome evolution
Construction of a gene-based consensus linkage map
Individual maps were constructed from EST-SSRs (see above) and SNPs. For SNP-based markers, 105 (set 1) and 7 (set 2) candidate genes were genotyped in three mapping populations: 56 (set 1) and 4 (set 2) were localized on at least one of the six parental maps (Additional file 1 and Additional file 13). The consensus map included 381 loci (321 EST-SSRs and 60 SNP-based markers), 19 of which (18 EST-SSRs and 1 SNP) were considered to be paralogous and were assigned to different bins (on different LGs) on different individual maps. The mean number of markers mapped per LG was 32, with a maximum of 72 markers mapped for LG2 and a minimum of 22 for LG7, LG10 and LG11. Markers were assigned to 86-10 cM bins within each of the 12 linkage groups of the consensus map, for the identification of regions orthologous to regions from Arabidopsis, grape, poplar, Medicago, and soybean.
Synteny and duplication analysis
Independent intraspecific (i.e. paralogs) and interspecific (i.e. orthologs) comparisons are required for the precise inference of paralogous or orthologous gene relationships between oak and other eudicots and to determine the precise history of oak evolution from the known ancestor of eudicot genomes.
Using the alignment parameters and statistical tests described in the methods section, we analyzed the syntenic relationships between oak,
Arabidopsis
, poplar,
Medicago
, grape and soybean [
62
]. Using grape as the reference genome — this species being the closest relative of the eudicot ancestor, with a genome structured into seven protochromosomes (color code used for chromosome painting) —124 orthologous relationships were identified (Figure
7
) covering 50% of the oak genome [
3
]. The following chromosome-to-chromosome relationships were then established (
o
for oak and
g
for grape): o1/g17, o2/g4-g11-g14, o3/g14, o5/g12-g19, o6/g4-g5, o7/g8, o8/g6-g10-g12-g19, o10/g17, o11/g3, o12/g2-g15.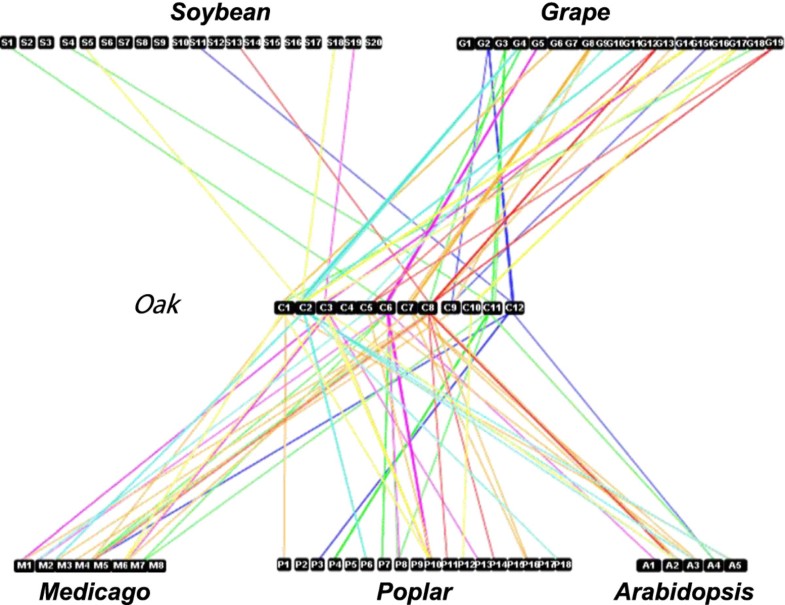 Five major duplications were also identified, covering 28% of the genome and involving the following chromosome-to-chromosome relationships: o1-o2-o10 (yellow), o6-o11 (green), o3-o6 (purple), o7-o8 (brown), o5-o8 (red) (Figure
8
).
The integration of independent analyses of duplications within and synteny between the five major eudicot genomes led to the precise characterization in oak of five of the seven paleoduplications recently identified as the basis of the definition of seven ancestral chromosomal groups in eudicots [
63
]. These ancestral shared duplications were found on the following chromosome-pair combinations in oak, the locations of the seven ancestral paleoduplications in grape also being indicated : g1-g14-g17/o1-o2-o10, g2-g15-g12-g16/[not identified in oak], g3-g4-g7-g18/o6-o11, g4-g9-g11/[is partially fused into o2], g5-g7-g14/o3-o6, g6-g8-g13/o7-o8, g10-g12-g19/o5-o8. Thus, five of the seven previously identified ancestral shared duplications are characterized here for the first time in oak. Based on the ancestral and lineage-specific duplications already reported for eudicots, an evolutionary scenario can be developed in which the 12 oak chromosomes evolve from the seven chromosomes of the eudicot ancestor or, more precisely, from the 21 chromosomes resulting from polyploidization of the paleohexaploid intermediate (Figure
9
). We suggest that at least eight major ancestral chromosome fusions (Cf) occurred to yield the current 12-chromosome structure, and that this process involved an intermediate ancestor that also had 12 chromosomes (Figure
9
).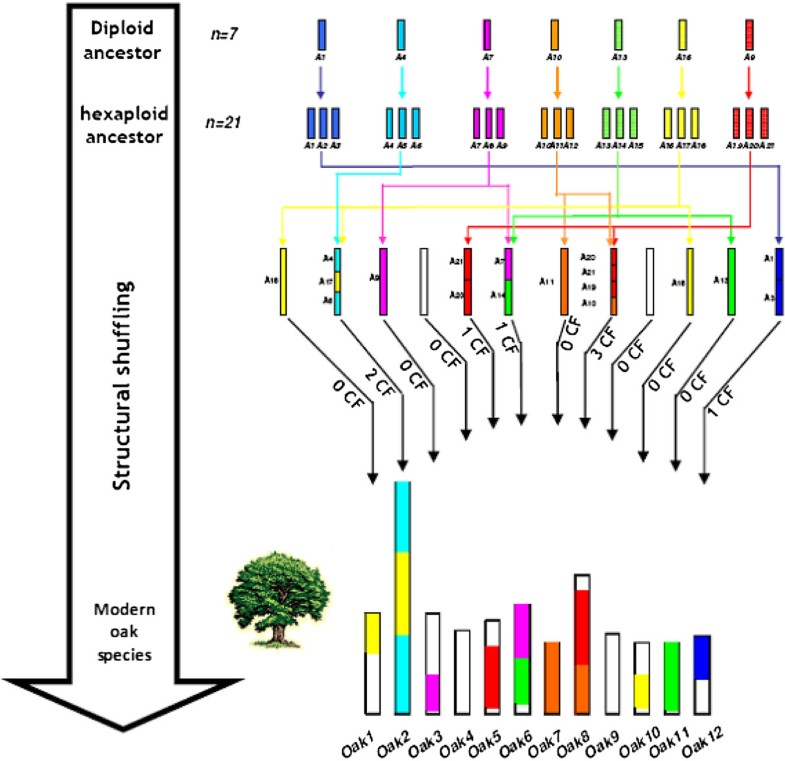 Discussion
Our results provide new biological information about certain features of oak EST-SSRs, the benefits of linkage mapping with multiple pedigrees, the macrosynteny between two interfertile oak species (Q. robur and Q. petraea) and between two closely related genera (Quercus and Castanea), and about the evolution of the oak genome from the ancestor of the eudicot genome.
Conclusion
This study provides new insights into the distribution of EST-derived SSRs between five mapping populations of two oak species and the benefits of using multiple pedigrees for the construction of consensus maps. We mapped 397 loci, 81% of which were common to at least two different mapping populations. The level of conserved macrosynteny was very high between Q. robur and Q. petraea, as well as between Quercus spp. and Castanea sativa, opening perspectives for QTL validation across phylogenetically related species as demonstrated by Faivre Rampant et al. [85].
Functional characterization of these EST-derived oak SSRs revealed many genes with biological, cellular and molecular functions. Their position is now being compared to that of already mapped QTLs and suggest putative positional candidate genes that are being used as anchor markers to fine map large effect QTLs (e.g. for water use efficiency and bud burst) and identify the underlying sub genomic region using the BAC libraries available for Quercus robur[85].
Declarations
Acknowledgements
The study was funded by the European Commission under the FP6 program (FP6-2004-GLOBAL-3, Network of Excellence EVOLTREE "Evolution of Trees as Drivers of Terrestrial Biodiversity", No. 016322) and FP7 program (FP7-244096, Foresttrac: Forest ecosystem genomics Research: supporTing Transatlantic Cooperation). Studies of transferability to Q. faginea - Q. pyrenaica were supported by grant CGL2009-07670 from the Ministry of Science and Innovation (Spain) to PGG. CS was supported by a Consejo Nacional de Investigaciones Científicas y Técnicas (CONICET, Argentina) grant. This paper is dedicated to Marie Pierre Reviron. Marie Pierre's support was immense throughout the Evoltree workplan, and the collaborative mapping activities of this project were substantially facilitated by her contribution.
Authors' Affiliations
(1)
INRA, UMR1202 BIOGECO, Cestas, France
(2)
UMR1202 BIOGECO, Université de Bordeaux, Cestas, France
(3)
Forest Genetics and Forest Tree Breeding Büsgen Institute Faculty of Forest Sciences and Forest Ecology Göttingen University, Göttingen, Germany
(4)
Plant Genetics Institute, National Research Council, Sesto Fiorentino, Italy
(5)
Plant Protection Institute, National Research Council, Sesto Fiorentino, Italy
(6)
NEIKER-Tecnalia, Dpto Biotecnologia, Vitoria-Gasteiz, Spain
(7)
Unidad de Genética Ecológica y Mejoramiento Forestal, INTA EEA Bariloche, Bariloche, Argentina
(8)
CNR Istituto di Biologia Agroambientale e Forestale, Porano, Italy
(9)
ALTERRA Wageningen UR, Wageningen, The Netherlands
(10)
INRA, UMR1095 GDEC, Clermont-Ferrand, France
(11)
New address: School of Forest Resources and Environmental Science, Michigan Technological University, Houghton, USA
Copyright
© Bodenes et al.; licensee BioMed Central Ltd. 2012
This article is published under license to BioMed Central Ltd. This is an Open Access article distributed under the terms of the Creative Commons Attribution License (http://creativecommons.org/licenses/by/2.0), which permits unrestricted use, distribution, and reproduction in any medium, provided the original work is properly cited.