Research article
Open Access
Lutein is needed for efficient chlorophyll triplet quenching in the major LHCII antenna complex of higher plants and effective photoprotection in vivounder strong light
BMC Plant Biology
2006
6:32
Received: 01 August 2006
Accepted: 27 December 2006
Published: 27 December 2006
Abstract
Background
Lutein is the most abundant xanthophyll in the photosynthetic apparatus of higher plants. It binds to site L1 of all Lhc proteins, whose occupancy is indispensable for protein folding and quenching chlorophyll triplets. Thus, the lack of a visible phenotype in mutants lacking lutein has been surprising.
Results
We have re-assessed the lut2.1 phenotypes through biochemical and spectroscopic methods. Lhc proteins from the lut2.1 mutant compensate the lack of lutein by binding violaxanthin in sites L1 and L2. This substitution reduces the capacity for regulatory mechanisms such as NPQ, reduces antenna size, induces the compensatory synthesis of Antheraxanthin + Zeaxanthin, and prevents the trimerization of LHCII complexes. In vitro reconstitution shows that the lack of lutein per se is sufficient to prevent trimerization. lut2.1 showed a reduced capacity for state I – state II transitions, a selective degradation of Lhcb1 and 2, and a higher level of photodamage in high light and/or low temperature, suggesting that violaxanthin cannot fully restore chlorophyll triplet quenching. In vitro photobleaching experiments and time-resolved spectroscopy of carotenoid triplet formation confirmed this hypothesis. The npq1lut2.1 double mutant, lacking both zeaxanthin and lutein, is highly susceptible to light stress.
Conclusion
Lutein has the specific property of quenching harmful 3Chl* by binding at site L1 of the major LHCII complex and of other Lhc proteins of plants, thus preventing ROS formation. Substitution of lutein by violaxanthin decreases the efficiency of 3Chl* quenching and causes higher ROS yield. The phenotype of lut2.1 mutant in low light is weak only because rescuing mechanisms of photoprotection, namely zeaxanthin synthesis, compensate for the ROS production. We conclude that zeaxanthin is effective in photoprotection of plants lacking lutein due to the multiple effects of zeaxanthin in photoprotection, including ROS scavenging and direct quenching of Chl fluorescence by binding to the L2 allosteric site of Lhc proteins.
Keywords
CarotenoidLuteinZeaxanthinViolaxanthinNeoxanthin
Background
The pigment composition of the photosynthetic apparatus of higher plants is extremely well conserved: chloroplast-encoded photosynthetic reaction center complexes bind β-carotene and chlorophyll a, while nuclear-encoded light harvesting proteins bind Chl a, chlorophyll b and the three xanthophylls lutein, violaxanthin and neoxanthin. In addition, plants exposed to excess light conditions synthesize antheraxanthin and zeaxanthin by a two step de-epoxidation of the existing violaxanthin [1]. β-carotene is also bound to the light harvesting complex of Photosystem I [2]. The conservation of carotenoid composition and distribution across a range of plant taxa suggests that each xanthophyll species serves a specific role. However, the reason for the co-existence of different xanthophyll species is not completely clear. In fact, all of the above-mentioned xanthophylls possess similar absorption characteristics in the visible region of the spectrum and are capable of quenching harmful chlorophyll triplets and reactive oxygen species produced during oxygenic photosynthesis [3]. Also, the energy level of the S1 state of different xanthophylls, which is critical for energy transfer from chlorophyll, is very similar both in solution and when bound to Lhc proteins [4, 5]. Although a small fraction of xanthophylls is likely to be free into the thylakoid lipids, where they catalyze ROS scavenging and reduce lipid peroxidation [6, 7], xanthophylls are mainly bound to the Lhc proteins of both PSI and PSII [8]. Recent work, using both recombinant proteins and carotenoid biosynthesis mutants, has suggested that the function of individual xanthophyll species can be understood within the framework of their binding to proteins of the Lhc family [9]. It was shown that the competitive binding of violaxanthin and zeaxanthin to the allosteric site L2 of Lhc proteins controlled the transitions between two conformations with respectively long and short fluorescence lifetime. This change is assumed to contribute to the regulation of light harvesting efficiency and of dissipation of excess light energy (reviewed in [10]).
Lutein is the most abundant carotenoid in the higher plant photosynthetic apparatus and the only ligand for site L1 in Lhc proteins, whose occupancy is essential for protein folding and the quenching of 3Chl* [9]. Early studies reported isolation of viable lutein-deficient mutants, showing no visible phenotype in laboratory conditions [11]). Later studies have shown that the lut2 mutant has alterations in NPQ kinetics, antenna size, and reduced LHCII trimer stability [12]. However, none of these studies reported an "in vivo" phenotype corresponding to the observed biochemical lesions and could suggest a specific functional role for lutein wth respect to other xanthophyll species but for a recent report of decreased growth and Fv/Fm upon stress in lut2 [13]. In this manuscript we report on the function of lutein in photosynthesis, through the isolation of a knock-out ε-cyclase mutant of Arabidopsis thaliana, lut2.1, and its characterization through biochemical and physiological methods. Detailed analysis in vivo and purified xanthophyll binding proteins allows individuate specific functional phenotypes, which are consistent with lutein being more efficient in chlorophyll triplet quenching than violaxanthin and suggesting that each xanthophyll species has a specific effect in chloroplast photoprotection.
Discussion
The conservation of plant xanthophyll composition strongly suggests that each xanthophyll species has a specific function. Lutein is the major xanthophyll species in plants, accounting for approx. 60% of total xanthophylls and 40% of total carotenoids in leaves. In LHCII complexes, it binds to site L1, whose occupancy is essential for protein folding and chlorophyll triplet quenching, and, promisquously with other xanthophylls, site L2, essential for photoprotection by violaxanthin/zeaxanthin exchange [
9
] (Figure
7
). Still, it has been reported that lutein is not essential for photosynthesis [
14
]. Additional studies have shown alterations, in the
lut2
mutant, in NPQ, LHCII antenna size and trimerization, and an increased accumulation of A+Z [
31
] while and recent publication showed decreased growth rate in a large range of light conditions. We have confirmed and extended some of these observations (see Additional files). It is worth noting that our
lut2.1
mutant was isolated in Wassilewskija genetic background, while previous described lutein-less mutant [
12
,
14
] are in the Columbia ec. It seems proper to ask if differences between our and previous results are related to the different genetic background. We have addressed this question by confirming in Wassilewskija ec. results previouly obtained in Columbia ec. We concluded that the level of sensitivity to stress and other photosynthetic parameters were the same in boh ecotypes. Furthermore, we obtained several confirmatory results using
lut2.1
mutant, which closely match those previouly obtained in the Columbia ec. [
12
]. We conclude that the two mutants are, in every respect, comparable. Finally, in a later stage of the study, we succeeded in isolating an equivalent mutant from the Columbia background [
32
] which had the same properties as those described here for
lut2.1
.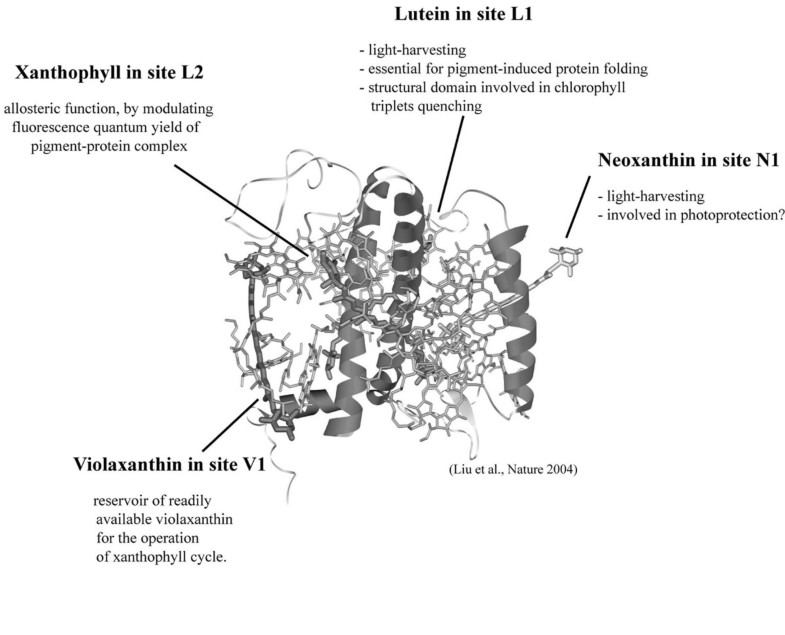 A complete disruption of the LHCII trimeric organization was observed in the lut2.1 mutant even upon solubilization of thylakoids with the mild detergent α-DM, which is very effective in retaining trimers in WT. Protein gel analyses of purified LHCI and LHCII monomers show that they have unaltered protein composition, and HPLC analyses show that only violaxanthin and neoxanthin are bound to LHCII complexes. Previous work with recombinant proteins has shown that lutein, violaxanthin and zeaxanthin can bind to sites L1 and L2 of Lhc proteins [18, 33] while the site for neoxanthin binding is site N1. This was recently confirmed by X-ray crystallography [17]. We found a novel, red-shifted form of violaxanthin in LHCII from lut2.1, consistent with the red-shift observed for lutein in site L1 of WT LHCII [18]. This strongly suggests that, in lut2.1, violaxanthin replaces lutein in site L1.
LHCII from lut2.1 contains more than one neoxanthin molecule per polypeptide suggesting that this xanthophyll can compete with violaxanthin in either sites L1 or L2. Since reconstitution with neoxanthin only was unable to yield a pigment-protein complex in all Lhc proteins, and occupancy of site L1 was shown to be needed for refolding [9, 34, 35], we conclude that, in LHCII, neoxanthin can compete with violaxanthin for site L2 in the absence of lutein. This is consistent with previous results [36] obtained in vitro using low stringency reconstitution of recombinant proteins and with the binding of neoxanthin to L2 site in the homologous proteins CP29 and CP26.
LHCII monomerization appears to be due to the lack of lutein in sites L1 and/or L2 per se, as indicated by in vitro reconstitution and trimerization of the Lhcb1 apoprotein. We demonstrated, for the first time, that trimers can only be formed if lutein is present in the reconstitution mixture. Any substitution of lutein with other xanthophyll species leads to monomerization, as shown also for the npq2lut2.1 mutant [37]. Violaxanthin-binding LHCII monomers have the same stability to heat denaturation as lutein-binding monomers, implying that binding of violaxanthin impairs trimerization but not protein stability. Violaxanthin-containing LHCII from lut2.1 is equally efficient in light harvesting, since the small decrease in functional antenna size in lut2.1 is quantitatively consistent with the lower LHCII content determined by biochemical methods.
lut2.1 plants were unable to perform state I – state II transitions. We first considered the possibility that the preferential absorption of far-red light by the PSI-LHCI complex, which is at the basis of state I – state II transitions, could be somehow affected by the absence of lutein. This possibility was ruled out by the observation that, consistent with previous results in Chlamydomonas PSI [38], the PSI-LHCI complex in sucrose gradient ultracentrifugation was very stable and conserved the red-shifted absorption tail typical of WT complex (data not shown). The loss of state transitions could either be due to the specific loss of a particular LHCII subpopulation able to migrate from grana to stroma membranes [39] or an impaired capacity for LHCII phosphorylation in the mutant. The first hypothesis is ruled out by the results of non-denaturing IEF analyses showing the presence of the same isoforms in WT and lut2.1. We suggest that LHCII phosphorylation is somehow affected in lut2.1. Phosphorylation experiments are in progress in order to verify this hypothesis. Alternatively, the modified conformation of violaxanthin-binding LHCII might affect the conformational changes [40], which are involved in detachment from PSII and docking to PSI [41].
Recent reports have suggested the hypothesis that trimer to monomer transition is the basis of NPQ [42]. Since lut2.1 LHCII is completely monomeric, but still shows residual NPQ, the data contradict this hypothesis. Recent work has shown that NPQ is first elicited in the PSII core complex and is then propagated to the antenna system [43]. Quenching in isolated LHCII has been proposed to be catalyzed by interactions between chlorophyll molecules bound to binding sites A1 and/or A2 with the lutein in site L1, elicited by a conformational change [44]. Thus, the substitution of lutein by violaxanthin in site L1 may limit the efficiency of the process.
WT and lut2.1 plants grow similarly in moderate light conditions according to an early report [14]. In high light, stress effects such as anthocyanin accumulation and bleaching of older leaves were more pronounced in lut2.1 plants. Pigment composition clearly showed that the increase in carotenoids on a Chl basis was stronger in lut2.1 vs. WT. These changes are commonly observed upon exposure to light stress [45] and correlate with an increased resistance to excess light [46]. Further reactions to excess light consist into a decrease in PSII antenna size [47] by specific proteolysis of the LHCII complex [48]. Determination of Lhc protein content in thylakoids of WT and lut2.1 plants showed that the amount of LHCII was lower in lut2.1 grown in low light and that further decrease upon exposure to high light was higher in the mutant with respect to WT plants. This is possibly due to the accumulation of zeaxanthin in Lhc complexes, favoring degradation of the major LHCII complex [37]. Thus, the lut2.1 mutant is more sensitive to light than WT and overreacts to an increase in light intensity through the enhanced operation of known mechanisms of photoprotection [49]. The over-operation of these mechanisms likely compensates for the primary lesion brought about by the lack of lutein.
What is the primary effect of the lut2.1 mutation? Previous work with recombinant proteins obtained by reconstituting in vitro Lhc apoproteins with different xanthophylls, has shown that LHCII binding violaxanthin in sites L1 and L2 undergoes a more rapid photobleaching when illuminated in the presence of oxygen with respect to the LHCII binding lutein [9, 18]. Photobleaching is the effect of the 1O2* produced by the reaction of 3Chl* with molecular oxygen, which is a triplet in its ground state. In vivo, 3Chl* is produced by intersystem crossing from 1Chl* and is efficiently quenched by carotenoids, leading to heat dissipation of triplet energy [5]. LHCII purified from lut2.1 is more prone to photobleaching than the complex from WT. Since the fluorescence quantum yield, and thus the 1Chl* concentration on LHCII binding Viola + Zea is essentially the same, we conclude that violaxanthin is less efficient than lutein in quenching 3Chl*, thus resulting in increased 1O2* formation and photobleaching.
The first excited triplet state of carotenoids lies below the energy level of chlorophyll triplet and singlet oxygen. Therefore, the generation of 3Car* can quench 3Chl* and scaveng 1O2*. 3Car* decay into the ground state without emission of radiation, and thus act as safe repositories of excess energy. The increased photobleaching of lut2.1 suggests that, for the same amount of 3Chl*, the relative concentration of 1O2* is increased. This could be due to a decreased formation of 3Car*. As 3Car* decay is very fast (~2 μs) we addressed this question by flash-induced, time-resolved spectroscopy. Violaxanthin triplets exhibit an extinction coefficient (from 3·105 to 6·105 at 490 nm) larger than lutein (about 2·105 at 500 nm) [50]. Despite this difference, after normalization for the *Chl signal, we observed that absorbance changes due to lutein triplet formation were 1.5-fold larger than for violaxanthin, and the kinetics for triplet formation were faster for lutein. This proves that lutein bound to LHCII proteins is more efficient as a 3Chl* quencher than violaxanthin.
The binding site responsible for the increased 1O2* production is, likely, site L1, since the non-occupancy of site L2 did not significantly affect photobleaching in recombinant LHCII [9, 18]. It is possible that the different conformation of LHCII protein binding violaxanthin modify the Chl-to-xanthophyll distance, which is crucial for triplet quenching [51]. This effect is independent from the stability of LHCII protein folding as assessed by thermal denaturation, but is dependent on the aggregation size of the complex, implying that trimerization increases the "special" Chl to carotenoid interaction responsible for optimal photoprotection. This hypothesis is supported by the report that monomerization of LHCII yields into the loss of a specific red-shifted (510 nm) spectral form of lutein [19].
Thus, the primary lesion in lut2.1 mutation is the enhanced production of singlet oxygen in the major PSII antenna complex, partially compensated by increased zeaxanthin production. In order to verify this hypothesis, we have studied the behavior, under enhanced stress conditions (high light + low temperature), of the lut2.1 mutant compared to the double mutant npq1lut2.1, which cannot synthesize zeaxanthin upon exposure to excess light. Zeaxanthin free in the membrane, upon release of violaxanthin from LHCII and de-epoxidation by VDE, has been suggested to protect from photooxidation, by a ROS scavenging effect [6, 30] that supplements the action of vitamin E [52]. A previous paper [27] reported phenotipic evidences of a higher sensitivity of double mutant npq1lut2 to photoxidative stress. We performed a detailed description of this genotype, showing both its behaviou during short high-light treatment, and acclimation to long-term stress. The npq1lut2.1 plants underwent stronger photoinhibition, anthocyanin biosynthesis and lipid oxidation not only with respect to WT but also with respect to both npq1 and lut2.1 single mutants. Our results Thus point to a strong photosensitive phenotype in higher plant mutant due to to lack of both lutein and zeaxanthin; such data are in agreement with those obtained in C. reinhardtii npq1lor1 mutant [30]. In contrast, a recent publication [13] failed to evidence a synergistic effect of lutein and zeaxanthin in promoting growth and preventing stress; these results could be ascribed to the different setting of stress conditions used with respect to our work. Our data, in agreement with [27] and [30], let to conclude that zeaxanthin is effective in photoprotection of plants lacking lutein. This is due to the multiple effects of zeaxanthin in photoprotection, including ROS scavenging [6, 30, 53] and direct quenching of Chl fluorescence by binding to the L2 allosteric site of Lhc proteins [54].
Conclusion
The conservation of carotenoid composition across the plant kingdom implies a specific function for each xanthophyll species. Lutein has the specific property of quenching harmful 3Chl* by binding at site L1 of the major LHCII complex and of other Lhc proteins of plants, thus preventing ROS formation. Substitution of lutein by violaxanthin decreases the efficiency of 3Chl* quenching and causes higher ROS yield. The phenotype of lut2.1 mutant in low light is weak only because rescuing mechanisms of photoprotection, namely zeaxanthin synthesis, compensate for the ROS production, as also supported from the lower antenna size observed in low light. Thus, the light sensitive phenotype becomes evident in conditions enhancing photooxidative stress or when the additional mechanisms are eliminated by the npq1 mutation. Excess light and low temperature are commonly experienced by plants during their lifecycle. Therefore, performing photosynthesis without lutein is like driving without a seat belt. At low speed, one can get away with it as additional protective mechanisms (airbags = zeaxanthin) partially compensate for the damage. But, in stress conditions, the additional mechanisms fail and the damage becames evident.
The specificity of site L1 for lutein in all Lhc proteins [10] probably derives from the co-evolution of the carotenoid biosynthesis pathway and Lhc proteins with multiple binding sites dedicated to different functions. Lutein is the only xanthophyll containing one beta and one epsilon ring. Beta and epsilon carotenoid cyclases have diverged early during plant evolution, and are both found in all higher plant taxa, as well as in green algae like Scenedesmus or Chlamydomonas [55]. In most plants, lutein is not undergoing epoxidation-deepoxidation reactions in response to environmental conditions, while the beta-beta xanthophylls do. Since site L1 is dedicated to the essential function of Chl triplet quenching, it may be desirable, for the plant, that the chromophore catalyzing this function is not involved in rapid concentration changes in response to environmental conditions as happens for the beta-beta xanthophylls involved in the xanthophyll cycle [56].
List of abbreviations
α(β)-DM:

α(β)-dodecyl maltoside
A:

antheraxanthin
Chl:

chlorophyll
1Chl*:

chlorophyll excited singlet state
3Chl*:

chlorophyll excited triplet state
Car:

carotenoid
3Car*:

carotenoid excited triplet state
CD:

circular dichroism
DCMU:

3-(3,4-dichlorophenyl)-1,1-dimethylurea
IEF:

isoelectric focusing
lhc:

light-harvesting complex
LHCII:

major light harvetsing complex of photosystem II
L:

lutein
N:

neoxanthin
NPQ:

non-photochemical quenching
1O2*:

singlet oxygen
PSII (I):

photosystem II (I)
qE:

ΔpH-dependent portion of non-photochemical quenching
ROS:

reactive oxygen species
V:

violaxanthin
VDE:

violaxanthin de-epoxidse
Z:

zeaxanthin.
Declarations
Acknowledgements
We like to thank R. Croce (Trento, Italy) for help in deconvolution analyses of isolated LHCII and S. Cazzaniga (Verona, Italy) for technical support. This work was supported by FIRB RBLA0345SF_002 and GENEFUN (functional genetic) program.
Authors' Affiliations
(1)
Dipartimento Scientifico e Tecnologico, Università di Verona, Verona, Italy
(2)
Ente per le Nuove tecnologie, l'Energia e l'Ambiente (ENEA), Unità Biotecnologie, Centro Ricerche Casaccia, Roma, Italy
(3)
CEA/Cadarache, DSV, DEVM, Laboratoire d'Ecophysiologie de la Photosynthèse, UMR 6191 CEA-CNRS-Aix Marseille II, Saint-Paul-lez-Durance, France
(4)
Département d'Ecophysiologie Végétale et Microbiologie – UMR 163 CEA-CNRS Université de la Méditerranée Aix-Marseille II, Laboratoire de Génétique et Biophysique des Plantes (LGBP), Marseille, France
(5)
Institut de Biologie Physico-Chimique (IBPC), Paris, France
Copyright
© Dall'Osto et al; licensee BioMed Central Ltd. 2006
This article is published under license to BioMed Central Ltd. This is an Open Access article distributed under the terms of the Creative Commons Attribution License (http://creativecommons.org/licenses/by/2.0), which permits unrestricted use, distribution, and reproduction in any medium, provided the original work is properly cited.