Research article

Open Access
A consensus linkage map for molecular markers and Quantitative Trait Loci associated with economically important traits in melon (Cucumis meloL.)
BMC Plant Biology
2011
11:111
Received: 11 April 2011
Accepted: 28 July 2011
Published: 28 July 2011
Abstract
Background
A number of molecular marker linkage maps have been developed for melon (Cucumis melo L.) over the last two decades. However, these maps were constructed using different marker sets, thus, making comparative analysis among maps difficult. In order to solve this problem, a consensus genetic map in melon was constructed using primarily highly transferable anchor markers that have broad potential use for mapping, synteny, and comparative quantitative trait loci (QTL) analysis, increasing breeding effectiveness and efficiency via marker-assisted selection (MAS).
Results
Under the framework of the International Cucurbit Genomics Initiative (ICuGI, http://www.icugi.org), an integrated genetic map has been constructed by merging data from eight independent mapping experiments using a genetically diverse array of parental lines. The consensus map spans 1150 cM across the 12 melon linkage groups and is composed of 1592 markers (640 SSRs, 330 SNPs, 252 AFLPs, 239 RFLPs, 89 RAPDs, 15 IMAs, 16 indels and 11 morphological traits) with a mean marker density of 0.72 cM/marker. One hundred and ninety-six of these markers (157 SSRs, 32 SNPs, 6 indels and 1 RAPD) were newly developed, mapped or provided by industry representatives as released markers, including 27 SNPs and 5 indels from genes involved in the organic acid metabolism and transport, and 58 EST-SSRs. Additionally, 85 of 822 SSR markers contributed by Syngenta Seeds were included in the integrated map. In addition, 370 QTL controlling 62 traits from 18 previously reported mapping experiments using genetically diverse parental genotypes were also integrated into the consensus map. Some QTL associated with economically important traits detected in separate studies mapped to similar genomic positions. For example, independently identified QTL controlling fruit shape were mapped on similar genomic positions, suggesting that such QTL are possibly responsible for the phenotypic variability observed for this trait in a broad array of melon germplasm.
Conclusions
Even though relatively unsaturated genetic maps in a diverse set of melon market types have been published, the integrated saturated map presented herein should be considered the initial reference map for melon. Most of the mapped markers contained in the reference map are polymorphic in diverse collection of germplasm, and thus are potentially transferrable to a broad array of genetic experimentation (e.g., integration of physical and genetic maps, colinearity analysis, map-based gene cloning, epistasis dissection, and marker-assisted selection).
Keywords
Quantitative Trait LocusMelonSimple Sequence Repeat MarkerSegregation DistortionSingle Nucleotide Polymorphism Marker
Background
Saturated genetic linkage maps (< 1 cM between markers) are required for the efficient and effective deployment of markers in plant breeding and genomic analysis. Linkage map applications include, but are not limited to: gene mapping, positional cloning, QTL analysis, MAS, epistasis dissection, linkage disequilibrium analysis, comparative genomics, physical and genetic map integration, and genome assembly. The construction of highly saturated maps is often a time-consuming process, especially if investigators are employing different parental stocks and markers are not easily transferable. Merged maps are attractive since their integration allows for an increase in marker density without the need of additional genotyping, increased marker portability (i.e., polymorphic markers can be used in more than one population), improved marker alignment precision (i.e., congruent anchor maker position), and broader inferential capabilities (i.e., cross-population prognostication). A number of integrated linkage maps have been developed in numerous economically important crop plants including grapevine (Vitis vinifera L.) [1], lettuce (Lactuca sativa L.) [2], maize (Zea mays L.) [3], red clover (Trifolium pratense L.) [4], ryegrass (Lolium ssp.) [5], wheat (Triticum aestivum L.) [6], among others.
The genome of melon (Cucumis melo L.; 2n = 2x = 24) is relatively small (450 Mb, [7]), consisting of 12 chromosomes. The first molecular marker-based melon map was constructed in 1996 [8] using mainly restriction fragment length polymorphism (RFLP) markers and morphological traits, although the markers did not cover the predicted 12 melon chromosomes. This was comparatively late for a major crop species like melon that is among the most important horticultural crops in terms of worldwide production (25 millions of tons in 2009) and which production has been increased around 40% in the last ten years [9]. Subsequently, the first linkage maps that positioned markers on 12 linkage groups (LG) were constructed few years later, using the F2 progeny of a cross between the Korean accession PI161375 and the melon type "Pinyonet Piel de Sapo" [10] and two Recombinant Inbred Line (RIL) populations derived from the crosses "Védrantais" × PI161375 and "Védrantais" × PI414723 [11]. However, these maps had few markers in common and different LG nomenclature, making comparative mapping intractable. More recently, dense linkage maps have been constructed using Simple Sequence Repeat (SSR) [12–16] and Single Nucleotide Polymorphism (SNP) [17, 18] markers. Nevertheless, although these maps share common markers, they possess large numbers of map-specific markers that makes map-wide comparisons complicated.
Melon germplasm displays an impressive variability for fruit traits and response to diseases [19–22]. Recently, part of this variability has been genetically dissected by QTL analysis [18, 23–27]. Inter-population QTL comparisons among these maps are, however, difficult given the aforementioned technical barriers.
Databases integrating genomic, genetic, and phenotypic information have been well developed in some plant species such as the Genome Database for Rosaceae [28], SOL Genomics Network for Solanaceae [29] or Gramene [30], and provide powerful tools for genomic analysis. In 2005, the International Cucurbit Genomics Initiative (ICuGI) [31] was created to further genomic research in Cucurbitaceae species by integrating genomic information in a database (http://www.icugi.org). Thirteen private seed companies funded this project, which sought to construct an integrated genetic melon map through merging existing maps using common SSR markers as anchor points. We present herein an integrated melon map, including the position of QTL controlling economically important traits, to facilitate comparative mapping comparison and to create a dynamic genetic backbone for the placement of additional markers and QTL.
Results and discussion
Construction of the integrated map
Integration of QTL information
Eighteen previously reported melon-mapping experiments identified 370 QTL for 62 traits (Table
4
and Additional File
4
), and these were aligned in the integrated map described herein. The distribution of these QTL varied from 18 on LG IV to 57 on LG VIII (Figures
3
and
4
, Additional File
5
). The number of QTLs defined per trait ranged from 1 (e.g., CMV, ETH, and FB) to 40 (FS), with QTL for FS, FW, and SSC being identified in 7, 5, and 5 of the previously reported 18 mapping experiments, respectively. The number of QTL experiments in melon must be considered modest when compared with other major species, with a significant number of the traits being genetically characterized in only one or two different mapping experiments, which thereby limits the meta-analysis of QTL in this species.
Table 4
Name and abbreviations of the traits analysed in the current report
| Trait | Abbreviation |
| --- | --- |
| Ripening rate | RR |
| Early yield | Eay |
| Fruit Weight | FW |
| Fruit Shape | FS |
| Fruit diameter | FD |
| Fruit Length | FL |
| Fruit Convexity | FCONV |
| Ovary Shape | OVS |
| Soluble Solid Content | SSC |
| Fruit number | FN |
| Fruit Yield | FY |
| Primary branch number | PB |
| Percentage of mature fruit | PMF |
| Flesh firmmes | FF |
| Seed cell diameter | SCD |
| Fruit Flesh proportion | FFP |
| Percent netting | PN |
| βeta-carotene | β-car, β-carM and β-carE |
| Ethylene production | ETH |
| Powdery mildew resistance | PM |
| Aphis gossypii tolerance | Ag |
| External Color | ECOL |
| Flesh Color | FCOL |
| Ring sugar content | RSC |
| Leaf Area | LA |
| Total losses | TL |
| Over ripening | OVR |
| Finger texture | FT |
| Water -soaking | WSD |
| Flesh browing | FB |
| Fusarium rot | FUS |
| Stemphylium rot | ST |
| Fruit flavor | FLV |
| Necrosis | NEC |
| Vine weight | VW |
| Primary root length | PRL |
| Average diameter of the primary root | PAD |
| Secondary root density | SRDe |
| Average lenght of secondary roots | ALSR |
| Skin netting | SN |
| Skin thickness | STH |
| Dry matter | DM |
| pH | pH |
| Titratable acidity | TA |
| 3-hydroxy-2,4,4-trimethylpentyl 2-methylpropanoate | PRO |
| Octanal | OCT |
| Glucose | GLU |
| Fructose | FRU |
| Sucrose | SUC |
| Total sugars | TSUG |
| Succinic | SUCC |
| Sourness | SOUR |
| Bitterness | BITTE |
| Sweetness | SWEET |
| Cucumber mosaic virus | CMV |
| Net cover | NTC |
| Net density | NTD |
| Stripes | STR |
| Sutures | SUT |
| Softness | WFF |
| Total carotenoids | CAR |
| Phytoene | PHY |
| α-carotene | αCR |
| Lutein | LUT |
| Pentamerous | p |
| Resistance to Fusarium races 0 and 2 | Fom_1 |
| Resistance to Fusarium races 0 and 1 | Fom_2 |
| Monoecious | a |
| Spots on the rind | mt_2 |
| Melon necrotic spot virus | Nsv |
| Sutures | s-2 |
| Virus aphid transmision | Vat |
| White flesh | wf |
| Zucchini Yellow Mosaic Virus | Zym |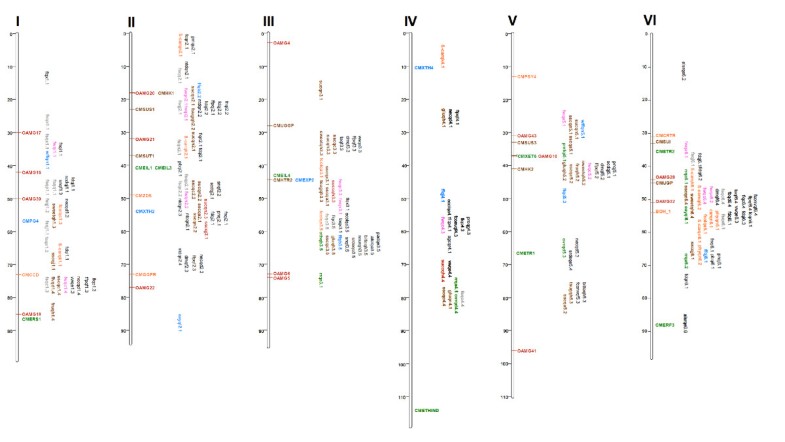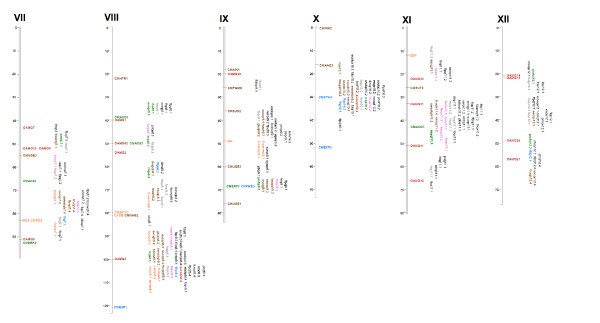 Even though additional studies would be necessary to draw definitive conclusions, the position of FS QTL tend to be more consistent among experiments than those for FW and SSC QTL, mapping on LG I in six out of seven works, and on LGs II, VI, VII, VIII, XI, and XII in at least three experiments. Clustering of FW and SSC QTL was, however, only observed in LGs VIII and XI, and in LGs II, III, and V, respectively. FS is a highly heritable trait in melon, whereas FW and SSC usually show a lower heritability [25]. The differences in QTL detection among experiments might be partially explained by trait heritability differences. Another possible explanation is that the variability of FS among the germplasm used in the experimental crosses might be controlled by a low number of common QTL with large effects, whereas a higher number of QTL with lower effects and/or more allelic variability among them might be underling SSC and FW.
Utility of the integrated molecular and QTL map
The integrated map described herein dramatically enhances the development and utility of genomic tools (i.e., markers, map-based cloning and sequencing) over previous melon maps. A large proportion of the markers in the integrated map are SSRs and SNPs, which are easily transferable across laboratories. Moreover, the populations used to construct the integrated map include genotypes from the most important market class cultivars ("Charentais", "Cantaloup", "Hami melon", "Piel de Sapo" and "U. S. Western Shipper") in broad horticultural groups (cantalupensis, inodorus, and reticulatus), guaranteeing the future utility of the markers in a broad range of cultivars and experimental crosses. The high marker density of the map allows for the selection of specific markers to customize mapping and molecular breeding applications, such as fine mapping, the development of novel genetic stocks (e.g., nearly isogenic lines and inbred backcross lines), MAS, and hybrid seed production.
The positioning of economically important QTL in the integrated map and the standardization of trait nomenclature will facilitate comparative QTL analyses among populations of different origins to provide deeper insights into the genetic control of the diverse phenotypic variability observable in melon germplasm. For example, QTL for SSC on LG III co-localize with QTL associated with SUC, GLU, and SWEET, suggesting perhaps the existence of pleiotropic effects (Figures 3 and 4). The search of candidate genes is also facilitated, as presently little correlation has been detected between candidate gene and trait for ethylene production [45, 46], fruit flesh firmness [46], carotenoid content [13, 18], or sugar accumulation [18]. These associations were studied in single population, which limits the possibility of identifying associations between candidate genes and QTL. Multi-population analysis is a more powerful approach for detecting QTL/candidate gene associations. For instance, two clusters of QTL involved in carotenoid accumulation and flesh color co-localized with carotenoid-related genes: CMCRTR and BOH_1 in LG VI and CMBCYC and LYCB in LG VIII (Figures 3 and 4), and as such become candidate genes for those QTL. Similar associations can been found between genes involved in polysaccharide metabolism and transport and clusters of QTL related to fruit sugar content on LGs II, III, V, VIII, and X. Likewise, associations have been detected between ethylene biosynthesis genes and groups of QTL with effects on fruit ripening on LG VIII.
Preliminary synteny analyses have been conducted between cucumber and melon based on the IRTA SNP and EST-SSR based melon map [17] and the cucumber genome sequence [47]. A large number of EST-based markers (RFLPs, EST-SSRs, and SNPs) mapped in the integrated map will facilitate synteny studies with cucumber and other cucurbit species such as watermelon, squash, and pumpkins as genomic information on such species becomes available. Most cucurbit species display a myriad of variability for economically important vegetative (e. g., branch number, sex expression) and fruit (e.g. morphology, carotenes, sugars) traits. Comparative QTL mapping based on syntenic relationships will allow the evaluation of associations between the allelic constitution at the same genetic loci and the phenotypic variability among the different cucurbit species, as is the case with fruit size between pepper and tomato in Solanaceae family [48].
Conclusion
Eight molecular marker melon maps were integrated into a single map containing 1592 markers, with a mean marker density of 0.72 cM/marker, increasing dramatically the density over previously published maps in melon. The integrated map contains a large proportion of easily transferable markers (i.e. SSRs and SNPs) and putative candidate genes that control fruit ripening, flesh softening, and sugar and carotenoid accumulation. Moreover, QTL information for 62 traits from 18 different mapping experiments was integrated into the melon map that, together with the mapped candidate genes, may provide a suitable framework for QTL/candidate gene analysis. In summary, the integrated map will be a valuable resource that will prompt the Cucurbitaceae research community for next generation genomic and genetic studies. All the individual maps, the integrated map, marker and QTL information are available at ICuGI web site (http://www.icugi.org). Researchers interested in including their QTL data into the integrated map may contact the corresponding author.
Declarations
Acknowledgements
This work was supported in part by SNC Laboratoire ASL, Ruiter Seeds B.V., Enza Zaden B.V., Gautier Semences S.A., Nunhems B.V., Rijk Zwaan B.V., Sakata Seed Inc, Semillas Fitó S.A., Seminis Vegetable Seeds Inc, Syngenta Seeds B.V., Takii and Company Ltd, Vilmorin & Cie S.A., and Zeraim Gedera Ltd (all of them as part of the support to the ICuGI); the grants AGL2009-12698-C02-02 from the Spanish "Ministerio de Ciencia e Innovación" to AJM. NK lab was supported in part by Research Grant Award No. IS-4223-09C from BARD, the United States - Israel Binational Agricultural Research and Development Fund, and in part by Israel Science Foundation Grant No. 386-06, De Ruiter Seeds, Enza Zaden, Keygene, Rijk Zwaan, Sakata Seed Corporation, Semillas Fitó, Syngenta Seeds and Vilmorin Clause & Cie. AD was supported by a JAE-Doc contract from "Consejo Superior de Investigaciones Científicas" (CSIC-Spain). MF was supported by a postdoctoral contract from CRAG. The research carried out at YX's laboratory was supported by Chinese funds (Grant No.2008-Z42(3), 5100001, 2010AA101907).
Authors' Affiliations
(1)
Instituto de Biología Molecular y Celular de Plantas (IBMCP), Universidad Politécnica de Valencia (UPV)-Consejo Superior de Investigaciones Científicas (CSIC), Ciudad Politécnica de la Innovación (CPI), Valencia, Spain
(2)
IRTA, Center for Research in Agricultural Genomics (CSIC-IRTA-UAB), Campus UAB, Bellaterra (Barcelona), Spain
(3)
Department of Soil, Plant, Environmental and Animal Production Sciences, Federico II University of Naples, Portici, Italy
(4)
COMAV-UPV, Institute for the Conservation and Breeding of Agricultural Biodiversity, Universidad Politécnica de Valencia, Valencia, Spain
(5)
Boyce Thompson Institute for Plant Research, Ithaca, USA
(6)
USDA-ARS, Vegetable Crops Research Unit, Department of Horticulture, 1575 Linden Dr, University of Wisconsin, Madison, USA
(7)
USDA-ARS, Forage and Range Research Laboratory, Utah State University, Logan, USA
(8)
USDA-ARS, Tropical Agricultural Research Station, Mayaguez, Puerto Rico
(9)
Syngenta Biotechnology, USA
(10)
Syngenta Seeds, Saint-Sauveur, France
(11)
INRA, UR 1052, Unité de Génétique et d'Amélioration des Fruits et Légumes, Montfavet Cedex, France
(12)
Keygene N.V., Wageningen, The Netherlands
(13)
Institute of Plant Science, Agricultural Research Organization (ARO), Newe Ya'ar Research Center, Ramat, Israel
(14)
Institute of Plant Science, Agricultural Research Organization, Volcani Research Center, Bet Dagan, Israel
(15)
National Engineering Research Center for Vegetables (NERCV), Beijing Academy Agricultural and Forestry Science, Beijing, China
(16)
National Institute of Vegetable and Tea Science (NIVTS), Ano, Tsu, Mie, Japan
(17)
Agronomy Department Faculty of Agriculture, Ain Shams University, Cairo, Egypt
Copyright
© Diaz et al; licensee BioMed Central Ltd. 2011
This article is published under license to BioMed Central Ltd. This is an Open Access article distributed under the terms of the Creative Commons Attribution License (http://creativecommons.org/licenses/by/2.0), which permits unrestricted use, distribution, and reproduction in any medium, provided the original work is properly cited.