Research article

Open Access
Transcriptional analysis of cell growth and morphogenesis in the unicellular green alga Micrasterias(Streptophyta), with emphasis on the role of expansin
BMC Plant Biology
2011
11:128
Received: 5 May 2011
Accepted: 25 September 2011
Published: 25 September 2011
Abstract
Background
Streptophyte green algae share several characteristics of cell growth and cell wall formation with their relatives, the embryophytic land plants. The multilobed cell wall of Micrasterias denticulata that rebuilds symmetrically after cell division and consists of pectin and cellulose, makes this unicellular streptophyte alga an interesting model system to study the molecular controls on cell shape and cell wall formation in green plants.
Results
Genome-wide transcript expression profiling of synchronously growing cells identified 107 genes of which the expression correlated with the growth phase. Four transcripts showed high similarity to expansins that had not been examined previously in green algae. Phylogenetic analysis suggests that these genes are most closely related to the plant EXPANSIN A family, although their domain organization is very divergent. A GFP-tagged version of the expansin-resembling protein MdEXP2 localized to the cell wall and in Golgi-derived vesicles. Overexpression phenotypes ranged from lobe elongation to loss of growth polarity and planarity. These results indicate that MdEXP2 can alter the cell wall structure and, thus, might have a function related to that of land plant expansins during cell morphogenesis.
Conclusions
Our study demonstrates the potential of M. denticulata as a unicellular model system, in which cell growth mechanisms have been discovered similar to those in land plants. Additionally, evidence is provided that the evolutionary origins of many cell wall components and regulatory genes in embryophytes precede the colonization of land.
Keywords
Green Fluorescence ProteinLand PlantSecondary Cell WallExpansinGreen Fluorescence Protein Fluorescence
Background
Although the form and function of plant cells are strongly correlated, the processes that determine the cell shape remain largely unknown. Plant cell morphogenesis is regulated in a non-cell-autonomous fashion by the surrounding tissues [1], hormone interference during ontogenesis, and sometimes by polyploidy as a consequence of endoreduplication [2, 3]. In contrast, in unicellular relatives of land plants, it is possible to study the endogenous controls of cell morphogenesis without the interference by interacting cells and to better understand how these mechanisms have evolved in the green lineage.
The desmid
Micrasterias denticulata
is a member of the conjugating green algae (Zygnematophyceae) that comprise the closest extant unicellular relatives of land plants [
4
–
8
].
M. denticulata
cells consist of two bilaterally symmetrical flat semicells, notched deeply around their perimeter into one polar lobe and four main lateral lobes. Following cell division, each semicell builds a new one through a process of septum bulging and symmetrical local growth cessations to form the successive lobes (Figure
1A
). After completion of the primary wall (during the doublet stage), a rigid cellulosic secondary cell wall pierced by pores is deposited, followed by shedding of it. This peculiar growth mechanism makes
Micrasterias
an ideal model to study the spatial and temporal patterning of cell wall biogenesis [
9
].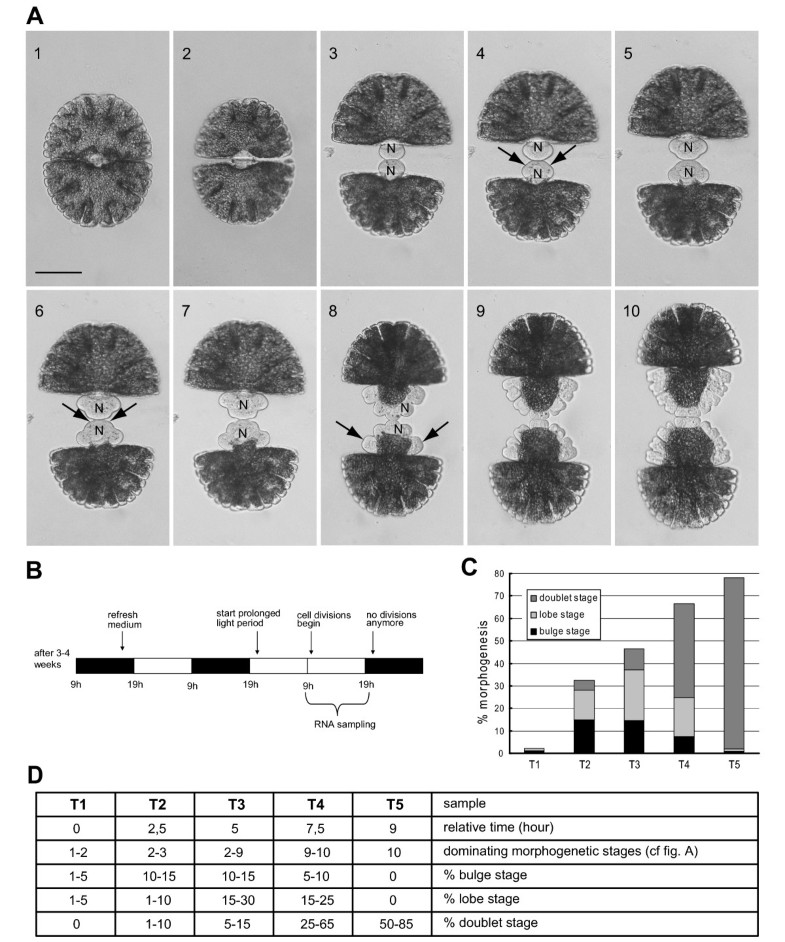 Ultimately, the plant cell morphology is determined by the composition and structure of the cell wall that governs the cell expansion direction and rate. As in land plants, the primary cell wall of M. denticulata Bréb. consists mainly of pectins [10, 11], cellulose microfibrils [12], hemicelluloses [13] and arabinogalactan proteins (AGPs) [10, 13]. The secondary cell wall owes it rigidness to cellulose microfibrils originating from rosettes organized as hexagonal arrays [14, 15], whereas mixed-linked glucan is the dominant hemicellulose [13].
In land plants, expansins are important regulators of turgor-driven cell wall expansion. These cell wall proteins comprise a large multigene superfamily consisting of four families (EXPA, EXPB, EXLA and EXLB) of which the evolutionary relationships are well characterized [16, 17]. They are unique in their ability to loosen the cell wall non-enzymatically by disrupting hydrogen bonds that link the cellulose and hemicellulose wall components [18–21]. Land plant expansins consist of two domains and a secretion signal. The N-terminal expansin domain 1 and the C-terminal expansin domain 2 are homologous to the catalytic domain of glycoside hydrolase family 45 (GH45) proteins and a domain present in a family of grass pollen allergens, identified as a putative cellulose binding site [22], respectively. Expansins play a role in tissue development [23, 24] and in growth of suspension-cultured cells [25, 26]. Although genes encoding expansin-like proteins have been recently identified in green algae transcriptomes [27], their physiological function and phylogenetic relationships with land plant expansins remain unknown.
Here, we explore the molecular basis of cell morphogenesis and cell wall formation in synchronized M. denticulata cells by means of a cDNA-amplified fragment length polymorphism (cDNA-AFLP)-based quantitative transcriptome analysis [28]. Several cell wall-related genes, among which expansins, were identified. Examination of the expansins provided the first structural, phylogenetic and functional data on green algal homologues within this gene family.
Discussion
Genome-wide expression analysis revealed a role for Rab and SNARE cycles in membrane fusions and for AGP-like proteins in cell pattern establishment. AGPs, differing in composition from land plants, had recently been found to be present in the growing primary cell wall of Micrasterias [13]. Our analysis further suggests an involvement of class-III peroxidases, XTH and expansins in cell wall growth. Class-III peroxidases had been considered absent in green algae [45], although a (partial) mRNA occurred in the desmid Closterium [46]. Here, a full length algal class-III peroxidase is linked to cell growth. Furthermore, despite their supposed lack of xyloglucans [47], XET activity was found in the streptophyte Chara and the chlorophyte Ulva [48]. Recently, the (1→3, 1→4)-β-glucan (mixed linked glucan, MLG) has been determined as the main constituent of the secondary cell wall of Micrasterias [13] and in this study, the first algal XTH was identified.
The green algae Valonia (Chlorophyta) and Nitella (Streptophyta) exhibit acid-induced wall extension, but this response is seemingly not mediated by proteins [49, 50]. Contrary to the assumption of a land plant specific mechanism [20], four genes with significant similarity to expansins were up-regulated during cell growth of Micrasterias, in agreement with a presumed ancient evolutionary origin [16]. Based on significant BLAST similarities with the expansin domains [22], global pairwise alignment and phylogeny, and structural features like the presence of a secretion signal, MdEXP2, MdEXP1, and MdEXP3 are considered expansins, but considerably diverge in gene architecture from embryophytic expansins, as indicated by both domain analysis and phylogeny. These results add to the evidence that expansins are not strongly conserved through evolution [17]. The key residues of the GH45 domain catalytic site and the HFDL motif, which are present in land plants and Spirogyra, do not occur in Micrasterias. The HFDL motif is present in most groups of plant expansins, but is absent in a few plant EXPA and EXPB proteins [16]. The eight N-terminal cysteines required for protein folding [16] and the four C-terminal tryptophans or related residues involved in cellulose binding [42] are conserved between Micrasterias, Spirogyra and land plants and can be considered as key characteristics of plant expansins. The GGxCGY/F and the GxxCGxCF/Y motifs in the GH45 domain are conserved as well. The only constant difference in the conserved amino acid residues in Micrasterias when compared to land plants is the occurrence of a serine residue instead of an alanine residue in the GGACGY motif of the GH45 domain. As expansins disrupt noncovalent bonding between cellulose microfibrils and matrix glucans that stick to the microfibril [18], we hypothesize that the characteristics of the MdEXPs might be related to the dominant MLG in the secondary cell walls of Micrasterias [13] instead of the (1→4)-β-glucan backbone present in dicotyledonous plants. The occurrence of MLG in lichens [51], fungi [52], green algae (Micrasterias) [13], horsetails [53], and Poales [54] has been suggested to result from convergent evolution [55], whereas the occurrence of distinct MdEXPs might be connected to two different (primary and secondary) cell wall types, implied by their different temporal expression patterns.
Based on the present expansin phylogeny, combined with current hypotheses on the evolution of the closest relatives to land plants [6, 56], expansins can fairly be assumed to have evolved before the origin of land plants. However, the unresolved relationships between Embryophytes and the streptophyte lineages Zygnematophyceae, Coleochaetophyceae and Charophyceae [57] hamper a solid reconstruction of expansin gene history. Assuming that the Zygnematophyceae form the closest living relatives to land plants [8], a possible scenario would be that expansins evolved into two lineages (EXPA and EXPB + EXL) in a common ancestor of Embryophytes and Zygnematophyceae (Figure 6B). The apparent lack of EXPB and EXL in Micrasterias and Spirogyra might be due to gene loss, early in the evolution of the Zygnematophyceae. It should be emphasized however, that the ancient relationships among expansin families are difficult to resolve. Therefore the phylogenetic positions of the green algal expansin-resembling genes should be interpreted with care, hinting at a complete divergence of the plant expansin families within the embryophytic lineage.
Distinct differences in gene architecture between Micrasterias and embryophytic expansins have raised the question whether the biochemical functions of MdEXPs and embryophytic expansins are similar. To this end, we studied functionally MdEXP2, the MdEXP with the highest expression levels during growth, through localization and overexpression. A GFP antibody detecting the MdEXP2-GFP fusion protein was used, because the sequence conservation was too low for the available plant expansin antibodies. Unfortunately, currently, because only transient genetic transformation of Micrasterias is possible [35], immunoelectron microscopic detection in the growing cell walls is unfeasible. Nevertheless, the ectopically produced protein was targeted to the fully-grown secondary cell wall. In addition, the phenotypic results obtained from its overexpression suggest that MdEXP2 can alter the cell wall shape, but this effect on growth cannot be excluded to result from saturation or blockage of the membrane trafficking of other essential proteins. The phenotypes were remarkably variable, whereby the phenotype severity did not seem to directly correlate with expansin abundance (as inferred from MdEXP2-GFP fluorescence intensity), as reported previously [58–62]. Although a phenotype could be observed corresponding to the expected enhanced wall extensibility due to increased expansin levels [19], the elongation growth impaired in most cases, but not the lateral expansion, resulting in the fusion of the lateral lobes. A number of factors might explain the reduced growth of tomato (Solanum lycopersicum) overexpressing an expansin [59]. All together, the growth phase-specific expression, the accumulation in the cell walls, and its overexpression phenotype, allow us to to hypothesize that MdEXP2 might have a biochemical function related to that of land plant expansins.
Conclusions
Our study provides novel data on gene expression during morphogenesis and cell growth in the desmid Micrasterias denticulata and adds to our understanding of the evolution of genes involved in cell wall formation in green algae and land plants.
Cell walls have played crucial roles in the colonization of land by plants [63, 64]. For a detailed understanding of how cell walls have evolved, cell wall components and cell wall-related genes in land plants and their closest relatives, the streptophyte green algae need to be analyzed comprehensively. Although some cell wall components appear to be adaptations of land plants, cell wall evolution after the colonization of land is seemingly characterized by the elaboration of a pre-existing set of genes and polysaccharides rather than by substantial innovations [65–68]. The data add to the growing body of evidence that the evolutionary origins of many cell wall components and regulating genes in embryophytes antedate the colonization of land.
Declarations
Acknowledgements
The authors thank Debbie Rombaut and Sofie D'hondt for assistance with the cDNA-AFLP analysis, Andy Vierstraete and Wilson Ardilez-Diaz for sequencing, Filip Waumans for constructing a database for the sequences identified in this study, Klaas Vandepoele for help with bioinformatics, Mansour Karimi for cloning advice, Ellen Cocquyt for phylogenetic advice, Daniel Cosgrove for nomenclatural advice, and Martine De Cock for help in preparing the manuscript. This work was supported by the Interuniversity Attraction Poles Programme (UIAP VI/33), initiated by the Belgian State, Science Policy Office, the Research Foundation-Flanders (postdoctoral fellowship grants to F.L. and L.D.V.), and the Agency for Innovation by Science and Technology in Flanders ("Strategisch Basisonderzoek" project SBO040093 and predoctoral fellowships to K.V., M.J.J.H., and J.G.).
Authors' Affiliations
(1)
Laboratory of Protistology and Aquatic Ecology, Department of Biology, Ghent University, Gent, Belgium
(2)
Department of Plant Systems Biology, VIB, Gent, Belgium
(3)
Department of Plant Biotechnology and Bioinformatics, Ghent University, Gent, Belgium
(4)
Phycology Research Group, Department of Biology, Ghent University, Gent, Belgium
(5)
Plant Physiology Division, Cell Biology Department, University of Salzburg, Salzburg, Austria
Copyright
© Vannerum et al; licensee BioMed Central Ltd. 2011
This article is published under license to BioMed Central Ltd. This is an Open Access article distributed under the terms of the Creative Commons Attribution License (http://creativecommons.org/licenses/by/2.0), which permits unrestricted use, distribution, and reproduction in any medium, provided the original work is properly cited.