Research article

Open Access
Characterization of the basal angiosperm Aristolochia fimbriata: a potential experimental system for genetic studies
BMC Plant Biology
2013
13:13
Received: 24 May 2012
Accepted: 12 December 2012
Published: 24 January 2013
Abstract
Background
Previous studies in basal angiosperms have provided insight into the diversity within the angiosperm lineage and helped to polarize analyses of flowering plant evolution. However, there is still not an experimental system for genetic studies among basal angiosperms to facilitate comparative studies and functional investigation. It would be desirable to identify a basal angiosperm experimental system that possesses many of the features found in existing plant model systems (e.g., Arabidopsis and Oryza).
Results
We have considered all basal angiosperm families for general characteristics important for experimental systems, including availability to the scientific community, growth habit, and membership in a large basal angiosperm group that displays a wide spectrum of phenotypic diversity. Most basal angiosperms are woody or aquatic, thus are not well-suited for large scale cultivation, and were excluded. We further investigated members of Aristolochiaceae for ease of culture, life cycle, genome size, and chromosome number. We demonstrated self-compatibility for Aristolochia elegans and A. fimbriata, and transformation with a GFP reporter construct for Saruma henryi and A. fimbriata. Furthermore, A. fimbriata was easily cultivated with a life cycle of just three months, could be regenerated in a tissue culture system, and had one of the smallest genomes among basal angiosperms. An extensive multi-tissue EST dataset was produced for A. fimbriata that includes over 3.8 million 454 sequence reads.
Conclusions
Aristolochia fimbriata has numerous features that facilitate genetic studies and is suggested as a potential model system for use with a wide variety of technologies. Emerging genetic and genomic tools for A. fimbriata and closely related species can aid the investigation of floral biology, developmental genetics, biochemical pathways important in plant-insect interactions as well as human health, and various other features present in early angiosperms.
Keywords
Genome Size
Enhanced Green Fluorescent Protein
Aristolochic Acid
Small Genome Size
Shoot Primordia
Background
Our present understanding of genetics, genomics, development, evolution, and physiology of living organisms has benefited greatly from work done in model genetic systems. Model systems provide more favorable conditions for observing phenomena and testing hypotheses than other systems afford. Models support inductive reasoning, in which one builds on the understanding of living organisms in general, based on observations made in a specific model organism [1]. Model organisms also provide a focus for researchers to work on a common system, resulting in collaborative and complementary efforts that can yield rapid progress and development of further resources. Models are crucial for understanding basic biological processes.
Model organisms should have several key attributes. They should share a number of characteristics of the taxon or process they are chosen to represent [1, 2] and must be accessible [2] so that a broad community of scientists can utilize and develop them. Models used for developmental and genetic studies must also offer rapid development, short generation time, be amenable to large scale cultivation, have small seed size for easy storage of many genotypes, and provide ample tissue for experimentation [1]. Models should also support forward and reverse genetics, as is required for hypothesis testing [3], and have a small genome size to facilitate molecular genetics and genomics work, including genome sequencing and assembly [4, 5]. Finally, for studying the evolution of development, models should have both conserved and unique features in comparison to related species, so that comparative studies can elucidate the mechanisms of phenotypic evolution [6].
Our current understanding of angiosperm evolution has been shaped by multiple phylogenetic studies eg., [
7
–
9
] that provide the organismal context in which the evolution of any aspect of flowering plants is studied. Of particular interest to both basic and applied plant biology are changes leading to the success and diversification of angiosperm lineages, beginning with the early, mostly species-poor lineages of angiosperms (Table 
1
) previously known as the ANITA grade (Amborellaceae, Nymphaeales, Illiciaceae, Trimeniaceae, and Austrobaileyaceae), followed by the magnoliids (Figure 
1
). The genome of the shrub
Amborella trichopoda
, the likely singular living sister group to the rest of the living angiosperms, has been mapped [
10
] and sequenced (
http://www.amborella.org
), providing an ideal root for comparative genomic studies of all other angiosperms [
11
]. The magnoliids contain four major branches and several thousand species (Table 
1
, Figure 
1
). Among the species in this lineage are the ornamental tree,
Liriodendron tulipfera
[
12
] and the fruit tree,
Persea americana
[
13
], as well as the economically important spice, black pepper (
Piper nigrum
) [
14
]. Taxa included in the magnoliids exhibit many features first appearing in basal angiosperms or angiosperms in general e.g., vessel elements, perianth bilateral symmetry, alkaloid chemistry, specialized pollination systems, and diverse forms of female gametophyte development [
3
,
15
,
16
]. Recent phylogenetic studies have suggested that the magnoliids are the sister clade and therewith the closest outgroup to the species-rich and highly diverged monocot and eudicot lineages [
7
–
9
].
Table 1
A summary of relevant basal angiosperm characteristics
Order

Family1,2

# Genera / species3

Familiar genera3

Growth form1,2

Commercially available

AMBORELLALES

Amborellaceae

1/1

Amborella

shrub

no

NYMPHAEALES

Nymphaeaceae

5/58

Nymphaea

aquatic herb

yes

Nuphar

Barclaya

Victoria

Euryale

Cabombaceae

2/6

Cabomba

aquatic herb

yes

Brassenia

Hydatellaceae

2/10

Hydatella

aquatic herb

no

Trithuria

AUSTROBAILEYALES

Austrobaileyaceae

1/2

Austrobaileya

liana

no

Illiciaceae

3/92

Illicium

shrub, tree

yes

Schisandra

Kadsura

Trimeniaceae

1-2/6

Trimenia

shrub, tree, liana

no

CERATOPHYLLALES

Ceratophyllaceae

1/6

Ceratophyllum

aquatic herb

yes

CHLORANTHALES

Chloranthaceae

4/75

Chloranthus

herb, shrub, tree

no

Ascarina

Hedyosmum

Sarcandra

MAGNOLIALES

Annonaceae

129/2220

Annona

shrub, tree, liana

yes

Guatteris

Xylopia

Uvaria

Polyalthia

Rollinia

Artabotrys

Asimina

Eupomatiaceae

1/3

Eupomatia

shrub, tree

yes

Magnoliaceae

2/227

Magnolia

shrub, tree

yes

Lioriodendron

Degeneriaceae

1/2

Degeneria

tree

no

Himantandraceae

1/2

Galbulimima

tree

no

Myristicaceae

20/475

Myristica

shrub, tree

yes

Horsfieldia

Virola

Knema

LAURALES

Calycanthaceae

5/11

Chimonanthus

shrub, tree

yes

Calycanthus

Idiospermum

Sinocalycanthus

Hernandiaceae

5/55

Hernandia

shrub, tree, liana

no

Illigera

Lauraceae

50/200

Laurus

shrub, tree, parasitic vine

yes

Litsea

Ocotea

Cinnamomum

Cryptocarya

Persea

Lindera

Neolitsea

Nectandra

Phoebe

Apollonias

Beilschmiedia

Umbellularia

Monimiaceae

22/200

Doryphora

shrub, liana

no

Peumus

Xymalos

Mollinedia

Tambourissa

Kibara

Siparunaceae

2/75

Siparuna

shrub, tree

no

Glossocalyx

Gomortegaceae

1/1

Gomortega

shrub, tree

no

Atherosperma-taceae

6-7/16

Atherosperma

shrub, tree

no

Daphnandra

Doryphora

Dryadodaphne

Laurelia

Nemuaron

CANELLALES

Canellaceae

5/13

Canella

shrub, tree

yes

Cinnamodendron

Cinnamosma

Winteraceae

4-7/60-90

Drimys

shrub, tree

yes

Zygogynum

Pseudowintera

Takhtajania

PIPERALES

Hydnoraceae

2/7

Prosopanche

parasitic herb

no

Hydnora

Piperaceae

5/3600

Peperomia

herb

yes

Piper

herb

yes

Zippelia

herb

no

Manekia

liana

no

Verhuellia

herb

no

Saururaceae

5/6

Anemopsis

herb

yes

Houttuynia

herb

yes

Saururus

herb

yes

Gymnotheca

herb

no

Lactoridaceae

1/1

Lactoris

shrub

no

Aristolochiaceae

4/550

Saruma (1)

herb

yes

Asarum (ca. 86)

herb

yes

Thottea (ca. 29)

shrub

no

Aristolochia (ca. 450)

herb, shrub, liana

yes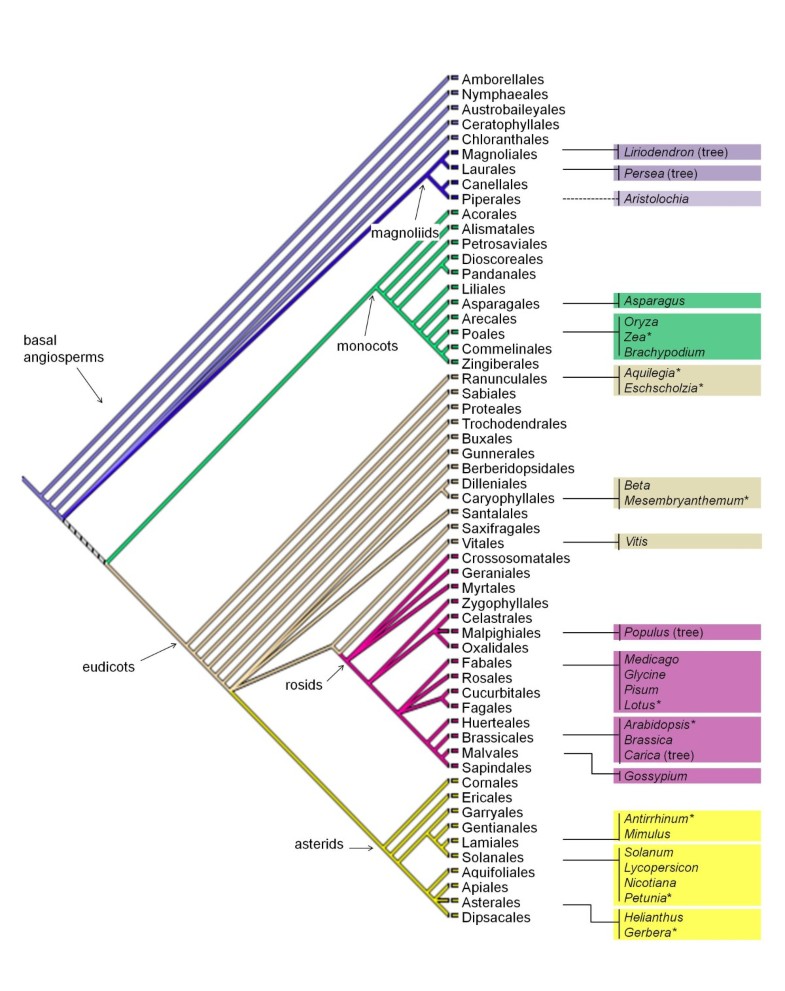 The rich diversity of basal angiosperms provides glimpses into early successful experiments in angiosperm adaptation [3, 19–23]. Novel features which are otherwise constrained by function may have evolved more than once, through parallelism and convergence, such as the structural and developmental similarities of the inflorescence of the monocot Acorus with that found in some Piperales (Piperaceae, Saururaceae; members of Magnoliids) [24]. Basal lineages also retain evidence of "trials" of features that became genetically fixed in later lineages [25]. For example, perianth parts are quite variable in basal angiosperms, as well as in basal eudicots and basal monocots [26], and only became canalized later on.
Current flowering plant genetic models are all derived from the highly diverged monocot and eudicot lineages (Figure 1). Among them, the monocot models Zea and Oryza occur in Poaceae, which has specialized floral organs and an inflorescence found only in that family. Similarly, the current eudicot models are derived from the rosid (Arabidopsis) and asterid (e.g., Antirrhinum, tomato) "core eudicot" lineages, each of which displays lineage-specific floral forms [25, 27]. Studies in current plant models have led to the discovery of broadly homologous traits, including conservation of floral organ identity genes (ABC/quartet models) [28–30]. These homologies, and others observed in current plant models (Figure 1), have suggested hypotheses about the common ancestor of monocots and eudicots.
An understanding of the evolution of floral development or any fundamental process in flowering plants should include results from a basal angiosperm experimental model in which functional hypotheses can be tested [3, 6, 31–33]. Although the current model systems represent well the highly successful and derived lineages in which they occur, they do not represent the overall diversity of angiosperms. Information from basal lineages is necessary to better describe that diversity, to polarize the changes that occurred during angiosperm evolution, and to make functional inferences about the common ancestor of early angiosperms.
Current plant models have been selected to address particular questions, but very few are available for use both as genomic and as genetic models. Genomic resources, which emphasize plants with relatively small genomes, have been developed for tree wood and fruit species, including Populus[34], Liriodendron[12], Persea[35] and Carica[36]. However, woody species are too large at maturity and do not have short enough life cycles for general use in genetic experiments. Forward genetics requires a very small organism with a rapid life cycle, and is facilitated by the ability to self-pollinate individuals having desired characteristics. Reverse genetics requires manipulation of DNA or RNA in a targeted manner. Both benefit from a small genome, and transformability is essential for testing hypotheses about gene function. Therefore, we sought to identify a basal angiosperm species having as many important features of a model system as possible to support its potential development into an experimental system in genetics and genomics. We present these essential features in Aristolochia fimbriata - small size at maturity, rapid life cycling, self-compatibilty, small genome size, and transformability - along with relevant findings for other taxa evaluated in our study.
Conclusion
We have used a rigorous process to select and develop resources for the basal angiosperm, A. fimbriata. Culturing and hand pollination methods required for rapid generation of homozygous lines needed for genetic experiments are described. The small genome size and immediate availability of sequence data supports future studies of molecular genetics and evolution. Hypotheses about gene evolution and gene function can be tested using a reverse genetic approach, i.e., over and under expression studies in a transformable species suitable for large-scale cultivation. The transformation system we present supports experimental investigation of secondary metabolites, compounds for which Aristolochia and other basal angiosperms are well known and which have long been of interest for their pharmacologic properties and for their roles in the co-evolution of animals with plants. Optimizing the selection phase for transformed A. fimbriata explants would facilitate a high throughput transformation system for investigating gene function and evolution in a basal angiosperm. The development of virally-induced gene silencing (VIGS, [117]) would provide another valuable tool for functional analysis in Aristolochia fimbriata. Along with continued development of genetic tools and genomic resources, A. fimbriata has the potential to become an excellent experimental system to provide further insight into the developmental, structural, and biochemical diversity found among basal angiosperms.
Declarations
Acknowledgements
We thank A. Omeis for plant care, Jason Stetson and Yunjiao Joy Wang for DNA isolations, and Joel McNeal, Mario Blanco, Favio Gonzalez, Al Hill, Natalia Pabon-Mora, Larry Rosen, Russ Strover, Victor Wong, the New York Botanical Garden, the Botanical Gardens at the University of Ulm, Dresden, Universidade de Coimbra, and Dawe's Arboretum for seed and plant material.
This work was supported in part by the NSF Plant Genome Research Program, awards DBI-0115684 (The Floral Genome Project) and DEB 0638595 (The Ancestral Angiosperm Genome Project), by the Department of Biology and Huck Institutes of Life Sciences of the Pennsylvania State University, and by a postdoctoral grant to SW from the German Academic Exchange Service (DAAD).
Authors' Affiliations
(1)
Department of Biology, Institute of Molecular Evolutionary Genetics, and the Huck Institutes of the Life Sciences, Pennsylvania State University, University Park, USA
(2)
USDA ARS PBARC, Hilo, USA
(3)
Technische Universität Dresden, Institut für Botanik, Dresden, Germany
(4)
100 Jordan Hall, Clemson University, Clemson, USA
(5)
Department of Plant Sciences, University of Georgia, Athens, USA
(6)
Chicago Botanic Garden, Glencoe, USA
(7)
BASF Plant Science, Research Triangle Park, USA
(8)
Benaroya Research Institute at Virginia Mason, Flow Cytometry and Imaging Core Laboratory, Seattle, USA
(9)
The Genome Institute,Washington University School of Medicine, St. Louis, USA
(10)
Stephenson Research and Technology Center, Advanced Center for Genome Technology, University of Oklahoma, Norman, USA
(11)
Department of Horticulture, Pennsylvania State University, University Park, USA
(12)
State Key Laboratory of Genetic Engineering and the Institute of Plant Biology, the Center for Evolutionary Biology, the School of Life Sciences, Fudan University, Shanghai, China
(13)
Institutes of Biomedical Sciences, Fudan University, Shanghai, China
Copyright
© Bliss et al.; licensee BioMed Central Ltd. 2013
This article is published under license to BioMed Central Ltd. This is an Open Access article distributed under the terms of the Creative Commons Attribution License (http://creativecommons.org/licenses/by/2.0), which permits unrestricted use, distribution, and reproduction in any medium, provided the original work is properly cited.