Research article

Open Access
CONSTANS is a photoperiod regulated activator of flowering in sorghum
BMC Plant Biology
2014
14:148
Received: 10 February 2014
Accepted: 13 May 2014
Published: 28 May 2014
Abstract
Background
Sorghum genotypes used for grain production in temperate regions are photoperiod insensitive and flower early avoiding adverse environments during the reproductive phase. In contrast, energy sorghum hybrids are highly photoperiod sensitive with extended vegetative phases in long days, resulting in enhanced biomass accumulation. SbPRR37 and SbGHD7 contribute to photoperiod sensitivity in sorghum by repressing expression of SbEHD1 and FT-like genes, thereby delaying flowering in long days with minimal influence in short days (PNAS_108:16469-16474, 2011; Plant Genome_in press, 2014). The GIGANTEA (GI)-CONSTANS (CO)-FLOWERING LOCUS T (FT) pathway regulates flowering time in Arabidopsis and the grasses (J Exp Bot_62:2453-2463, 2011). In long day flowering plants, such as Arabidopsis and barley, CONSTANS activates FT expression and flowering in long days. In rice, a short day flowering plant, Hd1, the ortholog of CONSTANS, activates flowering in short days and represses flowering in long days.
Results
Quantitative trait loci (QTL) that modify flowering time in sorghum were identified by screening Recombinant Inbred Lines (RILs) derived from BTx642 and Tx7000 in long days, short days, and under field conditions. Analysis of the flowering time QTL on SBI-10 revealed that BTx642 encodes a recessive CONSTANS allele containing a His106Tyr substitution in B-box 2 known to inactivate CONSTANS in Arabidopsis thaliana. Genetic analysis characterized sorghum CONSTANS as a floral activator that promotes flowering by inducing the expression of EARLY HEADING DATE 1 (SbEHD1) and sorghum orthologs of the maize FT genes ZCN8 (SbCN8) and ZCN12 (SbCN12). The floral repressor PSEUDORESPONSE REGULATOR PROTEIN 37 (PRR37) inhibits sorghum CONSTANS activity and flowering in long days.
Conclusion
Sorghum CONSTANS is an activator of flowering that is repressed post-transcriptionally in long days by the floral inhibitor PRR37, contributing to photoperiod sensitive flowering in Sorghum bicolor, a short day plant.
Keywords
Photoperiod
Sorghum
Flowering time
QTL
CONSTANS
PRR37
Background
Optimal regulation of the timing of floral transition is critically important for reproductive success and crop yield. The C4 grass Sorghum bicolor is widely adapted and grown as an annual crop from 0 to >40 degrees N/S latitude. Sorghum crops have been selected for a range of flowering times depending on growing location and use as a source of grain, sugar, forage, or biomass [1–3]. Grain sorghum is generally selected for early flowering (60–80 days) to enhance grain yield stability by avoiding drought, adverse temperatures, and insect pressure during the reproductive phase. In contrast, energy sorghum hybrids are designed with high photoperiod sensitivity in order to delay flowering and extend the duration of vegetative growth, resulting in more than 2-fold increases in biomass production [3, 4]. The stage of plant development, signals from photoperiod, temperature, gibberellins and other factors are integrated to regulate flowering time in sorghum [5].
The genetic architectures of photoperiod-responsive flowering-time regulatory pathways have been characterized in many plants [6–18]. In Arabidopsis, flowering is promoted in long-days (LD) by coincidence of light signaling and circadian clock output, thus allowing the plant to sense and respond to seasonal changes in photoperiod. Clock output to the flowering pathway is mediated in part by GIGANTEA (GI). GI is regulated by the central clock oscillator comprised of TIMING OF CAB EXPRESSION 1 (TOC1), CIRCADIAN CLOCK ASSOCIATED 1 (CCA1) and LATE ELONGATED HYPOCOTYL (LHY). In long days, GI activates CONSTANS (CO) expression in conjunction with FLAVIN-binding KELCH DOMAIN F BOX PROTEIN1 (FKF1) by inducing degradation of CDF1 repressors of CONSTANS transcription. CO accumulates in LD due to stabilization mediated by cryptochromes (CRY1/2), phytochrome A (PHYA) and SUPPRESSOR OF PHYA-105 (SPA1) that counteract degradation of CO mediated by phytochrome B (PHYB): CONSTITUTIVE PHOTOMORPHOGENIC 1(COP1) [6, 9]. Increased CO protein levels in long days leads to the activation of FLOWERING LOCUS T (FT) expression and production of florigen that moves from leaves to shoot apical meristems (SAM) where it binds to FD and induces floral transition.
The GI-CO-FT regulatory pathway identified in Arabidopsis, a long day (LD) plant, is also present in rice, a short day (SD) plant [10]. When rice is exposed to inductive SD, HEADING DATE1 (Hd1), the ortholog of CO, activates expression of the FT-like gene Hd3a, one of two sources of florigen in rice. In non-inductive LD, Hd1 functions as a repressor of Hd3a and flowering [19]. Thus, photoperiod sensitivity in rice depends in part on differences in the activity of CO (Hd1) in long days and short days. Two modulators of flowering time unique to grasses were identified in rice: EARLY HEADING DATE 1 (EHD1) [20] and GRAIN NUMBER, PLANT HEIGHT AND HEADING DATE 7 (GHD7) [21, 22]. EHD1 activates the expression of Hd3a and RICE FLOWERING LOCUS T1 (RFT1), a source of florigen in long days. GHD7 represses flowering by down-regulating expression of EHD1 and Hd3a in LD in rice [23] and SbEHD1 and SbCN8 in sorghum [2].
The effect of photoperiod on flowering time varies extensively among and within grass species. Barley and wheat are LD plants, while rice and sorghum are SD plants. Most cultivated maize is photoperiod insensitive therefore plants flower after a set number of degree days; however tropical maize is a photoperiod sensitive short day plant [11]. Sorghum is a short day plant, although grain sorghum is usually photoperiod insensitive, and forage and energy sorghum genotypes exhibit varying degrees of photoperiod sensitivity [3]. More than 40 QTL for flowering time have been identified in sorghum [24]. The Ma1-Ma4 loci were discovered while breeding for early flowering photoperiod insensitive grain sorghum in the U.S. (1920–1960) [25]. Ma1 corresponds to PSEUDORESPONSE REGULATOR PROTEIN 37 (SbPRR37), a repressor of flowering in LD [1]. Ma3 encodes PHYTOCHROME B (PhyB), a red-light photoreceptor that plays an important role in photoperiod sensing and repression of flowering [26–28]. Ma6 encodes SbGhd7, a repressor of SbEHD1 expression and flowering in long days [2]. Ma2, Ma4, and Ma5 are flowering time loci that enhance photoperiod sensitivity in sorghum [25, 29].
CONSTANS (CO) was initially identified as a transcriptional activator of FT and flowering in Arabidopsis [30]. CO belongs to a family of transcription factors unique to plants that contain one or two N-terminal zinc finger B-box domains and a C-terminal CCT domain. Two conserved cysteine and histidine amino acids in the Zn finger domain are essential for CO activity [6]. Arabidopsis mutants with amino acid substitutions at these positions have late flowering phenotypes. Extensive gene duplication events have occurred in this gene family, resulting in ~17 CO family members in Arabidopsis, ~16 in rice and ~9 in barley [31, 32]. The ortholog of CONSTANS in rice, Hd1, plays a key role in photoperiod regulation of flowering, by activating flowering in SD and repressing flowering in LD [19]. Alleles of Hd1 account for ~44% of the variation in flowering time observed in cultivated rice [33]. Hd1 transcript and protein levels are similar in LD and SD, consistent with the finding that Hd1 activity is modulated post-transcriptionally by PHYB [34] and PRR37 [35, 36].
Discussion
Sorghum accessions exhibit a wide range of flowering times when plants are grown in long days (i.e., 48d to >175d under field conditions in College Station, Texas) [2]. A large extent of this variation is caused by differences in photoperiod sensitivity mediated by floral repressors encoded by Ma1 and Ma6 that inhibit flowering in long days [1, 29]. Much less is known about floral activators in sorghum. The grass specific floral activator SbEHD1 was previously identified based on the gene's sequence similarity to rice EHD1 and activation of SbEHD1 expression coincident with floral initiation [2]. In this study we identify and characterize a second activator of sorghum flowering SbCO, a homolog of the floral activator CONSTANS in Arabidopsis and an ortholog of Hd1 in rice. Coding alleles of CONSTANS were identified through analysis of a flowering time QTL on SBI-10. Results showed that SbCO functions as an activator of flowering in LD and SD in sorghum genotypes using RILs with null versions of Sbprr37-1 and Sbghd7-1. The Sbco-3 allele in BTx642 was remarkable because it contained a His106Tyr amino acid substitution that also inactivates CO function in Arabidopsis [30]. Sorghum and Arabidopsis genotypes containing the inactive His106Tyr co-3 allele flower late in long days, as well as late in short days in sorghum, indicating that CONSTANS functions as an activator of flowering in both species. SbCO shares a conserved CCT (CO, CO-like, TOC1) domain with TOC1, PRR37, Ghd7, and HEME ACTIVATOR PROTEINS (HAP or NF-Y proteins). Yeast two-hybrid screens showed that CO can interact with HAP3 and HAP5 subunits through its CCT-domain, forming CCAAT-binding CBF-complexes that bind to FT promoters and activate transcription [48, 49]. In sorghum, SbCO was found to activate transcription of SbEHD1, SbCN8 and SbCN12, consistent with its role as an activator of flowering, presumably through formation of CBF-complexes, but possibly through direct binding to DNA [50].
The ability of
SbCO
alleles to induce flowering pathway gene expression and flowering was examined in RIL genetic backgrounds that contained null alleles of
Ma1
(
Sbprr37-1
) and
Ma6
(
Sbghd7)
to eliminate the influence of these LD floral repressors. In this null genetic background, SbCO promoted early flowering in LD and SD and increased the expression of
SbEHD1
(~25-fold),
SbCN8
(~10-fold),
SbCN12
(~100-fold) and
SbCN15
(~5-fold) relative to their expression in lines carrying the inactive
Sbco-3
allele. This information is summarized in a flowering time regulatory model shown in Figure
6
. The model includes three members of the PEBP-gene family that could be sources of florigen in sorghum,
SbCN8
,
SbCN12
and
SbCN15. SbCN8
is an ortholog of maize
ZCN8
, with a pattern of gene expression consistent with the demonstrated role of
ZCN8
as a source of florigen in maize [
47
].
SbCN12
expression is repressed by PRR37, induced in leaves in SD, and induced by
SbCO
(this study), indicating that this gene is also a likely source of florigen in sorghum. In rice,
Hd3a
and
RFT1
have been identified as sources of florigen; therefore expression of
SbCN15,
the ortholog of
Hd3a
, was analyzed.
SbCN15
showed relatively small changes in gene expression in response to photoperiod and mutations in SbPRR37 and SbCO. The sorghum genome does not encode an ortholog of
RFT1
, a source of florigen in rice in LD.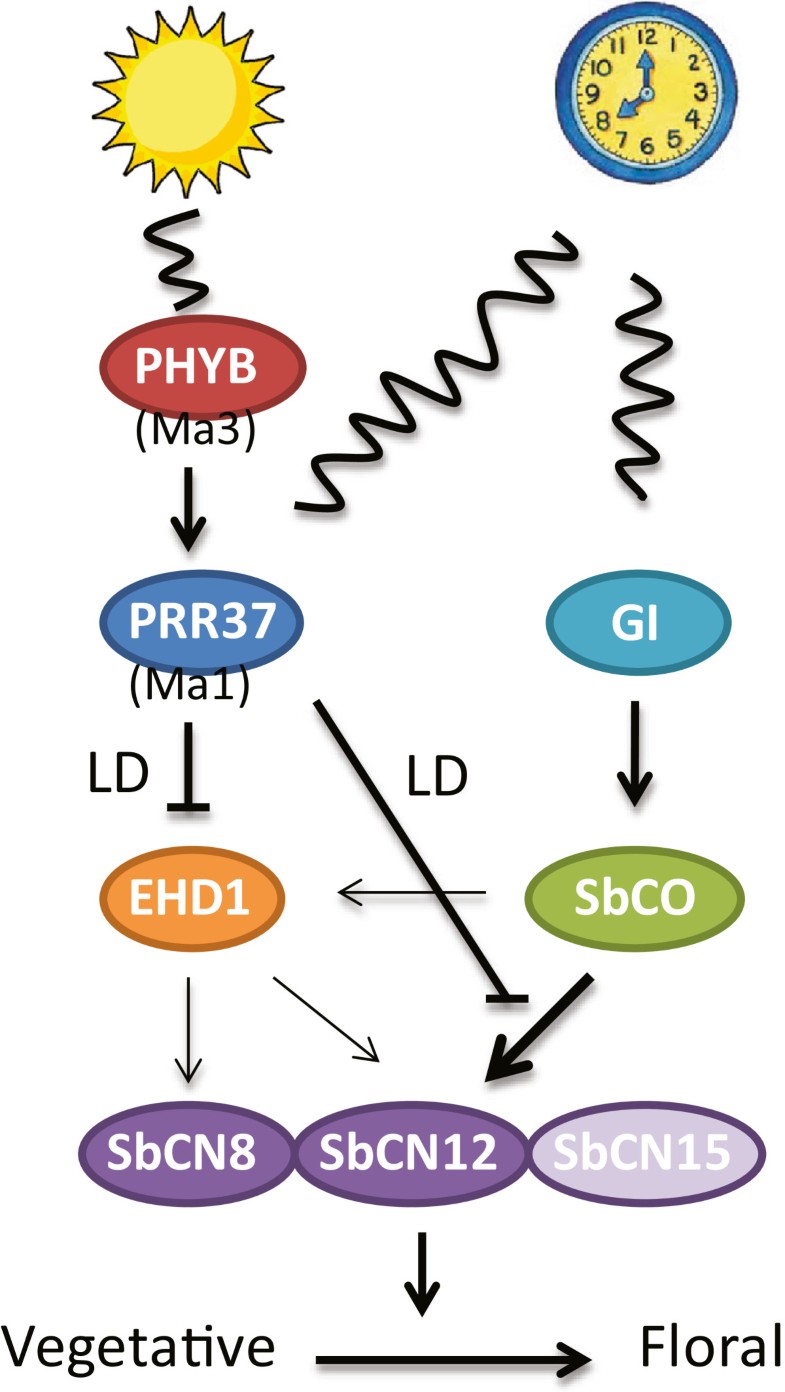 The results indicate that there has been a significant change in the complement of FT-like genes that function as the main sources of florigen in sorghum (SbCN8, SbCN12) and rice (Hd3a = SbCN15; RFT1, no sorghum ortholog), therefore regulation of flowering time could also differ, even though both grass species are short day plants. SbCO activates expression of SbCN8 and SbCN12, although SbCN12 was induced to a significantly greater extent. SbCO also increased expression of SbEHD1, an activator of Hd3a expression in rice. SbEHD1 expression is repressed by SbPRR37 and SbGhd7 and induced when photoperiod sensitive sorghum grown in LD is transferred to SD [1, 2]. Increases in SbEHD1 expression occur in parallel with increases in SbCN8 and SbCN12 expression, suggesting that SbEhd1 can induce the expression of these genes as shown in Figure 6. However, the extent and specificity of this proposed activity of SbEhd1 will require further analysis in backgrounds where SbCO has minimal influence on the expression of these genes (Sbco-3 backgrounds). The results in this paper show that SbCO increases expression of SbEHD1 and it is proposed that SbEhd1 can activate expression of SbCN8 and SbCN12 and flowering. In contrast, rice Hd1 has not been reported to increase expression of EHD1[20, 33]. Of interest is the finding that SbCO activates expression of SbCN12 to a much greater extent than SbEHD1. Therefore we conclude that SbCO directly increases SbCN12 transcription and that this may be the most important way that SbCO activates flowering.
The finding that SbCO can activate flowering in LD and SD in sorghum genotypes that are null for Ma1 and Ma6 raised the question as to how the activity of this gene is regulated by photoperiod in this short day plant. SbCO expression is low during the day, then increases in the evening to a peak at ~15 h after dawn, followed by a decrease and a second peak of expression at dawn (Figure 3B). In Arabidopsis, a similar increase in CO expression in the evening is due to the interaction of GI and blue light-activated FKF1, resulting in degradation of CDF-factors that inhibit CO expression [9]. This mechanism may also explain the evening peak of SbCO expression in sorghum. The second less prominent peak of SbCO expression at dawn is modulated by alleles of SbPRR37 and enhanced in LD [1]. The function of the peak of SbCO expression at dawn is not currently understood, although production of SbCO at this time could help activate SbEHD1 expression in the morning.
Functional alleles of SbCO increased the expression of SbCN8 and SbCN12 to a greater extent in SD relative to LD (Figure 4). SbCO expression levels increase during the evening, helping to explain why SbCN8/12 expression increases at night. Since expression of SbCO was not altered significantly by photoperiod (Additional file 5: Figure S3), increased activity of SbCO in SD is most likely due to an increase in protein level or activity. In Arabidopsis, a long day plant, CO levels are higher in LD due to COP1-SPA1-Cry2 stabilization of the protein [6]. This stabilization module may be missing or attenuated in sorghum. Reduced PhyB/C-mediated degradation of SbCO in SD, relative to LD, could result in greater SbCO-mediated activation of SbCN8/12 in SD. In sorghum genotypes containing active alleles of SbPRR37 the evening peak of SbCO expression is not altered, the peak of expression at dawn increases, but the activity of SbCO is strongly attenuated. Expression of SbPRR37 is high in the evening in plants grown in LD, but low in SD. Therefore, higher levels of SbPRR37 expression in LD, and SbPRR37 repression of SbCO activity under these conditions, is predicted to prevent SbCO from activating flowering in LD.
SbPRR37 is a CCT-domain protein that has been shown to interact with HAP3, the same CBF-subunit that interacts with SbCO [51]. Therefore, SbPRR37 may be a competitive inhibitor of SbCO binding to the HAP complex. SbPRR37 may also directly bind to DNA in a fashion similar to TOC1 and other PRR-proteins [52]. TOC1 binding to its cognate motif in the promoter of LHY/CCA1 is mediated by its CCT-domain, resulting in PRR-domain mediated repression of transcription. If PRR37 binds to the SbCN12 promoter in a similar manner, it could directly repress transcription, block SbCO binding to the HAP complex, and/or interact with CO or other proteins in order to repress SbCN12 transcription. Recent results on the PRR37 ortholog in rice (Hd2) indicated that PRR37 directly represses Hd3a transcription [35]. Further genetic and biochemical analysis will be required to distinguish among these possibilities.
In barley, a long day plant, HvCO1 activates flowering in LD, and activation is dependent on Ppd-H1, an ortholog of SbPRR37. Overexpression of HvCO1 induced flowering in both LD and SD, but photoperiod sensitivity mediated by Ppd-H1 was still observed in this background [36]. Ppd-H1 does not directly affect expression of HvCO1, but potentiates the ability of HvCO1 to activate HvFT1 expression in LD. It is interesting to note that Ppd-H1 increases HvCO1 activity in LD, whereas SbPRR37 inhibits the floral promoting activity of SbCO in LD. The expression and activity of SbPRR37 and Ppd-H1 increase in LD and both affect CO's ability to modulate FT-gene expression, but in an opposite manner, consistent with barley being a long day plant and sorghum a short day plant. The difference in activity of PRR37 could be due to differences in direct binding of PRR37 to the promoters of SbCN12 and HvFT1 (homolog of Hd3a, SbCN15), or indirectly by interaction of PRR37/Ppd-H1 with activators, repressors, HAP subunits, HvCO1 and SbCO. In rice, it has been suggested that phosphorylation of PRR37 by Hd6 may cause PRR37, in conjunction with Hd1, to become a repressor of Hd3a expression in LD [35]. The possibility that PRR37 can form a co-repression complex with CO is consistent with results in sorghum and rice. However in the absence of PRR37, CO functions as an activator of FT expression in sorghum and rice. While the biochemical basis of variation in PRR37 activity remains to be elucidated, taken together, the results suggest that interaction between PRR37 and CO on the promoters of specific florigen-related PEBP-genes result in fundamental differences in photoperiod-sensitive flowering between LD and SD grasses.
The flowering time model in Figure 6 shows that SbEhd1 and SbCO can independently induce flowering by activating SbCN8 and/or SbCN12. EHD1 and Hd1 have been shown to independently activate Hd3a (FT) and flowering in rice [20]. In sorghum we show that there is cross-talk between these pathways because SbPRR37 activates SbCO expression at dawn in LD, while SbCO induces SbEHD1 expression in SD. Rice EHD1, a B-type response regulator, is controlled by several upstream modulators including the repressors GHD7, GRAIN NUMBER, PLANT HEIGHT AND HEADING DATE 8 (GHD8), OsLEC1 and FUSCA-LIKE1 (OsLFL1), OsMADS56 and the activators GI, EARLY HEADING DATE 2 (EHD2) and OsMADS50 [8, 53]. The existence of two parallel pathways that can activate flowering in sorghum provides for a wide range of responses to diverse environmental factors, contributing to sorghum's wide geographical adaptation. Sorghum crop breeders are utilizing different alleles of key genes in these parallel pathways to generate early flowering grain sorghum hybrids and late flowering energy sorghum hybrids.
Conclusions
Alleles of sorghum CONSTANS (SbCO) were identified through analysis of a flowering time QTL on chromosome 10 identified in a RIL population derived from BTx642 and Tx7000. Genetic analysis and gene expression studies indicate that SbCO is an activator of flowering in long and short days in genotypes lacking active SbPRR37 and GHD7 alleles. PRR37 was found to block CO-mediated floral activation in long days.
Declarations
Acknowledgements
The authors thank William Rooney for growing the BTx642*Tx7000 RIL population in field plots in College Station. Funding for this research was provided by the Perry Adkisson Chair in Agricultural Biology (JEM), Ceres, Inc., and Pioneer Hi-Bred International, Inc.
Authors' Affiliations
(1)
Department of Biochemistry and Biophysics, Texas A&M University, College Station, USA
Copyright
© Yang et al.; licensee BioMed Central Ltd. 2014
This article is published under license to BioMed Central Ltd. This is an Open Access article distributed under the terms of the Creative Commons Attribution License (http://creativecommons.org/licenses/by/4.0), which permits unrestricted use, distribution, and reproduction in any medium, provided the original work is properly credited. The Creative Commons Public Domain Dedication waiver (http://creativecommons.org/publicdomain/zero/1.0/) applies to the data made available in this article, unless otherwise stated.