Research article

Open Access
Oil biosynthesis in a basal angiosperm: transcriptome analysis of Persea Americana mesocarp
BMC Plant Biology
2015
15:203
Received: 28 May 2015
Accepted: 29 July 2015
Published: 16 August 2015
Abstract
Background
The mechanism by which plants synthesize and store high amounts of triacylglycerols (TAG) in tissues other than seeds is not well understood. The comprehension of controls for carbon partitioning and oil accumulation in nonseed tissues is essential to generate oil-rich biomass in perennial bioenergy crops. Persea americana (avocado), a basal angiosperm with unique features that are ancestral to most flowering plants, stores ~ 70 % TAG per dry weight in its mesocarp, a nonseed tissue. Transcriptome analyses of select pathways, from generation of pyruvate and leading up to TAG accumulation, in mesocarp tissues of avocado was conducted and compared with that of oil-rich monocot (oil palm) and dicot (rapeseed and castor) tissues to identify tissue- and species-specific regulation and biosynthesis of TAG in plants.
Results
RNA-Seq analyses of select lipid metabolic pathways of avocado mesocarp revealed patterns similar to that of other oil-rich species. However, only some predominant orthologs of the fatty acid biosynthetic pathway genes in this basal angiosperm were similar to those of monocots and dicots. The accumulation of TAG, rich in oleic acid, was associated with higher transcript levels for a putative stearoyl-ACP desaturase and endoplasmic reticulum (ER)-associated acyl-CoA synthetases, during fruit development. Gene expression levels for enzymes involved in terminal steps to TAG biosynthesis in the ER further indicated that both acyl-CoA-dependent and -independent mechanisms might play a role in TAG assembly, depending on the developmental stage of the fruit. Furthermore, in addition to the expression of an ortholog of WRINKLED1 (WRI1), a regulator of fatty acid biosynthesis, high transcript levels for WRI2-like and WRI3-like suggest a role for additional transcription factors in nonseed oil accumulation. Plastid pyruvate necessary for fatty acid synthesis is likely driven by the upregulation of genes involved in glycolysis and transport of its intermediates. Together, a comparative transcriptome analyses for storage oil biosynthesis in diverse plants and tissues suggested that several distinct and conserved features in this basal angiosperm species might contribute towards its rich TAG content.
Conclusions
Our work represents a comprehensive transcriptome resource for a basal angiosperm species and provides insight into their lipid metabolism in mesocarp tissues. Furthermore, comparison of the transcriptome of oil-rich mesocarp of avocado, with oil-rich seed and nonseed tissues of monocot and dicot species, revealed lipid gene orthologs that are highly conserved during evolution. The orthologs that are distinctively expressed in oil-rich mesocarp tissues of this basal angiosperm, such as WRI2, ER-associated acyl-CoA synthetases, and lipid-droplet associated proteins were also identified. This study provides a foundation for future investigations to increase oil-content and has implications for metabolic engineering to enhance storage oil content in nonseed tissues of diverse species.
Keywords
Fatty Acid Synthesis
Basal Angiosperm
Avocado Fruit
Mesocarp Tissue
Biotin Carboxyl Carrier Protein
Background
Basal angiosperms are the first and oldest families of flowering plants that originated well over 100 million years ago and are represented by only a few hundred species compared with hundreds of thousands of species of monocot and eudicot angiosperms [1, 2]. Avocado (Persea americana) belongs to the family Lauraceae, one of the largest basal angiosperm families with over 50 genera [3] and has been used extensively as a model system to understand the early evolution of angiosperm flower development from the gymnosperms [1, 4]. Avocado is also an advantageous system in which to study the evolution of mechanisms underlying the synthesis of storage reserves such as starch or lipids in fruit tissues other than seed. Interestingly, avocado fruit growth, unlike most angiosperm fruits, is characterized by an unrestricted period of cell division, which continues through the entire period of fruit development [5, 6]. During its development, the fleshy edible part accumulates by dry weight 60 to 70 % oil and 10 % carbohydrates. The oil is stored in the form of triacylglycerol (TAG) and is predominantly composed of oleic acid [7]. About 60 % of the total carbohydrates are seven-carbon sugar derivatives such as D-mannoheptulose and its sugar alcohol, perseitol [8]. The high nutritional value and the usefulness of avocado's monounsaturated oils in promoting health raised its current world-wide production value to ~3.8 billion US dollars [9].
The avocado fruit, like oil palm and olive, is one of a few examples in which the mesocarp, a nonseed tissue, accumulates copious amounts of TAG. In general, TAG biosynthesis in plant tissues primarily involves synthesis of fatty acids in the plastid and their transfer to the endoplasmic reticulum (ER) followed by sequential esterification to a glycerol-3-phosphate backbone in an acyl-CoA-dependent [10] or -independent manner [11, 12]. Although biosynthesis of TAG in plants is generally understood and considered to be a highly conserved process, the molecular and biochemical details are mostly limited to oilseeds [13, 14]. Recently, greater attention is being given to plants that store oil in tissues other than seeds, which has revealed important differences [15–19]. For example, in avocado and oil palm mesocarp, lipid-droplet associated proteins (LDAP), which may play a role in stabilization of lipids, have been identified [20, 21]. Typically, storage proteins such as oleosins, caleosins, and steroleosins were shown to play a role in stabilization and regulation of the size of the oil bodies in angiosperm seeds and pollen [22]. However, several studies, including comparative transcriptome analysis of nonseed oil-rich tissues, consistently point to the absence or reduced transcript levels for genes encoding for these integral lipid-body proteins [15, 16, 23].
Transcriptome studies of oil palm and olive have also indicated key differences in the transcriptional control of TAG biosynthesis in nonseeds from that of seed tissues [15, 16, 18]. In seed tissues, many of the master regulators of embryogenesis and seed maturation, such LEAFY COTYLEDON (LEC) genes LEC1, LEC1-like (L1L), LEC2 and FUSCA3 (FUS3), and abscisic acid (ABA)-insensitive3 (ABI3) regulate TAG synthesis directly or indirectly through the downstream transcription factor WRINKLED1 (WRI1; [24–28]). The WRI1 protein, a member of the APETALA2 (AP2)-ethylene responsive element binding proteins, regulates late glycolysis and fatty acid biosynthetic genes by binding to their promoter sequences [24, 29, 30]. Furthermore, along with WRI1, WRI3 and WRI4 were also shown to play a role in fatty acid biosynthetic pathway in floral and other nonseed tissues [31]. Interestingly, high transcript levels for homologs of WRI1, but not WRI3 and WRI4, were noted in coordination with oil accumulation in developing mesocarp of oil palm [16, 18, 32]. Successful complementation of Atwri1 with EgWRI1 further suggested that WRI1 is not only conserved between dicots and monocots but also regulates fatty acid biosynthesis in both seed and nonseed tissues [33].
While there has been major progress in our understanding of lipid biosynthesis in various plants and tissue types, gaps still remain with regard to how carbon partitioning is regulated and the oil content and composition is dictated [14, 16, 18, 27, 32–34]. Additional transcription factors that may play a role in controlling the enzymes, such as the acyltransferases, needed in later steps of TAG accumulation, also remain elusive. In this study we have asked which genes associated with lipid biosynthesis are predominantly expressed and how their expression patterns in the oil-rich mesocarp tissue of a basal angiosperm vary compared to those of monocot and dicot tissues. To address these questions and to further examine the evolutionary relationship of lipid biosynthesis genes across plants, we conducted quantitative analysis of RNA from developing mesocarp of avocado. Because of the distinctive position P. americana occupies in plant evolution it serves as an excellent system in which to probe conservation of regulatory mechanisms in lipid synthesis.
Results and discussion
Basal angiosperms, to which
P. americana
belongs, originated before the separation of monocots and dicots and contain features that are common to both groups. Transcriptome analysis of fatty acid biosynthesis in oil-rich nonseed fruit tissue has been previously reported for mesocarp of olive, a dicot [
15
] and oil palm, a monocot [
16
,
18
]; similar studies of the more highly diverged basal angiosperms have not been reported. In this study, avocado mesocarp was selected for investigation of lipid biosynthesis in oil-rich tissue of an early angiosperm lineage. The mesocarp tissue from five stages of avocado fruits (I-V), with fresh weights ranging from ~ 125 to 200 g (Fig.
1a
), was used to generate temporal transcriptome data, using next-generation sequencing methods (Additional file
1
: Table S1). In order to associate expression patterns of lipid biosynthesis genes with temporal oil accumulation, the fatty acid content and composition of mesocarp was also analyzed (Fig.
1b
and
c
). Details of the avocado RNA-Seq datasets available are summarized in Additional file
1
: Table S1 and in NCBI BioProject PRJNA253536. Predicted functional annotation of contigs represented by at least 10 reads per kilobase per million mapped reads (RPKM) was based on BlastP alignment to lipid biosynthetic pathway proteins of
Arabidopsis thaliana
and is provided in Additional file
1
: Table S2, along with the contig sequences (Additional file
2
: Data S1). It must be noted that although transcript levels may not always reflect protein abundance or enzyme activity, similar transcriptome data has been successfully used previously to identify crucial steps in biochemical pathways [
14
,
16
,
18
]. Gene functional predictions most relevant to this study, along with their expression levels during mesocarp development are listed in Additional file
1
: Table S3.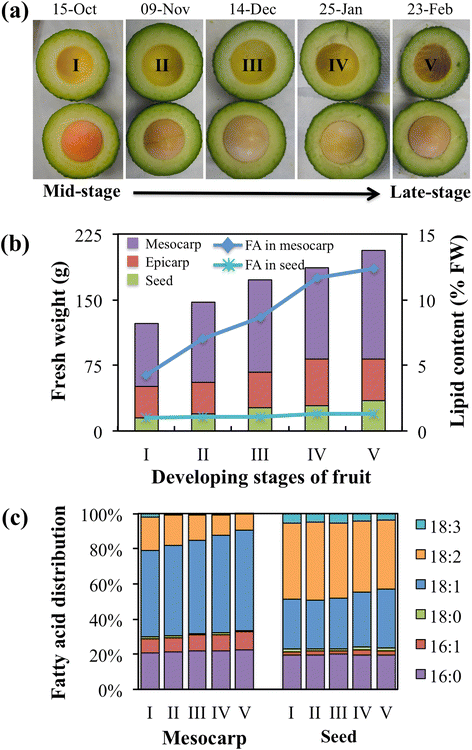 Conclusions
Avocado, as a basal angiosperm with highly nutritious fruit that is rich in oleic acid in its nonseed tissue, serves as an elegant system for comparing TAG biosynthesis functions among oil-rich tissues of diverse angiosperms. In this study, avocado mesocarp gene expression was examined with a focus on pathways and regulators responsible for the supply of carbon and its conversion to oil in nonseed tissue. We also addressed overall evolutionary conservation of genes required for oil synthesis across multiple oil-rich species. In general, genes expressed in processes from sucrose degradation to TAG assembly that are known to be upregulated in oil-rich tissues of monocots and dicots [14, 16], were also upregulated in avocado mesocarp (Fig. 2). Furthermore, consistent with other studies for oil-rich tissues, the expression of transcripts for fatty acid biosynthesis was several fold higher than those of transcripts encoding later steps of TAG assembly in the ER (Figs. 2, 3, and 5). Plastid genes and transporters, necessary for pyruvate generation, were also highly expressed in the mesocarp tissue (Fig. 7). Most notably, transcripts for orthologs of multiple WRI isoforms were also abundant in the oil-rich tissues of avocado (Fig. 6). Together, these data indicate that the supply of carbon and perhaps regulation of oil biosynthesis may primarily occur in the plastid in basal angiosperms as well. Further complementation studies are essential to establish the function of various isoforms of WRI in nonseed tissues. Comparative analysis of transcription factors, expressed across various oil-rich tissue types and species, is necessary to identify potential candidates that may play the role of upstream regulators to WRI.
Quantitative analysis of avocado mesocarp transcriptome also revealed certain unique features that suggest further studies using avocado to address several gaps in our understanding of TAG synthesis in nonseed tissue, such as regulation and determination of oil composition. For example, it is noteworthy that within the ER, the most abundant transcripts, relative to GPAT9 in avocado mesocarp, were of LACS orthologs (Fig. 4, Additional file 1: Table S3 and Additional file 1: Table S4) suggesting the potential for acyl activation in the ER and/or the junction of ER and plastid. Oil-rich nonseed tissues of avocado may therefore offer an invaluable system to determine roles for plastid versus ER associated LACS activity and/or if a direct contact between the plastid and ER [58] exists in basal angiosperms. Furthermore, avocado mesocarp could be used to determine the preference for PDAT1 and to explore its overlapping function with DGAT1 in TAG synthesis. This oleaginous species also is suitable to address if acyl editing occurs in mesocarp, where there is little flux to desaturation, and if it either involves phospholipase 2 and LACS or is mediated by LPCAT. With the absence or poor expression of oil storage protein such as oleosins, if or how TAG is packaged in nonseed tissues has remained a mystery; the identification of LDAP1 and LDAP2 in avocado mesocarp, however, offers an alternative means to study the stabilization of TAG.
Avocado fruit is distinctive among angiosperms in its development and growth, particularly in aspects that include the nature of storage metabolites it accumulates. The role of 7-carbon sugars and starch, in the early stages of mesocarp development, in regulation of fruit ripening and possibly in initiation of lipid synthesis remains elusive. Comprehensive profiling of carbohydrate, lipid and hormone content, concurrent with transcriptomics of mesocarp and seed tissues, is expected to provide a more in-depth understanding of the coordinated process of fruit development and carbon partitioning.
Methods
Plant material
Avocado fruits (cv. Hass) were harvested from a tree (44-15-11 Hass Scion on D7 clonal rootstock) during October 2009 to February 2010 and were shipped overnight at 4 °C to Michigan State University. The clonal stocks are located at University of California South Coast Research and Extension Center in Irvine, CA. Fruits from five stages were weighed and dissected to separate epicarp, mesocarp and seed (Additional file 1: Table S1; Fig. 1). The isolated tissues were weighed and flash frozen in liquid N2 and stored at −80 °C until further use.
Lipid extraction and quantification
To determine the fatty acid content and composition of avocado fruit tissues (mesocarp and seed), their total lipids were extracted with hexane-isopropanol method [88]. Extracted lipids were weighed and resuspended in hexane and converted to fatty acid methyl esters, by a base-catalyzed methylation reaction [89], and analyzed using gas chromatography coupled with flame ionization detector (Varian 3800), to determine the fatty acid composition [90]. Fatty acids were quantified against triheptadecanoin that was added as an internal standard prior to lipid extraction.
Total RNA extraction, cDNA library construction and sequencing
Total RNA was extracted from 3 g of mesocarp tissue that had been ground finely in liquid N2 and incubated for 10 min in 30 mL of TRIzol® reagent (Life technologies) and for an additional 5 min with 6 ml of CHCl3. After centrifugation at 12,000 g for 15 min at 4 °C, the aqueous phase was incubated overnight with 1/3 volume of 8 M LiCl. Samples were then centrifuged at 12,000 g for 30 min at 4 °C and the pellet was resuspended in 1000 μL of RLT buffer of RNEasy kit (Qiagen) and RNA was eluted following the manufacturer's protocol.
RNA-seq data for developing mesocarp were generated using Illumina sequencing techniques. Two technical replicates (a and b) for stage I and stage III were included for RNA-seq (Additional file 1: Table S1). RNA quality was assed using the Agilent BioAnalyzer (Agilent Technologies) and all samples submitted for sequencing had a RIN score of 6.4 or higher. Libraries were created using an Illumina pre-release protocol for directional mRNA-seq library prep (v1.0). A single read 75 cycle run was then performed on the Illumina GAIIx sequencer, following manufacturers protocols. Reads were trimmed and filtered based on quality with the Trim Sequences algorithm of CLC Genomics Workbench software (Limit: 0.05, Maximum ambiguities: 2). Details on the RNA-seq datasets (Additional file 1: Table S1) are available in the NCBI Short Read Archive within BioProject PRJNA253536 (http://0-www.ncbi.nlm.nih.gov.brum.beds.ac.uk/bioproject/253536).
For 454 sequencing, mRNA was isolated from the total RNA using Sera-Mag Oligo (dT) Magnetic Beads (Thermo Scientific). cDNA libraries were generated from pooled samples (five stages plus two technical replicates) using the Roche cDNA Rapid Library Prep Kit (Roche Diagnostics). Sequences were obtained on the Roche 454 GS FLX sequencer using the titanium chemistry (Roche Diagnostics).
Bioinformatics and data analyses
A reference designed for comparative mapping of the mesocarp RNAseq reads was prepared using Trinity v.2 [91] for de novo assembly with inputs of the above Illumina reads plus 454 and Illumina paired reads generated from sequencing of Hass leaf and flower mRNA of an independent project, whose data and details are provided under NCBI BioProject PRJNA258225. This allowed for more complete transcript references than using the mesocarp single read Illumina data alone. This generated 151,788 contigs that were then clustered using CD-HIT-EST with default parameters (sequence identity: 90 %, word size: 10), resulting in 134,329 sequence clusters (Additional file 1: Table S1). Sample expression was estimated using CLC Genomics Workbench version 5.5.1. Unique counts were generated by aligning the RNAseq reads to the assembled contigs using the RNA-Seq Analysis algorithm for non-annotated sequences (Parameters: Similarity 0.8; Length fraction 0.75).
The RPKM values obtained by Illumina sequencing were highly correlated between the technical replicates of stage 1a and 1b (R2 = 0.96702; Additional file 7: Figure S5a) and stage 3a and 3b (R2 = 0.97526; Additional file 7: Figure S5b). About 250 gene orthologs that are likely associated with lipid metabolism were considered in this study and their transcript levels obtained by 454 sequencing, where all the samples were pooled, were also highly correlated with average expression data for all the five mesocarp stages obtained by Illumina sequencing (R2 = 0.91171; Additional file 7: Figure S5c).
Phylogenetic analyses
Evolutionary relationship of WRI genes in a monocot (maize), dicot (arabidopsis), basal angiosperm (avocado) and bryophyte (Physcomitrella patens) was analyzed by construction of a phylogenetic tree. The protein sequences for four AtWRI genes were identified from the TAIR database and the avocado homologs were obtained from the transcriptome data (Additional file 1: Table S1). A UPGMA tree was constructed with MEGA 6.0 using a ClustalW alignment of protein sequences [92]. The robustness of the tree was tested by bootstrap analysis with 1,000 replicates. The orthologs of AtWRI1 in maize and moss were identified using BLASTP (NCBI). In maize, two sequences that were homologous to AtWRI3 and AtWRI4 were almost identical and were referred to as WRI3/4. Also maize is known to have a species-specific duplication of the WRI1 gene and both function to regulate fatty acid synthesis [93]. An AP2 transcription factor from Chlamydomonas reinhardi was used as an outgroup for the WRI tree.
Accession numbers
AtWRI1 (NP_001030857.1); AtWRI2 (NP_001189729.1); AtWRI3 (NP_563990.1); AtWRI4 (NP_178088.2); ZmWRI1a (NP001137064.1); ZmWRI1b (NP_001131733.1); ZmWRI2 (NP_001145827.1); ZmWRI3/4a (XP_008656570.1); ZmWRI3/4b (XP_008651355.1) (PpWRI1-like (BAL04570.1); PpWRI2-like (XP_001765028.1); PpWRI3-like (XP_001770958.1); PpWRI4-like (XP_001764166.1); CrAP2 (XP_001699213.1).
Declarations
Acknowledgements
We thank Mary Lu Arpaia, University of California at Riverside, for providing avocado fruits, and the staff of Research Technology Support Facility at Michigan State University, and Peter Denholf at Bayer Cropscience, for advice on sequence analysis. This work was supported by the DOE Great Lakes Bioenergy Research Center Cooperative Agreement (DE-FC02-07ER64494), Bayer CropScience. AK was supported in part by major and minor grants from Research and Development Committee, East Tennessee State University. HS and PD received Sigma Xi GIAR Award. RP, GZ and KM were supported in part by the METACyt Initiative of Indiana University, funded in part through a major grant from the Lilly Endowment, Inc.
Open Access This article is distributed under the terms of the Creative Commons Attribution 4.0 International License (http://creativecommons.org/licenses/by/4.0/), which permits unrestricted use, distribution, and reproduction in any medium, provided you give appropriate credit to the original author(s) and the source, provide a link to the Creative Commons license, and indicate if changes were made. The Creative Commons Public Domain Dedication waiver (http://creativecommons.org/publicdomain/zero/1.0/) applies to the data made available in this article, unless otherwise stated.
Authors' Affiliations
(1)
Department of Biological Sciences, East Tennessee State University, Johnson City, USA
(2)
Department of Biomedical Sciences, East Tennessee State University, Johnson City, USA
(3)
Great Lakes Bioenergy Research Center, Michigan State University, East Lansing, USA
(4)
Bayer CropSciences, Morrisville, USA
(5)
School of Informatics and Computing, Indiana University, Bloomington, USA
(6)
Laboratorio Nacional de Genómica para la Biodiversidad-Langebio/Unidad de Genómica Avanzada UGA, Centro de Investigación y Estudios Avanzados del IPN, Irapuato, Mexico
(7)
Red de Estudios Moleculares Avanzados, Instituto de Ecología A.C., Xalapa, Mexico
(8)
Department of Biology, Indiana University, Bloomington, USA
(9)
Department of Plant Biology, Michigan State University, East Lansing, USA